Discover the natural beauty and cultural heritage of the Australian Outback on a 4-day camping tour to World Heritage-listed Kakadu National Parks, Katherine Gorge and Litchfield National Park from Darwin. Travel by 4WD-vehicle with a knowledgeable guide who shares commentary on the region, including indigenous Aboriginal sites and rock art. Swim in natural pools formed by waterfalls, canoe on the Katherine River, look for wildlife, sample authentic 'bush tucker' and admire the stunning landscape. Sleep under the stars with all meals, wine with dinner, transportation and camping gear included.
Highlights
4-Day Camping tour of Kakadu National Park, Katherine Gorge, Litchfield National Park
Enjoy traditional bush cooking over a camp fire

See Ubirr Rock, one of Australia's finest Aboriginal rock art collections

Swim in natural swimming holes including the cascading Edith Falls

Cruise or canoe the tranquil waters of Katherine Gorge

Swim in the picture perfect waterholes at Litchfield National Park

Visit Florence Falls, Wangi Falls and Buley Rockholes

What You Can Expect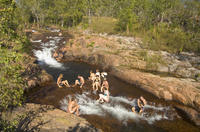 Discover the Top End when you depart Darwin, visiting Kakadu National Park, Nitmiluk National Park and Litchfield National Park with your expert guide. Explore the natural wonders of these UNESCO World Heritage sites, admire Aboriginal rock art, and learn about Dreamtime stories and indigenous cultural traditions. Swim in scenic natural pools such as Wangi Falls and Buley Rockholes, cruise or canoe on the river at the Katharine Gorge, and take a rainforest walk.

Camp overnight in pleasant tree-shaded campsites with basic accommodations including permanent tent and bungalows with shared bathroom facilities, barbecue or fire pits and picnic areas. Expect some degree of 'roughing it' with lots of outdoor fun, and all meals, wine with dinner and transportation by 4WD included.
Itinerary
Day 1: Litchfield & Mary River (L,D)
Leaving Darwin, journey south to the beautiful Litchfield National Park to visit waterfalls that flow all year round. Litchfield National Park is well deserving of all its hype and the perfect place to soak up the tranquility of the tropics. Explore Florence Falls, Wangi Falls and Buley Rockholes. Enjoy a picnic lunch, stroll through steamy rainforests and cool off with a dip in one of Litchfield's picture perfect swimming holes. Finish the day in the spectacular Mary River Wetlands where the exotic birds are not the only wildlife to see. Keep a watch for lurking crocodiles on an afternoon wildlife cruise. Enjoy an outback Aussie pub meal before climbing into your bed for a well-earned rest at Mary River region camping spot.

Day 2: Kakadu National Park (B,L,D)
Head to Kakadu National Park and discover ancient Aboriginal rock art at Ubirr. Here your guide will lead an interpretive cultural walk through the different rock art galleries before climbing to the top of a rocky lookout for fabulous views over the Nardab floodplain. Head to Maguk (Barramundi Gorge) where a hike is rewarded with a reviving swim in the in the beautiful clear plunge pools. Relax poolside and enjoy a group dinner at the Bistro at Jabiru campground.

Day 3: Kakadu - Katherine (B,L,D)
This morning, there is the option of a scenic flight over Kakadu (from AU$150pp), the sheer size of Kakadu means the only way to truly appreciate it is from the sky. Spend time exploring Kakadu's other major Aboriginal rock art site Nourlangie or Burrungi as it is known to its local traditional owners. Here your guide will give you a snapshot of how the local Aboriginal people have lived in an area with 20000-years of documented occupation which is reflected in some of the rock art. After lunch, head south for a quick stop and swim at Edith Falls before continuing on to Katherine and settling in for the night at a private campsite on the doorstep of Nitmuluk National Park.

Day 4: Katherine Gorge - Darwin (B,L)
Depending on the season, you may embark on a cruise along the inky waters of Katherine Gorge or take the chance to head out by canoe between red rock walls up to 70-meters high (both optional, at own expense). Formed by the Katherine River flowing from Arnhem Land to the Timor Sea, this 23 million-year-old natural marvel is one of the Top End's true wonders. After lunch, experience a truly authentic indigenous cultural experience. This interpretive display will not only teach you about local indigenous culture but will also provide hands on experiences including fire making, boomerang and spear throwing and the chance to try painting your own indigenous artwork to take home as a unique souvenir. Hit the open road and head back to Darwin to enjoy a night on the town toasting your adventure with new friends.
April 2014
Very well organised, the guide had a lot of knowledge.
June 2012
A great way to see all the national parks outside darwin. The guides were excelent and had great knowlege of the area. The food was very good and well presented. The camping sites had everything you needed, note you dont need to bring pillows or towels as they have all being provided for and should make your travelling luggage lighter, allthough the camp site we stayed on our second night was very poor, the toilets were dirty and no hot water for showers, if this camp site had the same standard as the other 2, I would have gave this trip 5 stars as everything else on the trip was first class. The only other thing I like to point out is I was staying in a motel with the same name as a hotel in Darwin for my pick up, they went to the wrong place, I was a bit stressed as I phoned intrepid which was the number on my voucher and couldnt get through probably because of the time in the morning and had to leave a message. I was worried the tour group had missed me and I was worried where I was going to stay over the next 3 nights if they didnt show, but in the end thankfully the showed up. Would it not be better to give a direct contact number to the tour guide that has the pick up that morning should any problem like this arise.
June 2012
Great guides/drivers - very informative and nice small group.
WOuld have loved to have tea provided during the day and perhaps a little more interesting food.
Would recommend.
Advertisement
Advertisement