Immerse yourself in the natural and cultural attractions of Australia's Top End on an action-packed, 4-day adventure from Darwin. Admire ancient rock art galleries in famous Kakadu National Park, go croc-spotting on a Mary River wetlands cruise and explore the country's agriculture heart in Katherine. This tour is designed for nature lovers, with plenty of bushwalking, swimming under waterfalls, canoeing, wildlife watching and cave exploration. Travel in a small group of no more than 16 people and stay overnight in serene campground settings.
Highlights
4-day Kakadu and Katherine tour from Darwin
See the major attractions of Australia's Top End including UNESCO World Heritage-listed Kakadu National Park
Navigate billabongs on a Mary River wetlands cruise and take a walking tour at Cutta Cutta Caves

Visit the ancient Aboriginal rock art sites at Ubirr — an outdoor museum in the desert

Canoe in Katherine Gorge and swim in pools at Edith Falls, Buley Rockhole, Wangi Falls and Mataranka Hot Springs
Admire the natural wonders of Nitmiluk National Park and Litchfield National Park
Small-group tour with a maximum of 16 people allows for a more personalized experience with your guide

Why Our Insiders Chose This Tour
There's so much to see and do in the Top End. This tour makes the most of your time by hitting the highlights while allowing plenty of time to swim, hike and soak up the region's spectacular beauty.
What You Can Expect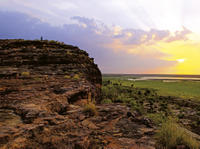 With diverse, wide-open landscapes, thousands of years of cultural heritage and an amazing array of wildlife, the Northern Territory's Top End provides endless opportunities for outdoor exploration.
Travel from Darwin by air-conditioned 4WD vehicle to access rugged parts of Kakadu National Park and the Outback. Learn why the sprawling park was honored with UNESCO World Heritage status as you explore its billabongs, wetlands and rocky escarpments. Journey to Katherine township and Nitmiluk National Park, where you'll discover natural attractions like Katherine Gorge, the Cutta Cutta caves and Mataranka Falls.
Stay overnight in basic bungalows or permanent tents in pretty campground settings featuring barbecue pits, picnic areas and shared bathroom facilities. The tour is ideal for those with at least a moderate level of fitness who enjoy diverse outdoor activities. All meals, transport and knowledgeable guides are included on this immersive natural adventure!
Please see the Itinerary for details on each day of the tour.
Itinerary
Day 1: Darwin – Kakadu National Park (L, D)
Departing from Darwin, set off for the Mary River floodplains, Australia's most northerly tropical wetlands. Cruise the Mary River's extensive system of pools and billabongs, and hear expert commentary about the area as you glide past water lilies and basking crocodiles. Leaving the wetlands, stop for lunch on the way to the World Heritage-listed Kakadu National Park. Visit the Bowali Visitor Centre to learn about Kakadu's significant flora and fauna, and see ancient Aboriginal rock art sites at Ubirr. Admire the sites' 'x-ray' style rock paintings, and compare them to the even older, more delicate Mimi paintings. Passing the ancient rock art galleries, climb up to Nadab Lookout for views over the wetlands. Then head to your accommodation in the afternoon and enjoy the rest of the day and evening at your leisure.

Overnight: Anbinik Kakadu Resort, Kakadu

Day 2: Kakadu National Park – Katherine (B, L, D)
Travel along the Kakadu Highway to Gunlom Falls, where you can cool off in a plunge pool at the base of a waterfall surrounded by shady gums. After a refreshing dip, leave the park and pass through the small township of Pine Creek where you stop for lunch before traveling on to Nitmiluk (Katherine Gorge) National Park. Head to Edith Falls, a stunning series of cascades and pools, to take an afternoon swim in the waters. Then continue your drive, passing through the township of Katherine to reach Nitmiluk Campground, located just a few minutes drive from Nitmiluk National Park. Enjoy a delicious dinner and an evening at your leisure.

Overnight: Nitmiluk Permanent Tents, Katherine

Day 3: Katherine (B, L, D)
After a tasty breakfast, explore more of the Katherine region today. Head into Nitmiluk National Park to spend the morning canoeing through Katherine Gorge. Formed by the Katherine River on its path to the Timor Sea, Katharine Gorge consists of a series of deep sandstone gorges that are stunningly beautiful and a must-see when in Katherine. After canoeing, drive for one hour to Cutta Cutta Caves, a limestone cave system with stalactites and stalagmites. Join a guided tour into the caves to see the caves up close. Learn about the area's geology and the ecosystem of Cutta Cutta Caves Nature Park, which is home to rare bats such as ghost and horseshoe bats, and up to 170 bird species. Next up, drive to Mataranka Hot Springs and have a picnic lunch upon arrival. Then take a swim in thermal pools and crystal clear streams, which are shaded by tall trees and greenery. Have the option to take a short walk to the Roper River and Mataranka Falls, or continue to float around in the pools before returning to the campground for dinner.

Overnight: Nitmiluk Permanent Tents, Katherine

Day 4: Katherine – Litchfield National Park – Darwin (B, L)
In the morning, you may see wallabies grazing nearby as you have breakfast. After eating, leave Katherine and drive four hours to Litchfield National Park. The large national park contains much of the Tabletop Range and features spectacular waterfalls and plunge pools. Stop at Buley Rockhole and cool off in its series of cascading plunge pools. Have lunch at the park cafe then take a dip at the rock pool at Wangi Falls. Refreshed, drive two hours back to Darwin and visit the popular Mindil Beach Sunset Market. Famous for its global cuisine choices, the market attracts locals and visitors who flock here for the food, crafts, music performances and gorgeous sunset views. After time to browse the market and enjoy the food, shopping and sunset, you are returned to your Darwin hotel in the early evening to end your tour.

Hotel Pickup List:
07:50 - Adina Waterfront
08:00 - Air Raid Lodge
08:15 - Airport Gateway Motel
08:15 - Airport Inn
08:00 - Alatai Apartments
08:00 - Argus Apartments
08:00 - Banyan View Motel
08:00 - Barramundi Lodge
08:20 - Boomerang Caravan Park
07:50 - Botanic Gardens Apartments
07:50 - Casa on Gregory
08:00 - City Garden Apartments
08:25 - Coolalinga Caravan Park
07:50 - Cullen Bay Apartments
08:00 - Darwin Central Hotel
08:15 - Discovery Holiday Park
08:00 - DoubleTree Hilton Darwin
08:20 - Free Spirit Resort
08:00 - Frogs Hollow Backpackers
08:00 - Frontier Darwin
08:00 - Geckos Lodge
08:00 - H Hotel
08:15 - Hidden Valley Caravan Park
08:00 - Hilton Darwin
08:20 - Howard Springs Caravan Park (Hwy)
08:15 - Leprechaun Resort
08:00 - Mantra Pandanas
08:00 - Marrakai Apartments
08:00 - Mediterranean
08:00 - Novotel Atrium
08:20 - Oasis Caravan Park
08:00 - Palms City Resort
08:00 - Palms Motel
07:50 - Parap Village Apartments
07:50 - Paravista Motel3
07:50 - Quest Parap
08:15 - Rydges Airport Resort
08:15 - Rydges Palmerston
07:50 - SkyCity
07:50 - Steeles Bed & Breakfast
08:00 - Transit Centre
08:00 - Travelodge Mirambeena Resort
08:00 - Comfort Inn Vitina
08:00 - Vibe Waterfront
08:00 - YHA Globetrotters
September 2014
Could not fault the tour or the attractions but the guide was completely useless drove way below the speed limit all the time so many areas were we stopped for meals, sightseeing or for swims were cut short one area promised on the tour for a swim never happened returning from the Katherine gorge dinner cruise he got lost and drove around for over a half hour before he found the main road again.
September 2014
Absolutely wonderful. From fabulous wetlands tour with Scotty to the knowledge of Stefanie our guide. Small group so really ideal from the 88 year old to the young 20s - something for all. The beauty amazing.
August 2014
What a great trip. Thank you to Ted who kept us entertained, was well informed and looked after us so well. We saw so much in our 3 days, it surpassed our expectations.
June 2014
Everything about it was GREAT
December 2013
We had the most magnificent tour seeing the wonderful sights of Kakadu, Katherine and Litchfield. Rob, our tour guide, was very passionate about this tour and his enthusiasm infected all of the 15 passengers on board this mini-4WD-coach. You have to do/see it to believe it. Fantastic!
December 2013
This was one of the best tours we have experienced anywhere in the world.
Our guide Rob was friendly, helpful and above all highly informative. His knowledge added greatly to the whole experience. From a billabong with crocs and many different birds and vegetation to the aboriginal rock paintings to the evening spent on the dinner boat through the wonderful scenery and swimming in the rock pools the whole trip was very good.
Great trip for all ages but perhaps not for those that cannot easily scramble over rocks and paths. .
November 2013
I was looking forward to this tour and it did not disappoint me. I was amazed how much we saw in 3 days. It was a nice mix of driving, hiking and sightseeing. I appreciated all the information our tour guide gave us. The top end of Australia is an amazing countryside quite different from what I imagined. I liked traveling as a small group, there were just 9 of us plus our guide, and the hotels too were nice. The evening dinner cruise was perfect. Rob, our guide was cheerful and extremely helpful. I had a thoroughly enjoyable trip.
January 2011
This trip was probably the best we have ever taken. The driver / guide, Max, was wonderful. His knowledge of the area and sites was remarkable, such that I at first thought he was playing a recording, but no, it was just his obvious love of the region that came over in his commentaries. The Crocodile Hotel was excellent, especially the evening buffet, which we felt was good value for money. The All Seasons hotel /lodge was adequate but was obviously showing signs of tiredness. The sheets were clean but were not sparkling white and had little holes in them. The river cruise along The Katherine river, and the buffet supper, were amazing. Overall though it was a brilliant tour and really added to our once in a lifetime trip round Australia and has given us some wonderful memories to look back on now we are back in the cold, wet UK. Thank you.
Wendy G USA
July 2010
This was an excellent combination of varied experiences and activities.
September 2014
We really enjoyed the tour and Rob, our tour guide/driver, was outstanding. His knowledge of the history, culture, people and wildlife was entertaining as well as informative. We were able to see and experience so much in such a short time.
The experience before the tour began was disappointing. Phone calls to Viator Sydney for information and booking required waiting on hold for 10 to 15 minutes before being answered. We waited 5 days for answers to several emailed questions about the tour due to slow response from AATKing. Our confirmation document said pickup at our hotel (Hilton Darwin) would be at 8:00 AM. A later email from AATKing said pickup would be at 6:15 AM. I called AATKing the day before the tour and they confirmed 6:15. When there was no pickup by 6:45 I called AATKing to discover they had changed the time back to 8:00 AM. They had left a message on my mobile after I turned it off for the day but failed to leave a message at the hotel as well. This delay made what was already a long travel day even longer.
Advertisement
Advertisement