Adrenaline junkies can tempt the jaws of some of Australia's largest crocodiles on this 'Cage of Death' experience at Darwin's Crocosaurus Cove, which includes a general admission ticket. This daredevil attraction lowers you into one of four acrylic enclosures for 15 thrilling minutes of a face-to-face encounter with a saltwater croc. Bonus: professional photos are available to purchase of your up-close experience in the viewing cage!
Highlights
Brave the massive Saltwater Crocodiles in the 'Cage of Death' at Darwin's Crocosaurus Cove

Choice of one or two participants per 'Cage of Death' experience

360-degree photographs of your Crocosaurs Cove 'Cage of Death' encounter available for purchase

Includes admission to Darwin's Crocosaurus Cove

Recent Photos of This Tour
Cage of Death at Darwin's Crocosaurus Cove
What You Can Expect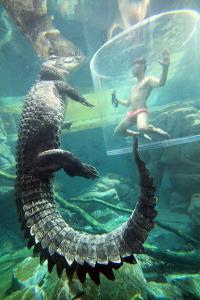 Experience Australia's only crocodile dive with a 'Cage of Death' experience at Darwin's Crocosaurus Cove — perfect for adrenaline junkies who dare to get up close and personal with these massive and menacing creatures.
Start this once-in-a-lifetime experience with a full safety briefing before you climb into a purpose-built transparent acrylic enclosure, solo or shared with one other person.
You're suspended above the pool before being lowered into the pen, home to almost 200 fearsome saltwater crocs.
For the next 15 minutes, tread water near the surface while you come face-to-face with these prehistoric reptiles, which swim near when tempted by food from their handlers above.
Photos are available for purchase (additional expense) from o
n-site photographers who capture 360-degree pics of you and the crocs!
Your 'Cage of Death' encounter includes general admission to Crocosaurus Cove. After this thrilling experience, settle your nerves with educational talks and see the daily barramundi feeding. When you've caught your breath, observe the world's largest display of Australian reptiles, including the most venomous snakes on the planet.
March 2016
April 2014
Amazing experience!!!! We'll worth the money!!!
February 2013
Fantastic, my personal favorite highlight of the trip and we flew over Kakadu!
Definately a Bucket List item, an unforgetable lifetime experience...Up close and personal, got to kiss a CROC..
Anonymous
July 2010
The Cage of Death gives you the real "crocodile" experience. There's no fudging the issue here – this is terrifying! Armed with just your swimwear, you walk down a ladder into an acrylic 'cage'. It's a see-through box, with holes between the panels for the water to get in, and a metal grille at the top. The guys behind the controls try to get you as close to the toothy predators as they can. Essentially, you are left swimming around in the water a metre or so away from the most efficient killing machine nature has ever devised. And they're not babies either – my crocodile was 5.5m long and weighed 790kg! What happens next depends largely on the crocodile's mood. They are essentially lazy beasts, and if they're not feeling hungry, they'll probably just sit where they are minding their own business. If, however, they fancy a light snack or decide that you are invading their territory, they will attack the cage. This is more likely during the wet season then during the dry, but can happen at any time. When it does, there's little option but to cower in fear and hope that the acrylic barrier does its job. Otherwise, it's a privilege to sit back and observe. Getting this close whilst living to tell the tale is an honour, and watching them move through the water is awe-inspiring. Of course, you can splash, bang on the cage and make as much noise as possible to grab the attention...
Note from Viator: This review is from David Whitley, who wrote a detailed article on his trip to Darwin, Australia over on the Viator blog.
November 2012
An excellent experience. The tour operators where helpful and informative. The price of the photos were a little steep however buying the cd of the photos prooved to be a great choice as video footage of the experience was included.

Lisa B Indonesia
January 2012
Great activity if the crocs are lively.
May 2012
Unfortunately when we went all of the crocodiles were sleeping so it wasn't really all that stimulating. We were just in a glass cage in water staring at them. I think the experience would have been cooler if the crocodiles were awake and more interactive. However, as they are wild animals, it is always impossible to predict how they are going to react.
Advertisement
Advertisement