Round up the family and venture to Crocosaurus Cove in Darwin for a day of crocodile adventures and thrills. With over three floors to explore, your general admission ticket will have you encountering Northern Territory saltwater crocodiles in no time. How close you get is entirely up to you. Meet a resident Croc-celebrity, swim alongside juvenile crocodiles, or entice hungry crocs with a tasty snack from your fishing line.
Highlights
Enjoy 360-degree viewing of Australia's largest saltwater crocodiles at Darwin's Crocosaurus Cove

Witness the Big Croc feed and daily educational talks at Crocosaurus Cove

Swim alongside Northern Territory juvenile saltwater crocodiles

Meet and feed the reptiles at Crocosaurus Cove including some of the most venomous snakes in the world
Photo opportunities with resident celebrity crocodile Burt from the iconic Australian film 'Crocodile Dundee'

What You Can Expect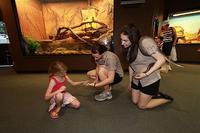 Located in the heart of Darwin, Crocosaurus Cove is also home to the largest display of Australian reptiles in the world, including species unique to the Top End and Kimberly regions of Australia. There's also a turtle sanctuary and two-story freshwater aquarium. Children will love interacting with the baby crocodiles, and don't forget to pay a visit to the infamous Burt, star of the iconic Australian movie 'Crocodile Dundee'.

You'll have the opportunity to get up-close and swim with juvenile crocodiles at Crocosaurus Cove in a safe and unique swimming enclosure. Or partake in a feeding frenzy from a platform above, as you dangle a piece of buffalo meat from your fishing line to the hungry crocs below.

Plan ahead and make the most of your day at Crocosaurus Cove by referring to activities on offer, as outlined on the Daily Schedule list below. A licensed café and souvenir shop are also located within Crocosaurus Cove for your convenience.
Itinerary
Crocosaurus Cove - Daily Schedules
Meet the Reptiles - Reptile House 10am, 4:30pm
Meet the Crocodiles - First Floor, Juvenile Area ALL DAY
Fish Feeding - Aquarium Stairs 11am, 3:30pm
Big Croc Feeding - First Floor 11:30am, 2:30pm
Bite Force - Food Court, First Floor 11:30am, 2:30pm
Reptile Feeding - Reptile House 12:30pm
Swim with the Crocs - First Floor, Juvenile Area ALL DAY
Turtle Feeding - 4pm
Nocturnal Reptile Feeding - Reptile House 5pm
Fishing for Crocs - 5:45pm
Please note:
All times are subject to change
December 2013
My wife, 2 yound children and myself had visited Crocosaurus Cove on 29 Nov 13 and we enjoyed our time there. Besides the crocodile and other animal shows, what left a lasting impression on all 4 of us was a staff by the name of Phil who conducted the snake and reptile show with an assistant. Phil was energizing, humorous and most of all, humble despite his vast knowledge of the snakes and reptiles that he handled. He was also very hospitable and fair - he invited not only my family but as many other visitors as possible to handle some of the creatures (with care!) during the reptile show. We were very thankful to be given the opportunity to do so. While I cannot speak for the other visitors, my family told me that they had learnt a lot from Phil's lively sharing and it made our stay at the Cove and in DARWIN a highly memorable and academic one. For all potential visitors, please try not to miss Phil's reptile show.
May 2015
About as good as you are gong to get in a city with captive croc's. Kept the attention of an 8, 7, 14 and 15 year old so...
May 2015
Very interesting and tour guide very knowlageable about all creatures.
January 2012
Good place to view reptiles in the centre of Darwin.
August 2015
Great for the kids, but for me, I could have passed on it. Really meant to visit with grandson but he couldn't make it so still came for him in his place but really not my cup of tea.
August 2012
Very intersting watching the crocs sleeping. They weren't active at all. A nice place to see all the other reptiles though. Very centrally located.
September 2014
Crocs were totally disinterested. Couldn't have cared less for the occupants of the "Cage of Terror". Whatever you do don't waste your money on that. Feeding time was a big anti climax. Crocs must be fed too many times a day or they found the food, a manky piece of chicken with the feathers still on, not worth the effort. Very disappointed
Advertisement
Advertisement