See the highlights of Darwin on an afternoon coach tour with informative commentary. Your 4-hour tour takes in Stokes Hill and Fort Hill Wharf, St Marys Cathedral, Government House and Parliament House, Mindil Beach and includes visits to Museum and Art Gallery of the Northern Territory and Darwin Botanical Gardens. This cosmopolitan and multicultural city is known for its markets and festivals, along with a relaxed pace. Hear about the effects of the devastating 1974 Cyclone Tracy and more during this comprehensive introduction to Darwin.
What You Can Expect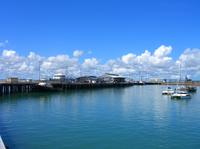 Your city sightseeing tour in Darwin begins with hotel pickup in the afternoon. Get comfortable on your air-conditioned coach as your driver takes you around to see top sights and cultural hotspots.

Drive by landmarks such as St Marys Cathedral, Christ Church Cathedral, Bicentennial Park, The Esplanade, Government House and Parliament House. View the restaurants and cafes on vibrant Mitchell Street, cruise down Smith Street Mall and see the trendy Darwin Wharf district, located on the harbor. Head to Stokes Hill and Fort Hill Wharf, and visit Darwin Botanical Gardens and Museum and Art Gallery of the Northern Territory. Drive by Mindil Beach, where the popular outdoor Mindil Beach Sunset Market pops up two evenings per week, with an amazing variety of food vendors and crafts.

Learn all about Darwin's history, including the devastation of Cyclone Tracy in 1974, the worst cyclone recorded in Australia's history. Hear how the city rebuilt and witness its resilience firsthand during this afternoon coach tour.
Itinerary
Highlights:
Smith Street Mall
Mitchell Street – restaurants and cafes
St Marys Cathedral
Cavanagh Street – old Chinatown
Stokes Hill and Fort Hill Wharf
Darwin Wharf precinct on the harbor
Christ Church Cathedral
Government House and Parliament House
Bicentennial Park
The Esplanade
Casino
World War II oil storage tunnel
Mindil Beach – location for Darwin's famous market
Museum and Art Gallery of the Northern Territory
Darwin Botanical Gardens
June 2016
Really pleasant and interesting afternoon. The aviation museum was fantastic.Our driver Dale was great, would highly recommend this tour for all ages.
April 2016
Very informative. Tour guide was very knowledgable with Darwin's history. Very friendly and would highly recommend. Shirley from Mildura. Victoria.
October 2015
Will was amazing. Best tour operator ever. Very knowledgeable, very friendly.
Great tour. Will recommend
August 2015
with limited time i took this trip instead of the on off bus. took in all relevant places,
does not stop in city instead does drive around the relevant places so you can vist later. i thought this ws terrific value, the time was right the guides very informed and professional. I particularly liked that we got to visit the botantical gardens.
highly recomended
April 2015
We thoroughly enjoyed this tour and our guide was very knowledgeable. 5 star
December 2014
Enjoyed the trip - especially the time at the Museum and Botanical Gardens. Fabiana was a wonderful customer service provider - courteous, knowledgeable and friendly. The tour was a great introduction to Darwin and a good way to discover sights worth another visit. Recommend to any visitor. Thanks. Carol Gillam
November 2014
I had already been on the Hop on Hop off tour when I went on this tour but I was pleased to see that, while some of the city attractions were the same, the commentary was different and there was enough variation to make this trip very worthwhile. The one hour stop at the museum and art gallery was a highlight, while the walk through the Botanical Gardens was enjoyable. Commentary provided by the guide was also very good. An enjoyable afternoon.

Nathan C Australia
May 2014
Definitely take up the scenic flight option!
August 2013
Great way of learning were every thing is in Darwin. Great learning experience
April 2013
We only had half a day in Darwin and this tour was excellent to see the city. It gave us a quick and good view of the city so as to wet our appetite for a longer stay next time. Thank you to the lovely driver and guide that we had, she mqde us most welcome.
Advertisement
Advertisement