45 Reviews
Location:

Darwin, Australia

Duration:

14 hours 30 minutes

(approx.)
On this full day tour you will travel east from Darwin along the Arnhem Highway and journey into world-renowned Kakadu National Park, home to a profusion of birdlife and other native fauna. View the superbly preserved Aboriginal rock paintings at Ubirr -- a museum in the desert, and take a cruise along the Mary River Wetlands.

Highlights
Kakadu National Park day tour from Darwin

Enjoy a cruise down the Mary River wetlands

See the ancient Aboriginal rock art at Ubirr

Enjoy a buffet lunch at Cooinda

Recent Photos of This Tour
Kakadu Day Tour from Darwin including Ubirr Art Site and Mary River Wetlands Cruise
What You Can Expect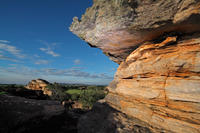 Depart from Darwin and travel east along the Arnhem Highway, passing the major river systems and wetland regions into Kakadu National Park. This national park covers 12,430 square miles (20,000 sq kilometers) of landscape varying from rocky escarpment that is home to historic Aboriginal rock art dating back thousands of years, to the floodplains that are abundant with wildlife.
After crossing the South Alligator River travel along the Kakadu Highway to Warradjan Cultural Centre to view informative displays before cruising down the Mary River to experience the beauty of the Mary River Wetlands.
Enjoy a buffet lunch at Cooinda, before exploring the World Heritage Area of Ubirr to see Ancient Aboriginal rock art galleries. Witness the history and culture of the Aboriginal people come alive through the impressive paintings that have stood the test of time.
Late afternoon, drive out of Kakadu National Park, pausing for a comfort stop at the Corroboree Park Tavern before arriving in Darwin at approximately 8.00pm.
Itinerary
Hotel Pickup List:
06.00 - Adina Waterfront
06.15 - Alatai Apartments
06.15 - Argus Apartments
06:20 - Banyan View Motel
06.00 - Barramundi Lodge
07.05 - Boomerang Caravan Park
06.00 - Botanic Gardens Apartments
06.00 - Casa on Gregory
07.10 - Coolalinga Caravan Park
06:20 - City Garden Apartments
06.00 - Cullen Bay Apartments
06:20 - Darwin Central Hotel
06:50 - Discovery Holiday Park
06.20 - DoubleTree Hilton Darwin
06.20 - DoubleTree Hilton Esplanade Darwin
06.50 - Free Spirit Resort
06.15 - Frogs Hollow Backpackers
06.10 - Frontier Darwin
06.15 - H Hotel
06:50 - Hidden Valley Caravan Park
06:20 - Hilton Darwin
07.05 - Howard Springs Caravan Park (Hwy)
06:45 - Leprechaun Resort
06.15 - Mantra Pandanas
06:20 - Marrakai Apartments
06.15 - Mediterranean
06:20 - Novotel Atrium
07.00 - Oasis Caravan Park
06:20 - Palms City Resort
06:10 - Palms Motel
06:00 - Parap Village Apartments (Darwin Airport Shuttle)
06:00 - Paravista Motel
06:00 - Quest Parap (Darwin Airport Shuttle)
06:45 - Rydges Palmerston
06:00 - SkyCity
06.15 - Steeles Bed & Breakfast
06:20 - Transit Centre
06:15 - Travelodge Mirambeena Resort
06:00 - Comfort Inn Vitina
06.00 - Vibe Waterfront
06.15 - YHA Globetrotters
August 2015
This trip was well worth the long drive. The driver Alison was very informative in relation to Darwins history and it on going development, the aboriginal culture and the stories behind indigenous paintings. The buffet lunch was delicious and enjoyed by all. The Mary River cruise was fantastic and refreshing. Ruben was a wonderful guide and passionate about his heritage. Overall even though I have lived in Australia for 57 years I am still learning about this magnificent country and its people. I would recommend this trip to all visiting Darwin.
August 2015
Driving rather lengthy but rock art and water trip fabulous Reuben was a great guide in the water
August 2015
The day was brilliant, from the prompt hotel pick up to being dropped off back at the same spot. Will, outré driver/guide was entertaining and knowledgable. The highlight for me was the Corroborree Billabong cruise. We were lucky enough to see three really large crocs up on the bank with a dead water buffalo. Out guide told us that this was very rare as crocodiles are very territorial but will put aside disputes for a good meal! Overall, a day trip I would heartily recommend.
July 2015
Great trip. Superb driver, Dave, on the bus, very informative. Long drive but worth it. Mary River cruise fantastic. Ruben was an amazing host. Obviously very proud of his culture and the company he works for. Really did us all proud. All in all a very enjoyable day complemented by ther others on the tour, our hosts, the information provided and the scenery.
December 2014
My wife and I loved the trip. Guide was very good and provided a lot of information. The birds were out of this world. Too hot for the crocs to show much.
Dr M S Campo United Kingdom
October 2014
It was a thoroughly outstanding day! The Ubirr art was misterious and very interesting, the nature trail fascinating and the Mary River Cruise out of this world!
October 2014
This trip was extremely well organised. The driver/guide told us very interesting stories about aboriginal culture and provided us with information on the locations we traveled through on our way to Kakadu. Also the boat trip on the Mary river was very lovely and interesting.

September 2014
Great experience, a long time spent on the bus but Ubirr and Mary River are worth it! Breathtaking landscapes and art, loads of wildlife to see and a nice and competent guide! A++
David B Australia
September 2014
This was a long day, but very interesting and with great views. The tour had changed from our booking from Yellow River to Mary River Wetlands. Our guide was excellent. The visit to the aboriginal paintings were great and cultural was very educational but the highlight of the tour was the Mary River wetlands cruise. There was heaps of crocodiles and the water lilies were beautiful and too sit among them and sip on champagne and eat fruit was so peaceful. The bird life was wonderful. Overall the day was inspiring.
July 2014
This was a wonderful Experience. Our Brazilian Guide, Fabiana was wonderful, with great local knowledge and a great manner. We saw great Aboriginal art, Museums and a wonderful cruise on the Mary River, with another great guide, who knew where all the crocodiles lived. I was surprised by the lack of bird life, which I believe is more evident on the Yellow River Cruise.
Advertisement
Advertisement