94 Reviews
Location:

Darwin, Australia

Duration:

13 hours

(approx.)
Discover the magic of Australia's Kakadu National Park on this full day trip from Darwin. Cruise along the famous Yellow Waters, while looking out for crocodiles on the riverbank and visit Nourlangie Rock, famed for its ancient Aboriginal rock art. Top it all off with an optional 50-minute scenic flight over Kakadu, giving you a birds-eye view of the spectacular Northern Territory wilderness.
Highlights
See Nourlangie Rock - the museum in the desert

Take a cruise on the Yellow River

See crocodiles basking in the sun

Enjoy lunch under the trees

Visit Warradjan Aboriginal Centre and learn the history of the area

Upgrade to include an optional 50-minute scenic flight over Kakadu

Recent Photos of This Tour
Kakadu, Nourlangie and Yellow Waters Tour with Optional Flight over Kakadu
What You Can Expect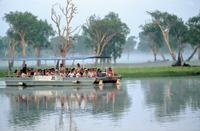 Visit the Top End (Northern Territory) to discover Australia's most famous national park - Kakadu. Your full day you will depart from Darwin and travel to Kakadu National Park, which covers some 20,000 square kilometers making it Australia's largest national park. Its vast wetlands and ancient escarpment are home to one of Australia's largest and most diverse bird populations and hold outstanding natural and cultural significance.

See ancient rock art at Nourlangie Rock a virtual museum in the desert. See history come to life through the stories depicted on the walls and ceilings of caves. After lunch join your guide for a cruise on the Yellow Water billabong. Keep an eye out for the wildlife and the crocodiles basking in the sun. Visit the Warradjan Aboriginal Cultural Centre and view the informative displays detailing the traditions of the indigenous people before returning to Darwin.
Upgrade your experience with an optional 50-minute scenic flight over Kakadu for a birds-eye view of the region.

Itinerary
Hotel Pickup List:
06.00 - Adina Waterfront
06.00 - Air Raid Lodge
05.50 - Airport Gateway Motel
05.50 - Airport Inn
06.00 - Alatai Apartments
06.00 - Argus Apartments
08.15 - Bark Hut Inn
06.00 - Barramundi Lodge
07.05 - Boomerang Caravan Park
06.15 - Botanic Gardens Apartments
10.00 - Bowali Visitor Centre
06.00 - Casa on Gregory
07.10 - Coolalinga Caravan Park
06.15 - City Garden Apartments
06.00 - Cullen Bay Apartments
06.15 - Darwin Central Hotel
06.50 - Discovery Holiday Park
06.15 - DoubleTree Hilton Darwin
06.15 - DoubleTree Hilton Esplanade Darwin
06.00 - Elkes Backpackers
07.00 - Free Spirit Resort
06.00 - Frogs Hollow Backpackers
06.10 - Frontier Darwin
06.15 - H Hotel
06.50 - Hidden Valley Caravan Park
06.15 - Hilton Darwin
07.05 - Howard Springs Caravan Park (Hwy)
06.45 - Leprechaun Resort
06.00 - Mantra Pandanas
06.15 - Marrakai Apartments
06.00 - Mediterranean
06.15 - Novotel Atrium
07.00 - Oasis Caravan Park
06.15 - Palms City Resort
06.00 - Palms Motel
06.00 - Parap Village Apartments
06.00 - Paravista Motel
06.50 - Quest Palmerston
06.00 - Quest Parap
05.50 - Rydges Airport Resort
06.00 - SkyCity
06.00 - Steeles Bed & Breakfast
06.20 - Transit Centre
06.00 - Travelodge Mirambeena Resort
06.00 - Comfort Inn Vitina
06.00 - Vibe Waterfront
June 2015
A brilliant day out! Got to see lots of crocodiles and bird life at Yellow Waters, and I highly recommend doing the flight over Kakadu note you miss out on the Aboriginal Cultural centre and the flight finishes at Jabiru where you rejoin the tour group - that wasn't clear to me in the description. Well worth it!
June 2015
Very enjoyable. Scenic flight was well worth it.
April 2015
Long day but well paced. Highlights were the rock art and the billabong cruise. Very knowledgable and helpful guides.
April 2015
The guide was very knowledgable and caring. The rock art was great. The Yellow Waters trip was magical. It is a long way from Darwin .. But there are stops along the way and it is worth it.
April 2015
Highly recommend the optional flight. The tour includes stops at a buffalo station and a rock art site, then a boat ride on the South Alligator River for an up-close-and-personal look at the wildlife. Then the flight gives a breathtaking overview of the park.
November 2014
The Yellow Waters Tour was the highlight of the day for me. An enjoyable cruise on the river with good commentary and plenty of crocodiles and birds to see along the way. Our guides were knowledgeable and the meal stops along the way were enjoyable. It is a long day trip from Darwin but a memorable one.
August 2014
Absolutely essential when planning trips from Darwin! I felt like i was in David Attenborough's documentary...scenery, flora and fauna out of this world. Fantastic guide to fill your day with a lot of information.
June 2014
The rockface art in Nourlangie was amazing and the crocs in the Yellow river were fantastic
April 2014
Fantastic trip. Quite a long day but well worth it. The scenic flight is a must inclusion!
December 2013
Over all we really enjoyed this tour. The Yellow Waters was the highlight; Jamie our tour guide was very passionate and knowledgeable; we saw a number of crocs and the birdlife was wonderful-the lunch was not very good-the chicken was horrible ( looked like it was a few days old) uninspiring salads etc. very disappointing; It was unusually hot the day of our tour and this combined with a lot of smoke from bushfires impacted on the visibility for our return flight to Darwin-However it was still an amazing way to finish this very long day and gave us an appreciation of the immensity and grandeur of this extraordinary landscape.
Advertisement
Advertisement