Experience the natural wonders and ancient cultural heritage of Kakadu — Australia's largest national park. On this full-day tour from Darwin, cruise along the Yellow Water billabong while spotting crocs basking on the banks. Admire ancient Aboriginal art at the 'desert museum' of Nourlangie Rock, and delve deeper into indigenous history at the Warradjan Aboriginal Centre. Upgrade to soar over Kakadu's wetlands and sandstone escarpments on a thrilling 50-minute flight.
Highlights
See Nourlangie Rock - the museum in the desert

Take a cruise on the Yellow River

See crocodiles basking in the sun

Enjoy lunch under the trees

Visit Warradjan Aboriginal Centre and learn the history of the area

Upgrade to include an optional 50-minute scenic flight over Kakadu

Recent Photos of This Tour
Kakadu, Nourlangie and Yellow Waters Tour with Optional Flight over Kakadu
What You Can Expect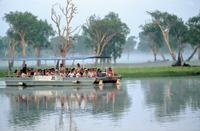 Covering nearly 20,000 square miles (32,180 square km) of rivers, wetlands and ancient sandstone mesas, the Northern Territory's Kakadu National Park is the largest park in Australia. Your full-day wilderness adventure begins with early morning pickup at your Darwin hotel and an approximately 2-hour drive to the park.
When you arrive, visit the remarkable collection of ancient Aboriginal rock art in the desert at Nourlangie Rock. Take a journey thousands of years back in time as you see stories of daily life depicted through well-preserved cave paintings. Break for a picnic lunch surrounded by the park's dramatic scenery.
In the afternoon, glide along the Yellow Water billabong on a river cruise. Learn about the natural history of the wetlands from your guide as you look for wild birdlife and crocodiles poking above the water's calm surface.
Finally, delve deeper into the area's indigenous history with a visit to the Warradjan Aboriginal Cultural Centre. Or, upgrade to cap off your day with a spectacular 50-minute flight over Kakadu's massive expanse and diverse landscapes (in place of Cultural Centre visit). At the end of your adventure, relax and soak up the scenery on the return drive to Darwin, where your tour concludes with hotel drop-off in the evening.
Itinerary
Hotel Pickup List:
06.00 - Adina Waterfront
06.00 - Air Raid Lodge
05.50 - Airport Gateway Motel
05.50 - Airport Inn
06.00 - Alatai Apartments
06.00 - Argus Apartments
08.15 - Bark Hut Inn
06.00 - Barramundi Lodge
07.05 - Boomerang Caravan Park
06.15 - Botanic Gardens Apartments
10.00 - Bowali Visitor Centre
06.00 - Casa on Gregory
07.10 - Coolalinga Caravan Park
06.15 - City Garden Apartments
06.00 - Cullen Bay Apartments
06.15 - Darwin Central Hotel
06.50 - Discovery Holiday Park
06.15 - DoubleTree Hilton Darwin
06.15 - DoubleTree Hilton Esplanade Darwin
06.00 - Elkes Backpackers
07.00 - Free Spirit Resort
06.00 - Frogs Hollow Backpackers
06.10 - Frontier Darwin
06.15 - H Hotel
06.50 - Hidden Valley Caravan Park
06.15 - Hilton Darwin
07.05 - Howard Springs Caravan Park (Hwy)
06.45 - Leprechaun Resort
06.00 - Mantra Pandanas
06.15 - Marrakai Apartments
06.00 - Mediterranean
06.15 - Novotel Atrium
07.00 - Oasis Caravan Park
06.15 - Palms City Resort
06.00 - Palms Motel
06.00 - Parap Village Apartments
06.00 - Paravista Motel
06.50 - Quest Palmerston
06.00 - Quest Parap
05.50 - Rydges Airport Resort
06.00 - SkyCity
06.00 - Steeles Bed & Breakfast
06.20 - Transit Centre
06.00 - Travelodge Mirambeena Resort
06.00 - Comfort Inn Vitina
06.00 - Vibe Waterfront
Advertisement
Advertisement