31 Reviews
Location:

Darwin, Australia

Duration:

4 hours

(approx.)
See how the Second World War was experienced in Australia on a WWII historical tour of Darwin. This poignant tour highlights the memorials and sites of the war, explains the bombing of Darwin, and visits Darwin's historic bases, museums and military precincts. You'll also cruise the harbor to see the site of a wartime shipwreck and the modern-day navy base.
Highlights
Discover the history of Darwin during war time on a WWII-themed tour

See the ammunition shelters at Charles Darwin National Park

Explore East Point Military Precinct and visit the Military Museum
See the watery grave of an American warship

What You Can Expect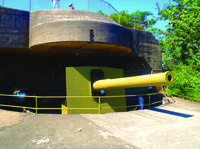 Meet your guide in central Darwin, and start you tour with a guided drive by air-conditioned coach along the Esplanade past Darwin's war memorial and anti-aircraft gun sites. Then drive to Charles Darwin National Park to see the ammunition storage shelters built here in 1944, and take a walk to the lookout platform for views of Darwin's harbor and city skyline.

Next, take a scenic drive to Stokes Hill Wharf where you'll step on board a harbor cruise to see the underwater resting place of an American warship. On board, you'll learn how Darwin's harbor was targeted in the Japanese attacks, and see historic photos of Darwin and sonar images of the shipwreck.

Leaving the boat at Cullen Bay, travel to East Point Military Precinct, the site of Australia's only wartime battleground. Here, you'll see where anti-aircraft guns were positioned, along with the storage bunkers and observation tower that survived the WWII bombing of Darwin. Tour the museum's collection of wartime weapons and vehicles housed in one of the concrete bunkers, before returning to central Darwin and the end of the tour.
Itinerary
Hotel Pickup List:
07.50 - Adina Waterfront
08.00 - Alatai Apartments
08.00 - Argus Apartments
08.00 - Banyan View Motel
07.50 - Barramundi Lodge
07.50 - Botanic Gardens Apartments
07.50 - Casa on Gregory
08.00 - City Garden Apartments
07.50 - Cullen Bay Apartments
08.00 - Darwin Central Hotel
08.00 - DoubleTree Hilton Esplanade Darwin
08.00 - Elkes Backpackers
08.00 - Frogs Hollow Backpackers
08.00 - Frontier Darwin
08.00 - H Hotel
08.00 - Hilton Darwin
08.00 - Mantra Pandanas
08.00 - Marrakai Apartments
08.00 - Mediterranean
08.00 - Novotel Atrium
08.00 - Palms City Resort
08.00 - Palms Motel
07.50 - Parap Village Apartments
07.50 - Paravista Motel
08.00 - Poinciana Inn
07.50 - Quest Parap
07.50 - SkyCity
07.50 - Steeles Bed & Breakfast
08.00 - Transit Centre
08.00 - Travelodge Mirambeena Resort
08:00 - Comfort Inn Vitina
07.50 - Vibe Waterfront
08.00 - YHA Globetrotters
December 2015
Excellent tour. The WWII Museum was first rate. Would highly recommend this tour.
August 2015
this was a very good experience.
very informative about the backgroud and everyone was surprised at the history and extent of the bombing. Visits to various sites including on the Harbour and finishing at War Museum. Duration was about right and guides was great. Everyone on trip enjoyed and spoke positively of the day .
June 2015
A great way to see Darwin and learn about the impact of WWII raids on Darwin. The military museum is great now with the interactive displays and short film.
April 2015
Sorry, I thought I had already done this.
It was fabulous my husband and I really enjoyed it

January 2015
A very good tour for both sightseeing and a history lesson of the area. It's also a great way to be able to get to see the WWII museum if you don't have a vehicle as there is no public transport that gets you close by. Both the bus driver and the boat captain were very knowledgeable.
November 2014
I really enjoyed this tour. I learned a lot about Darwin's wartime experience through the guides and museum. The tour is well organised and just the right length, the Harbour cruise is enjoyable and informative and the museum is impressive and thought provoking.
August 2014
We enjoyed the whole day, from the bunker in the bush (and its informative display boards), to the cruise around the bay and out to the USS Peary with a great commentary and ANZAC bikkies (!), to the fantastic new MIlitary Museum at East Point. An American man on our tour remarked that it was the best war museum he has seen. The Bombing of Darwin sequence is unforgettable. Thank you so much.
August 2014
We would highly recommend doing this half day tour for anyone interested in WW11 and Darwin's history . Rob was our bus tour guide he had a great sense of humour and was quite entertaining. He told us some very interesting facts and stories whilst we were driving around to see the historical sights and Wartime Museum. We transferred onto Jim's boat and as a tour guide he was very knowledgeable and proud of the history of Darwin and the stories were very informative and great to hear and see the sights from the water, Ross was also steering the boat and we had a few laughs at his expense ! All good fun, a great half day tour !
Kenneth H Australia
July 2014
It was a choppy day so we couldn't make it all the way to the memorial, well we could have but the guides said we'd all be soaking wet; so a vote went against it. What can I say the tour guides were fantastic, locals certainly can make the trip most informative and also by adding amusing anecdotes they make the whole trip feel like a friends get together. By the end of it all passengers were interacting with each other a truly good experience. My only regret is not having the time to go on the "Fish and Chip" special sunset tour but the next day speaking with those that did they stated it was enjoyable and not at all formal again more like a friends get together. Maybe next time :)
June 2014
Advertisement
Advertisement