Tick an extreme item off your bucket list with a race-car driving experience at the renowned Daytona International Speedway! Head to the track and choose a program from eight to 24 laps, then receive an instructional lesson before climbing into the driver's seat of a real NASCAR race car. Hone your skills as you pick up speed and increase your lap count around the DAYTONA 500 track — and take home an official graduation certificate to commemorate your experience!
Highlights
Driving experience at world-famous Daytona International Speedway, home to the DAYTONA 500
Drive a real NASCAR race car around a professional racetrack
Enjoy heart-pumping thrills that satisfy your need for speed!
Choose from three driving experiences to drive eight, 16 or 24 laps
Receive a safety instruction and track orientation from expert drivers
Detailed lap-time sheet and official graduation certificate included
What You Can Expect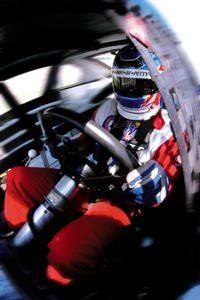 Your exhilarating NASCAR driving experience takes place at the famous Daytona International Speedway in Daytona Beach. The driving program runs anytime during operating hours (and on no-race days!). Make your way to the track at your preferred time and choose from three experience options, ranging from eight to 24 laps. (See Itinerary Section below for more information.)
Your program kicks off with a quick safety orientation followed by on-track instruction from a professional driver. Then get fit with a driving suit, helmet and neck guard, and pose for a pre-ride photo before grabbing your seat in the 600HP NASCAR race car.
Buckle up and brace yourself as you rev the engine and take off. Experience what it would feel like to be a DAYTONA 500 competitor as you make eight, 16 or 24 laps around the speedway.
After your unforgettable ride, receive your lap-time sheet and a graduation certificate to officiate your racing experience!
Note: Drivers must be at least 18 years of age and hold a valid driver's license.
Itinerary
Your driving experience includes:
10 minutes - Orientation: Meet the staff and watch a short video
20 minutes - On-track instruction: Aboard a van, master the track driving line, acceleration/deceleration points, etc.
20 minutes - In-car instruction: View the interior equipment and have your photo taken outside the car
10 minutes - Driver's meeting: Ask your professional driving instructors questions and receive the driving order
1 - 4 hours - Driving experience: Enjoy 1 to 4 hours of driving (time varies according to skill/experience level and option selected)
15 minutes - Closing ceremony: Receive your lap-time sheet and graduation certificate
Choose from the following driving experiences:

Rookie Experience: 8 laps
Kings Experience: 16 laps
Experience of a Lifetime (EOAL): 24 laps
Please note:
All times are approximate and subject to weather conditions and participant experience levels
May 2015
The Richard Petty driving experience was a surprise birthday gift for my son. When we pulled into the parking lot was when I told him about this. He went nuts with excitement then briefly to fear! After it was over his adrennelin was pumping and he said he loved it!
Advertisement
Advertisement