Ride shotgun in a real NASCAR race car at Daytona International Speedway! With a professional instructor as your trusted driver, enjoy a 3-lap run around this famous racetrack, home to the world-renowned DAYTONA 500. This ride-along program is perfect for those who'd rather not drive, but still want to experience unforgettable racing thrills.
Highlights
Race car ride-along experience at Daytona International Speedway
Ride shotgun of a real NASCAR race car during an exciting 3-lap run
Hold tight as your professional driver reaches speeds of up to 145 mph!
All safety gear provided
What You Can Expect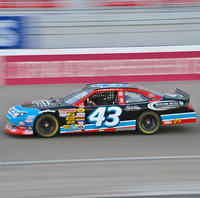 Head to Daytona International Speedway for your exciting race car ride-along program. Located in Daytona Beach, this famous racetrack is home to the legendary DAYTONA 500.
Your professional instructor will provide a safety instruction before helping you gear up in your driver's suit, helmet and neck guard. Then, hop in the passenger's seat of a Sprint Cup-style stock car and hit the track!
Hold tight as your expert driver takes you on an exciting 3-lap drive, simulating a race car qualifying run. You'll see what it feels like to be in a real race car as it thunders around the track at speeds of up to 145 mph (233 kph)!
March 2015
The ride along was fantastic...will go for drivivg next time.
April 2014
This was on my wife's bucket list and I surprised her with the ride along for her 72nd birthday. She has two artificial hips and couldn't get in the car by herself - NO PROBLEM! - the crew lifted her in. She is still grinning a week later. This is a must do if you love race cars. Everyone was more than helpful to make this a great experience and memory. Don't forget to buy the in car video stick!
February 2014
Excellent!!! It was a Christmas present for my boys (40 and 38), they are fan of Nascar, for them it was a dream come true. Customer Service excellent I called to Viator several times for re-schedule and everybody were so nice. Thanks again for your service, and see you soon, because now I want to do it too!!!
February 2014
Excellent!! I'm very happy and pleased, my boys had an awesome time, its was my Christmas present, and Viator was very nice, I need to call them and they were very professional and help me with the dates and correct something that I did wrong in the computer. I will recommend Viator 100% and use it every time that I travel....Thanks Viator !!
Advertisement
Advertisement