11 Reviews
Location:

Denver, Colorado

Duration:

Varies
Enjoy the fresh Colorado air and admire the views of the Rocky Mountains as you fly through trees and over meadows on a zipline! Ride on some of Colorado's longest zipline tracks on a course that spans more than 6,000 feet (1,828 m). Choose between a 4-line ride and a 6-line ride and enjoy scenic hikes between the ziplines. This Rocky Mountain zipline adventure is perfect for those seeking an adrenaline-filled outdoor experience!
Highlights
Zipline adventure in the Colorado Rocky Mountains
Ride 2 or 3 of the longest ziplines in Colorado!
Admire spectacular views of the Colorado Rockies as you soar through the trees
Choose from a 4-line ride or a 6-line ride
What You Can Expect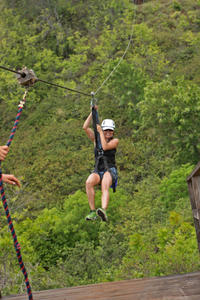 Take in the beautiful scenery of Colorado's Front Range, the gateway to Rocky Mountain National Park, as you zip through the trees! Just a 30-minute drive from downtown Denver lie three of Colorado's longest zipline tracks. Choose between a 4-line zipline, where you'll ride two of the longest in Colorado, or a 6-line zipline, where you'll ride all three.
4-line Zipline:
Spend 3 hours on a 4-line zipline, two of which are the longest in Colorado! Zipline tracks range from 850 feet (259 m) to 1,900 feet (579 m). Ride through the trees and over the meadows at 200 feet (60 m) in the air, reaching speeds of up to 50 mph (80 kph)! There is minimal hiking needed between ziplines, so average physical condition is recommended.
6-line Zipline:
Enjoy 4 hours of fresh air, scenic views and thrills on the 6-line zipline in the Rocky Mountains. Ride on six lines that range from 850 feet (259 m) to 1,900 feet (579 m). Soar through the treetops and experience three of Colorado's longest ziplines! There is a 10-minute uphill hike between the first and second zipline and minimal walking between the others; above-average physical condition is recommended.
July 2015
July 2015
We had an enjoyable time. The scenery is beautiful! The guides were friendly and helpful. The lines were fast and fun.
May 2015
This tour was amazing and the guides were super nice! Lasted for 3 hours. Would recommend and would go again.
May 2015
This was a great tour with awesome guides! This team is so nice they waited on our bachelorette squad to arrive! Such a fun time and so many memories! The guides will put you at ease with any fears you may have and keep you laughing the entire time! Highly recommend!
March 2015
These guys were so much fun they made it so fun and it was a blast. The views are amazing if anyone is wanting to go zip lining I would totally recommend these guys. They are totally safe and a blast couldn't have had a better experience for my first time zip lining!!!!! Worth every penny spent!!
November 2014
very fun and safe. The guys were great in encouraging us first timers. It was truly a very fun experience. We all look forward to going again. Thanks!
June 2014
January 2014
Everything was awesome! I have shared your PR magnets with many people..and will continue to.
The guys had to literally drag me up the mountain at one point (when we hiked to another "take off" point) but they were wonderful throughout. Absolutely fantastic. I will recommend you forever...Katie survived all of my questions pre-trip and the guys were just plain AWESOME!
July 2013
I had an amazing time!! The tour guides were extremely helpful and tons of fun! I would definitely go back again!
July 2013
This tour was great! The company that does this tour is Denver Adventures! The people were very friendly and professional! It is an amazing experience and would do it again in a heartbeat!
Advertisement
Advertisement