52 Reviews
Location:

Dubai, United Arab Emirates

Duration:

2 hours 30 minutes

(approx.)
Revel in the sights of nighttime Dubai on this memorable dinner cruise on the glass-enclosed 'Bateaux Dubai!' Enjoy a welcome drink and canapés and gaze through the boat's wraparound windows as you cruise along glittering Dubai Creek to key attractions such as the Al Maktoum Bridge, Twin Towers and Grand Mosque, all illuminated against the night sky. Then, savor a delicious 4-course meal served at your table as a pianist plays in the background. Sip on a selection of sodas or house wines, depending on which option you select.
Highlights
2.5-hour dinner cruise on the elegant Bateaux Dubai
Waft along Dubai Creek and see Dubai's landmarks twinkling against the night sky
Pass the illuminated Maktoum Bridge, Clock Tower, Twin Towers and Grand Mosque
Soak up the uninterrupted views through the panoramic glass walls
Savor a waiter-served, 4-course gourmet meal serenaded by live piano music
Upgrade to an alcoholic drinks package with house wines

Recent Photos of This Tour
Bateaux Dubai Dinner Cruise
What You Can Expect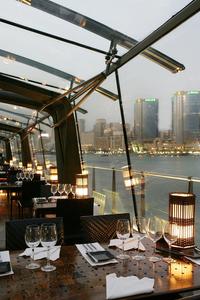 Walk along the red carpet and board the plush, glass-enclosed Bateaux Dubai. As your boat casts off, enjoy a welcome drink and canapés and spend the evening cruising back and forth along Dubai Creek.
Settle on the glass-covered deck, head for the open roof terrace, or get to the outdoor deck for unparalleled views of the city's twinkling skyline. Enjoy the evening breeze as you cruise under the glittering Maktoum and Floating bridges, and pass the Clock Tower and Dhow Wharfage, Twin Towers and Deira Tower. Then, drift by the Old Souk, Grand Mosque and Old Boat Port before your vessel heads back, giving you a second chance to photograph the city's dazzling landmarks.
As you sail, sit down to a delicious, 4-course dinner of freshly prepared, gourmet dishes. A wait staff tends to you as you admire the ever-changing backdrop from the boat's wraparound windows. You have the choice of two drink packages with your cruise: a standard selection of sodas or an upgrade that includes house wines.
During your meal, listen to soft piano music played by an expert pianist — the gentle melodies add a romantic touch to your evening. Then, after dinner, perhaps relax with your drinks on the outdoor terraces to make the most of the last, stunning views as you return to dock.
Your experience ends when your boat arrives back at the port at around 11pm.
See below for a sample dinner menu.
Itinerary
Sample Dinner Menu
Starters:
Bateaux Salmon Ensemble Sous vide (water-bathed or steam cooked) salmon with baba ganoush (aubergine dip), salmon bonbon, cucumber wakame (seaweed), black salt biscuit, wasabi mayo, cured salmon & horseradish cream
Corn-Fed Chicken Tian Slow-roasted chicken breast, avocado salsa, carrot carpaccio, crispy sweet potato brittle & lemongrass dressing
Smoked Duck & Turkey Daikon Cured turkey ham & smoked duck breast, habanero (chili) mayo, lemon-basil sorbet on pistachio dust with balsamic caviar & red currant jelly
Scallop & Prawn with Beetroot Risotto Green tempura prawn & seared scallop with beetroot-orange risotto, squid ink tuille & Parmesan espuma
Mushroom Cappuccino & Smoked Beef Tortellini With tomato crumble, sesame grissini, sweet basil pesto & truffle foam
Bresaola & Red Fig Salad With baby rocket, fresh basil, shaved Parmesan, asparagus, artichoke & ground beef quenelle with olive oil focaccia wafer & pomegranate vinaigrette
Duck Liver Torchon With freeze-dried strawberries, herb rillettes, chocolate violet, smoked salt flakes, herb butter brioche & grilled fig
Mezzah Froid — Mezzah Chaud With walnut-beetroot quenelle, carrot hummus, spinach bil zeit, (spinach in olive oil) Haloumi spring roll, lamb sambousek (pastry stuffed with lamb), Arabic bread with pomegranate injection
Main Course:
Black Angus Beef Filet With braised baby root vegetables, mushroom-goats cheese ravioli, broccoli purée, crispy Parmesan tuile, celeriac fondant & thyme jus
Corn-Fed Grilled Chicken With baby spinach & scamorza filling, frike (roasted dried green wheat) French beans, mushroom ragout & carrot cream
Lamb Loin & Braised Lamb Shank With vegetable, butternut & potato bake on red onion marmalade, goats cheese millefeuile, broad beans, black olive dust & rosemary jus
Red Snapper Sharmoullah (salad) With zaatar (Middle Eastern herbs) spaghetti vegetables, onion rings, crisp Arabic bread, rose molasses jus & parsley sauce
5-Spice Duck Breast with Duck Liver Won-Ton Polenta cream, edamame beans, mango chilli salsa, vegetable noodles, & warm honey-soya dressing
Poached Salmon With crushed lemon potato, celeriac crunch, tomato confit, asparagus tagliatelle, lemon-raspberry gel & saffron lemon butter aioli
Burj-Shrimps Tortellini With baby spinach, fennel purée, fennel chips, zucchini, balsamic pearls, Parmesan espuma cream & lobster sauce

Desserts:
Chocolate Monte Carlo Steamed chocolate cake, chocolate cream, peanut butter-chocolate ice cream, chocolate gel, chocolate ganache, raspberry coulis & Amarula shooter
Apple Tart With prune & walnut chutney, celery-apple sours syrup, with cinnamon honeycomb & olive oil ice cream
Tiramisu My Way Espresso-soaked biscuit, Amaretto mascarpone, wild berries, raspberry powder & coffee crumble, Amaretto injection
Creek Traffic Caramelized walnut- & cherry-filled crêpes with tonka bean ice cream, fruit skewers & bitter chocolate syrup
Blueberry Kunafa Cheesecake Kunafa (cheese pastry soaked in syrup), blueberry & rosewater cheesecake, sour berries, ginger ice cream & white chocolate crisp
Bateaux Fruit Pineapple, honey melon, rock melon, dragon fruit, kiwi, berries, chocolate lollipop stick, mini-marshmallow & lavender macaroon
Sorbet Selection Fruit lollipops, chocolate tuille, strawberry coulis
Fromage Francaise Assorted French cheeses with truffle honey and accompaniments
Vegetarian Menu
Starters:
Basil Zucchini with Beetroot Risotto With squid ink tuille & Parmesan espuma
Mezzah Froid — Mezzah Chaud Walnut-beetroot quenelle, carrot hummus, spinach bil zeit (spinach in olive oil), Haloumi spring roll, Arabic bread with pomegranate injection
Mushroom Cappuccino & Smoked Goat Cheese Tortellini Tomato crumble, sesame grissini, sweet basil pesto & truffle foam
Main Course:
Quinoa Pumpkin Frike (roasted dried green wheat) Pumpkin purée, roasted buffalo mozzarella, mushroom ragout
Red & Yellow Lentil Makhni (dahl) Potato filled with cashew nuts & Paneer cheese, cumin spinach, saffron rice, poppadum crisp, onion crisp & red bell pepper cream
Burj-Wild Mushroom Tortellini With baby spinach, fennel purée, fennel chips, zucchini, balsamic pearls, Parmesan espuma cream & basil oil
Desserts:
Bateaux Fruit Pineapple, honey melon, rock melon, dragon fruit, kiwi, berries, chocolate lollipop stick, lemon sorbet
Sorbet Selection Fruit lollipops, chocolate tuille, strawberry coulis
Fromage Francaise Assorted French cheeses with truffle honey & accompaniments
May 2015
May 2015
Advertisement
Advertisement