Venture into the beautiful UAE desert and learn about traditional mountain life on this Hatta Dubai 4x4 day trip. Leave Dubai by air-conditioned 4x4 and pass serene desert landscapes, rolling dunes and the craggy Hajar Mountains of the UAE-Oman border on route to Hatta. Visit Hatta Heritage Village, a restored mountain village where mud-and-stone houses and craft displays showcase life here centuries ago. After a packed lunch, visit the striking rock formations of Camel Rock and Fossil Rock, embedded with aeons-old marine fossils, on your way back to Dubai.
Highlights
Day trip from Dubai to the northeastern tip of the United Arab Emirates
Admire the staggering Hajar Mountains between the capital and the coast

Discover the desert towns and coastal villages of Al Ahaid and Dibba Al-Hisn

Visit Al Bithnah Fort and Al Badiyah Mosque, the oldest mosque in the UAE
Shop for Arabian rugs, pottery, antiques and more at the Masafi market
Transport by comfortable air-conditioned coach
Recent Photos of This Tour
Day Tour to the East Coast - Orient Express
What You Can Expect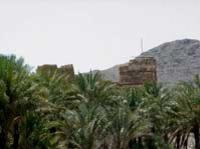 Hop aboard your comfortable, 4x4 at your central Dubai hotel in the morning. Settle into the air-conditioned interior and with your driver-guide at the wheel, set off on your journey through the UAE'S stark desert landscapes.
Head toward the UAE-Oman border and Hatta, an old trading settlement with a historical fort and rock pools, nestled high in the craggy Hajar Mountains.
Watch as the terrain shifts from open plains to dunes and rocky mountain slopes, and after roughly two hours on the road, arrive at Hatta Heritage Village.
A recreation of an old mountain hamlet dating back to before the 20th century, the complex comprises dwellings and buildings built from mud, palm leaves, reeds and stone — just as they were in bygone days.
Head inside with your guide to stroll around the simple houses, mosques and watchtowers and see the displays of weaponry, handicrafts and traditional dress that showcase what life was like here until the mid-1900s.
See Hatta Fort as you learn more about the region's history, and then climb back inside your 4x4 to venture deeper into the desert.
Take a break to enjoy a packed lunch of a burger and soda, and then continue to Jebel Maleihah, otherwise known as Fossil Rock. This large rocky outcrop rears sharply from the sands and gets its nickname from the many ancient marine fossils embedded in its slopes.
Hop out to look for these swirling, aeons-old fossils — imprints of shells and tiny marine creatures that lived on the ocean floor when the Arabian Peninsula was covered by the sea millions of years ago.
Then, make your way to nearby Camel Rock. Take snaps of this unmissable desert rock formation that resembles a camel, and then return to Dubai where your day trip ends at your hotel.
June 2016
The tour was excellent and the guide very professional and knowledgeable! It was a real pleasure discovering another aspect of the UAE, and everything was well organized.

March 2016
This was a wonderful trip out if you are staying in Dubai and want to see some great parts of the country this is the tour to take. The guide was wonderful and took care of every thing and went over everything ... this is a must if you are coming to Dubai.
March 2016
I highly recommend this tour for people who want to see not only skycrappers in Dubai, but also an another side of UAE: an Indian Ocean, Hajar Mountains, oases and forts. Trip offers many diffrent landscapes worth to see
November 2015
Very interesting to see outside Dubai - the desert, mountains, and other towns. Lunch at a great resort, though I wish I'd known we could swim and there were towels to borrow. Our guide was very informative and considerate, and spoke excellent English and German. The coach was comfortable and air conditioned. We stopped frequently and were able to buy fruit at the morning market. It's advisable to take snacks and water as it's a long day. Very glad to be told pick-up time the night before by text.
November 2015
Well organised tour, our guide was very knowledgable and it was good to get out of the city and see other areas.
October 2015
Good commentary and helpful guide. Especially liked the dip in the Indian Ocean.
September 2015
This was wonderful, got a better picture and understanding of UAE not just Dubai
August 2015
This was a great tour away, from the city which was also great value. Lots of different things to see ranging from the desert, the mountains and the sea. For those not keen to swim in the sea the pool was great. Driver and guide were excellent.
June 2015
It was a fantastic day out. The guide was really brilliant and gave us good information about the area and its people. I would do this again in a heartbeat.
June 2015
My husband Bill and I did this tour Tuesday 16th June 2015. Our guide, Nimesh was amazing and we learnt so much about life in the various Emirates. If you have a day free in Dubai I would highly recommend this tour. Don't spend all your time shopping this tour will expand your knowledge of this region. We knew there was a lot of development in Abu Dhabi and Dubai but we until we did this tour of the east coast we didn't realise the actual scale of development that is being carried out in other regions too. This tour is also a showcase for seeing some beautiful Islamic architecture in new homes.
Advertisement
Advertisement