Combine two must-do Dubai experiences on an exciting combo tour, spread over two days! After a 15-minute helicopter tour, taking in aerial views of Burj Khalifa tower and the tree-shaped Palm Jumeirah archipelago, venture through the desert the next day. Aboard a 4x4 vehicle, gaze out at the beguiling desert dunes as a local guide drives, and then try your hand at traditional Emirati activities such as camel riding. Finally, finish up with a belly dancing show and alfresco BBQ as the sun sets.
Highlights
Dubai helicopter and desert camp combo tour, spread over two days
Soar over the city to ogle views of Dubai's urban landscape and the Persian Gulf
Enjoy bird's-eye views of incredible city landmarks such as Burj Al-Arab and Burj Khalifa
Explore the desert that surrounds Dubai by 4x4 vehicle, driven by a local guide
Spend an evening at a Bedouin-inspired desert camp and try riding a camel
Watch a belly dancing show as the sun sets while enjoying a BBQ dinner
What You Can Expect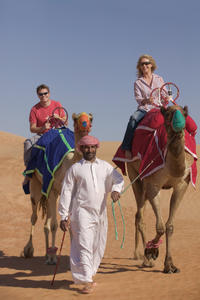 Day 1: Helicopter Flight in Dubai (15 minutes)
Make your own way to Atlantis at Palm Jumeirah — Dubai's palm tree–shaped archipelago — at least 45 minutes before your morning flight. Check in, and then listen to a quick safety briefing.
Follow your pilot to the helipad and relax in your seat (either beside the pilot or in a row of four seats to the rear) as you take to the skies above Dubai. With iconic Palm Jumeirah and the sea to one side, gaze out over the city as you glide around the sleek high-rise buildings that comprise Dubai's urban skyscape.
Soar above downtown Dubai and marvel at Burj Khalifa, one of the world's tallest man-made buildings. Glance down at the luxury sail-shaped Burj Al-Arab hotel, and ogle the sandy beaches that frame the city's bustling streets. Your pilot will point out attractions as you pass them to ensure no sights are missed! Soar around The World, one of Dubai's most ambitious property projects, and then touch down back at Palm Jumeirah where your experience finishes.
Day 2: Desert Camp Experience (6 hours)
The next day, start your afternoon desert safari with a hotel pickup by 4x4 vehicle and head deep into the desert, just outside the city. Barren yet enchanting, the sweeping desert landscape is made up of undulating dunes and desert canyons that your 4x4 is able to travel through with ease.
After an exhilarating ride through the desert dunes, travel to a Bedouin-inspired camp, and hop out of your vehicle to enjoy an evening of traditional Emirati activities. Ride a camel around the camp to test out your balance skills aboard one of the gentle humpbacked herbivores; watch as an artist paints a henna tattoo on you; and smoke a
shisha
(hookah/water pipe), if you wish!
Help yourself to a selection of food from the BBQ (see
Itinerary
for sample menu), and then settle in on the sand to watch a belly dancing performance as the sun sets over the dunes. When the show is over, simply return to your 4x4 with your guide and finish your experience with a drop-off at your Dubai hotel.
Please note: Due to a Islamic occasion from (September 22 to 23, 2015) entertainment and all alcohol will not be available at the desert camp.

Itinerary
Sample Menu:
First course (buffet selection):
Arabic bread
Coleslaw
Green salad with tomato and cucumber
Hummus
Olives
Main course (buffet selection):
Barbequed potatoes
Beef burgers
Lamb chops
Lentil curry
Marinated chicken
Sautéed onions
Steamed rice
Dessert
March 2015
Our helicopter ride was cancelled due to weather conditions however the dessert camp experience was amazing
March 2015
The trip was well organised especially helicopter flight. We had a lot of fun on the desert safary then. Dinner was fantastic as well. Highly recomended!
January 2015
December 2014
The combo of helicopter and desert experience was the experience of life time and
It's worth every penny.
June 2015
This was a great tour which the company were great at accomodating us and doing it all on one day.
Helicopter tour seemed to last a few moments but saw so much.
The dessert safari was totally different. We enjoyed the drive through the dunes but not so keen on the later element at the camp.
May 2015
Smooth ride, no issues with the piloting. I wish the ride would have travelled a little higher up over the Jumerieh Palms for a better prespective and photo ops, but thtat is reallymu only suggestion-not even a complaint.
Very professional and smoth transition!
December 2014
The "2 day tour" isn't that at all. Clearly there has been some mix up between Viator and Alpha Tours because we confirmed pick up times and dates and the following day no one came. We rang the local Alpha tours number and they then told us that the tour was all in the same day! Either way this ruined our entire trip to Dubai! We lost a full day of activities, henna tattoos, camel rides, desert safari, dinner and sightseeing! Not to mention that we then had to spend extra money on dinner, taxis etc for that afternoon and night. Out of pocket over $1000!
Advertisement
Advertisement