Experience the majesty of the UAE's falcons and desert on this 5-hour tour from Dubai. Visit a desert retreat for a spectacular falconry display and try flying a falcon yourself as you learn about this ancient Bedouin practice. Afterward, take a wildlife drive through the Dubai Desert Conservation Reserve in a vintage Land Rover, or upgrade to a plush Range Rover. Look for rare Arabian oryx, gazelle and other species on route, and finish with snacks and a camel ride. Numbers are limited to 16 for a more personalized experience.
Highlights
Interactive falconry experience and wildlife tour in Dubai
Learn about the ancient tradition of falconry in the UAE and try Falconry yourself with the help of your guide
Spot wildlife such as Arabian Orxy and Gazelle as you cruise through the Dubai Desert Conservation Reserve in a luxury Range Rover or 1950s Land Rover
Ride a camel through the desert for a quintessential Arabian experience
Small-group tour limited to 16 people ensures a more personalized experience
Recent Photos of This Tour
Falconry Experience and Wildlife Tour in Dubai
What You Can Expect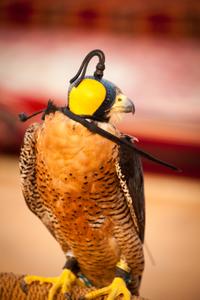 After pickup from your central Dubai hotel, relax into your air-conditioned vehicle and travel into the surrounding desert. On route, hear about the importance of falconry to the UAE. The practice was first used by indigenous Bedouins to supplement their diets with meat — courtesy of hares and birds caught by trained falcons. Today, the falcon is held in such reverence that it's the UAE's national symbol.
After about an hour, arrive at a desert retreat owned by a member of the local royal family, and be treated to an exciting falconry display.
Learn about the ancient and modern techniques used to train the falcons, and then watch transfixed as the falcons fly to collect lures and return to their gloved handlers. Admire the birds' natural agility and power, and have a go at swinging a lure and flying your own falcon from your hand.
Afterward, board your chosen transport — either an open-top vintage Land Rover or plush Range Rover — and take a drive around the Dubai Desert Conversation Reserve. The UAE's first national park, this pristine desert sanctuary provides a haven for countless species of desert animals, birds and plants.
As you travel, use the supplied binoculars to watch for rare Arabian oryx, as well as desert monitors, gazelles and other species of desert fauna and flora.
Return to the desert retreat and refuel with a tasty local snack such as chebab (Arabic pancake) or ragag (fresh bread). Then, if you wish, finish your visit with a camel ride across the sands.
Your experience concludes with a transfer back to your hotel.
Please note: a portion of your ticket price is donated to local animal conservation, so you can feel extra good about participating in this Dubai experience.
March 2016
Excellent morning, we got picked up at 6.45 which was a bit early but meant that we were back at our hotel for 1pm to enjoy the afternoon doing something else. The actual falconry display was very good and interactive and we also got a camel ride which we weren't expecting so was an added bonus. We had been advised not to do the evening desert trip because although the sunset was worth it the rest of the trip was disappointing so I am glad we did this trip instead, I would definitely recommend it.
February 2016
You cannot miss this tour, such a pleasant and delightful experience. Made me really appreciate the desert and its changing colors. Didn't know there were sandfish Scincus scincus that pop out at the edges of dunes. Dune bashing kills them, so I've ruled out dune bashing.
The falcon trainer clearly loves her birds and is very sweet. The birds themselves falcons, owls, kestrels are beautiful and graceful, one kestrel delightfully did number one and two on me when it landed on my head, thank goodness I had a scarf on, however my shirt has been sacrificed to the Kestrel god.
It's really a great desert experience and looking back I think I would recommend doing the overnight tour so that you can look at the stars in a clear dark sky.
February 2016
It was pretty nice to be pick up by G Mercedes wagon. My driver/ tour guide Baba was very friendly, knowledgeable and helpful. The tour was interesting and enjoyable.
December 2015
Great, great guide, great view, great experience.
November 2015
My guests tell me they had a brilliant time on this experience! I will definitely recommend it for anyone interested.
July 2015
This tour was a great experience. The driver we had was fun and driving over the sand dunes was a lot of fun. Watching the Falconry was fascinating and the person who trained the birds and displayed them was knowledgeable and fun. I would have no hesitation recommending this tour
Michael
May 2015
Fabulous day. We had a really fun driver (so sorry cant remember name, but will always remember the smile :-). He gave us somehelp with Arabic words on the way to the reserve. The falconry display was amazing and the little wildlife drive was great too, loved seeing the gazelles and oryx too.
May 2015
This tour was amazing!!!! Our guide was one of the best tour guides answering all of our questions. This was the an opportunity of a lifetime to be able to touch an owl and have the pictures of a my husband with a falcon perched on his arm. Totally recommend.
May 2015
The tour, guide, communication prior was all great, would not recommend the open top old land Rover anywhere near summer. The youngest among us was 5 and 67 was the oldest in a group of 6, And it was great for all.

Petru Rosenthorn Sweden
April 2015
Loved the tour. Denititely a luxury tour ran by Platinum Heritage Tour. Amazing cars both the Mercedes and Range Rover. The falconry experience was one of a kind. You get to learn about falconry tradition in Dubai passed by one generation to the next, get in close contact with arabian oryx and other animals, learn about the plants, bushes and trees that grow in the desert.
Last but not least.... our personal tour guide for 5 people only was amazing. Ibrahim was knowleadgeble, could answer all the questions, always shared a smile or joke, made one feel welcome and confortable.
Ibrahim was helpful and did more than one can expect from a tourguide.
I will definitely buy more tours with this company next time in Dubai.
Advertisement
Advertisement