Venture into the beautiful UAE desert and learn about traditional mountain life on this Hatta Dubai 4x4 day trip. Leave Dubai by air-conditioned 4x4 and pass serene desert landscapes, rolling dunes and the craggy Hajar Mountains of the UAE-Oman border on route to Hatta. Visit Hatta Heritage Village, a restored mountain village where mud-and-stone houses and craft displays showcase life here centuries ago. After a packed lunch, visit the striking rock formations of Camel Rock and Fossil Rock, embedded with aeons-old marine fossils, on your way back to Dubai.
Highlights
Day trip to Hatta Heritage Village and the UAE desert by 4x4 jeep
Travel with a friendly local guide from Dubai to Hatta in the scenic mountains of Al-Hajar
Admire the UAE's contrasting scenery with impressive city, desert and mountain vistas

Explore Hatta Heritage Village and learn about its 16th-century mud-brick mosques
Visit the rock formations of Jebel Maleihah and Camel Rock
Make use of a hotel pickup and drop-off service from central Dubai
Recent Photos of This Tour
Hatta Heritage Village and UAE Desert Tour by 4x4 from Dubai
What You Can Expect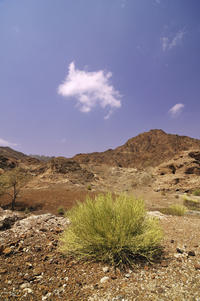 Hop aboard your comfortable, 4x4 at your central Dubai hotel in the morning. Settle into the air-conditioned interior and with your driver-guide at the wheel, set off on your journey through the UAE'S stark desert landscapes.
Head toward the UAE-Oman border and Hatta, an old trading settlement with a historical fort and rock pools, nestled high in the craggy Hajar Mountains.
Watch as the terrain shifts from open plains to dunes and rocky mountain slopes, and after roughly two hours on the road, arrive at Hatta Heritage Village.
A recreation of an old mountain hamlet dating back to before the 20th century, the complex comprises dwellings and buildings built from mud, palm leaves, reeds and stone — just as they were in bygone days.
Head inside with your guide to stroll around the simple houses, mosques and watchtowers and see the displays of weaponry, handicrafts and traditional dress that showcase what life was like here until the mid-1900s.
See Hatta Fort as you learn more about the region's history, and then climb back inside your 4x4 to venture deeper into the desert.
Take a break to enjoy a packed lunch of a burger and soda, and then continue to Jebel Maleihah, otherwise known as Fossil Rock. This large rocky outcrop rears sharply from the sands and gets its nickname from the many ancient marine fossils embedded in its slopes.
Hop out to look for these swirling, aeons-old fossils — imprints of shells and tiny marine creatures that lived on the ocean floor when the Arabian Peninsula was covered by the sea millions of years ago.
Then, make your way to nearby Camel Rock. Take snaps of this unmissable desert rock formation that resembles a camel, and then return to Dubai where your day trip ends at your hotel.
January 2016
November 2015
Really enjoyed the tour. The guide was very knowledgeable and very helpful.
Not sure lunch was that great or required - could have just had cool drinks and got back to Dubai earlier and not paid for a lunch, but maybe some people like the lunch option...!
November 2015
I was luckily, the only one on my tour! It felt nice having a private guide for the day. We went to see Hatta Heritage Village which is a bit cheesy and touristy but it's free and you can see some cool stuff. Then afterwards, we went to the dam and got some nice mountain pictures and then you go see camel rock with soft dune bashing. Since it was just me, we tailored everything to what I wanted. We couldn't go see the lakes since that's in Oman and there's passport/security issues now. Lunch is very simple - a burger with just meat, apple, and small side of potato salad. It was tasty anyway. My guide was awesome and spoke English and we had a blast getting to know each other.

July 2015
This was a really nice day out in the rugged mountains and lonely sand dunes. My guide, Jafar, did a great job four-wheeling over the dunes. He also did a nice job of explaining the sites at the Hatta Heritage Center. Really a fun trip!
June 2015
Good Tour and good guide !
December 2014
If you are interested to see some beautiful places close to Oman and then drive in desert, I would recommended to take this trip.
December 2014
The tour was great. We had a very good and very friendly driver who was fluent inEnglish and could answer all questions. The landscape was amazing in particular the desert. We had enough time at every spot and also entered the Oman for a short time.
The luch was very simple, never had a burger with bread and meat only before. However, I didn´t go there for lunch. Thus, a great tour.
October 2014
Very professional driver always prompt to give informations and make the trip as good as possible.
August 2014
We enjoyed this trip into the Hatta area and desert lunch. Our guide was professional but friendly, knew the area and history. Would recommend as a great day tour if you are staying in UAE
May 2014
Good value for money 6 hour trip. Very good guide . Sand dunes excellent
Advertisement
Advertisement