Admire the spectacular sights of Dubai from the skies on a 15- minute or 25-minute shared Dubai helicopter flight. With an experienced pilot at the controls, settle into a 5-passenger helicopter and soar above the Palm Jumeirah, Burj Al-Arab and other landmarks. Hover around the Burj Khalifa, glide over The World, the man-made archipelago in the Persian Gulf shaped like a world map, and snap photos as your pilot points out the main landmarks. Hotel pickup and drop-off are included on your Dubai helicopter tour.
Highlights
15- or 25-minute helicopter flight in Dubai
Listen to a comprehensive safety briefing before taking to the skies
Soar over Palm Jumeirah, one of Dubai's impressive artificial archipelagos
See attractions such as Burj Al-Arab hotel and Burj Khalifa, one of the world's tallest skyscrapers
Fly about The World, an archipelago where 'countries' are up for private residential sale
Recent Photos of This Tour
Helicopter Flight in Dubai
What You Can Expect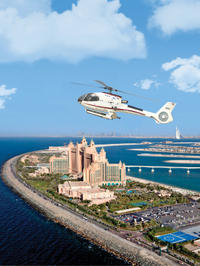 Choose from a 15-minute or 25-minute Dubai helicopter tour when you book. Then, after a pickup from your central Dubai hotel, travel to the Atlantis The Palm hotel on the Palm Jumeirah to arrive at least 45 minutes before your flight start time.
Check in at the helipad and settle into the comfortable lounge. Sip on a complimentary soda, tea or coffee as you listen to a safety briefing, and when the time comes, meet your experienced pilot.
Hop inside the state-of-the-art helicopter and sit next to the pilot or in the row of four seats behind. Then, enjoy the views as your helicopter whirrs skyward and flies high above Dubai and the Persian Gulf.
Soar over the coastline and drink in the sight of the Palm Jumeirah, the incredible Burj Khalifa and the Burj Al-Arab hotel.
Hover above the golden beaches and azure waters of the gulf, and have your camera poised as your pilot points out particular high-rises and attractions.
Then, keep your camera ready as you head out over the sea to The World, the stunning man-made archipelago shaped to resemble a world map.
Gaze down at the 300 or so sandy islets below and identify the different countries and continents, such as Lebanon and Greenland, as your pilot tells you about their private and hotelier owners.
After your 15-minute flight, touch back down at the Atlantis helipad and end your helicopter tour with a hotel drop-off.
Alternatively, if you've upgraded to a 25-minute flight, enjoy an extra 10 minutes in the air. Fly over other areas of Dubai for bird's-eye views of more of the city's attractions. Then, return to the helipad and end your tour with a drop-off at your hotel.
May 2016
So cool didn't want it to end . . .Book the longer ride if you can! 15 minutes goes by way to fast! PS don't bring your go-pro on a stick as you cannot bring this on the ride. make sure your go pro is by its's self. The views are simply amazing my favorite being the world islands as I was just there the day before so very cool to see it from above :
May 2016
This was a special treat for my wife and daughter and we all thoroughly enjoyed it. Our helicopter held six passengers and while we weren't all sat together this wasn't a problem as all the seats offered great views. Only downside was that they couldn't get the headphones working so we couldn't hear the commentary as we went along.
May 2016
Wow!! First time on a helicopter ride, it was amazing. The pilot was very informative. The rest of the staff were very friendly. Gives a superb overview of Dubai, all in one go. Give it a try!
May 2016
Very exciting and we'll organized.

April 2016
Very organized, the driver picked us up on time and he gave us information during the trip, from the Hotel to the tour. It was a wonderful experience. I recommend 100 this tour. Five .

April 2016
This is definitely one of the better organised tours in Dubai and provides a great experience. I would recommend it to all my friends too!
April 2016
Fantastic experience,recommend
March 2016
Gives you a good view of key Dubai sites many so large you can not appreciate unless you see by air
March 2016
Being high up in the air for 25 minutes was an exhilarating experience. We were able to get a top view of the World. We are going to remember this for a long time.
March 2016
Wonderful tour. You really get to appreciate the landscape of Dubai and the fabulous buildings. Very professionally organised throughout from hotel pick-up to hotel return.
Advertisement
Advertisement