Tour code:
6183CAMELSAFARI
Enjoy a desert camel ride in Dubai and other traditional desert activities, including an Emirati dinner at a Bedouin-style camp on this memorable 7-hour adventure. Leave Dubai by air-conditioned minivan and head into the desert to meet a camel train. Then, take an unforgettable camel ride to a royal desert retreat in the rolling dunes. As the sun sets, enjoy an exciting falconry display, watch an Arabic bread-making demonstration and get a henna tattoo. Finish with a mouth-watering, 4-course dinner under the stars accompanied by exotic Arabian dancing and music.
Highlights
7-hour dinner-in-the-desert experience with round-trip transport from Dubai
Enjoy a 45-minute camel ride to a Bedouin-style camp within a royal desert retreat
Savor a delicious 4-course banquet followed by traditional music and dancing
Watch falconry, bread- and coffee-making demonstrations and get a henna tattoo
Relax with a hotel pickup and drop-off service from central Dubai

Recent Photos of This Tour
Luxury Desert Experience: Camel Safari with Dinner and Emirati Activities with Transport from Dubai
What You Can Expect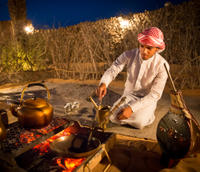 Begin your experience with a pickup from your central Dubai hotel. Settle inside your air-conditioned minivan and relax as travel into the desert.
Meet your camel convoy and enjoy a 45-minute ride on a camel. Enjoy the views as your camel lumbers across the sands: you'll soon understand how these hardy herbivores provide ideal transport for nomadic Bedouins.
After around 45 minutes, arrive at a Bedouin-style camp inside a desert retreat owned by the UAE royal family.
Leave your camel and absorb the magical setting. The compound stands amid rolling dunes and is prettily illuminated by flame torches, giving it a truly Arabian feel.
As the sun sets, watch a display of the ancient sport of falconry. Admire the speed and elegance of the falcons as they answer their handlers' commands and swoop for lures.
Stroll into the dunes for photos of the sunset and enjoy a range of traditional desert activities inside a rustic-style Arabian tent. Savor Arabic coffee, get a henna tattoo and learn to make Arabic breads with a step-by-step demonstration.
Next, settle at a low Bedouin table for a 4-course feast of typical Emirati dishes with sodas and mineral water. See the Itinerary for a sample menu.
Following dinner, choose to smoke a shisha (Arabic water pipe) and watch a display of traditional dancing and music under the stars.
Return to Dubai in your minivan and end your experience with a hotel drop-off.
Itinerary
Sample Dinner Menu:
Starters:
Shorbat adas (spicy lentil soup)




Garden salad




Onion and tomato salad
Meze course:
Selection of small dishes such as tabbouleh (cracked wheat salad with mint, tomatoes and lemon juice), sambousek (lamb- or cheese-filled pastries), harees (meat-stuffed wheat dumplings) and hummus (chickpea dip)
Main course (choice of one):
Chicken kebabs




Ouzi (lamb served with nuts and rice)




Ouzi rice and vegetables
Dessert (choice of one)
Fresh fruit salad




Lgeimat (miniature, saffron-flavored doughnuts drizzled with date syrup)



May 2016
I booked this based on reading other people's reviews and it was worth every penny. The driver was so informal on our drive to the desert, the 45 minute camel ride was no doubt the best part of my Dubai trip. You and your thoughts on top of a camel as the sun is setting strolling up and down the sand dunes . . . the most zen moment in my life. I was a solo traveler and the family of 4 who I sat with and drove with were so lovely and we got to enjoy the experience together! I loved getting henna, the food was delicious ahhh I just want to go back. Book book book! Thank you for such a memorable last night in Dubai!
May 2016
Wir hatten die Kamelsafari gebucht. Da es bei den verschiedenen Anbietern sehr unterschiedliche Preise gibt, war ich unsicher, ob sich die Premium-Variante lohnt oder man auch sparen könnte. Ich muss sagen, ich habe es nicht bereut. Wir haben für knapp 130 Euro einen unvergesslichen Ausflug erhalten. Alles hat super geklappt! Die Terminvereinbarung genaue Uhrzeit hat prima geklappt, die Abholung war superpüntklich und der Ausflug war schöner als wir erwartet hätten. Zuerst sind wir mit dem klimatisierten Auto vom Hotel abgeholt worden. Der Fahrer war sehr nett und sprach deutsch - so wie wir es uns gewünscht/bestellt hatten. Auf der Fahrt in die Wüste wurde uns schon viel erzählt und es gab einiges zu sehen. In der Wüste erhielten wir eine Kopfbedeckung und ab ging es für 45 Minuten auf die Kamele und durch die Wüste. Ich habe niemanden gesehen, der keinen Spaß hatte. Die Falkenshow war kurz, aber gut. Danach wurden wir mit Jeeps in das Lager gefahren. Die Fahrt hat wirklich Spaß gemacht. Der anschließende Abend im Camp war sehr schön, das Essen toll und die Vorführungen prima. Was mir auch gefallen hat war, dass alles sehr unaufdringlich war. Es wurden Fotos gemacht, die wir angeboten bekamen, wir aber in keiner Minute bedrängt wurden, zu kaufen. Ein wirklich toller Tag - ich würde es gerne wiederholen!
May 2016
Fantastic experience and would recommend it to everyone. Our tour guide, Hajaj, was wonderful!

May 2016
Fantastic trip! Great guides, great camels, great desert experience. Definitely a MUST DO in Dubai!
April 2016
Probably the best activity we have had in our lives, and I have been to 35 countries and over 300 cities. Very well organized from a very beginning. The camels are so great and gentle. We felt as we were swimming in the sand over their tops. The Bedouin camp was almost authentic, except for a very clean and very modern toilet much better than the one at Dubai Airport. The food was very testy and plentiful. Really nothing to complain about. Just our lucky night under the Dubai stars.
April 2016
The company called the hotel ahead before the tour begin and confirm the time for pick up.The driver tour guide was promptly with the pick up. He was very knowledgeable and humorous. The 45 minutes camel ride was peaceful and enjoyable . The sunset scene in safari was beautiful and astonishing . After that , we were served with a glass of apple cider. and enjoying the falcon show . Then we were heading to the camp where the tour guide explain us with Arabian 's tradition . There we can taste the camel milk , camel meat , berry juice or tea . The tour guide even offer to have more picture time with the camel if you want . The food and performance was good . Then we have a chance to relax and smoke some original shisha. Tour guide then offer your picture and video from the trip to purchase. Then the driver would drive you back to your hotel .I totally enjoyed this trip .
April 2016
Efficient booking - excellent guide - great experience
April 2016
Best tour ever! Wessel our tour guide is the best!!! Worth every penny!

April 2016
The driver/guide picked us up at our downtown hotel promptly and we took a shared 45 minute ride out to the royal desert retreat where we were greeted by additional guides. After donning the required headscarf we were off on our private camel ride - just our family and a guide - for about 45 minutes through the desert you can skip this part if you want and just go for a desert jeep ride. It was really a lot of fun, very peaceful, comfortable and scenic. Our guide snapped tons of photos for us with our camera and they also had a videographer running around the dunes shooting video and stills yes, we bought our video package on a thumb drive later on in the evening!. The camel ride takes you to a spot where you meet up with the other small groups about 70 people in total. There is a falconry demo at sunset, complete with sparkling juice and cushions/rugs to sit on. From there you get into a jeep for a quick 5 minute ride to the faux-Bedouin compound for dinner. The dinner was spectacular. When we were done with the appetizers we thought that was it, but no - the main courses came, each more delectable than the next. Everything was incredible - including the chai with camel milk. After-dinner sheesha was a fun new experience, as was the henna we got. The only thing that seemed a bit perfunctory were the dancers. After dinner, a short jeep ride back to our waiting SUV and driver who took us back to our downtown hotel. I'd highly recommend this tour. Very well organized and a truly lovely way to experience an evening in Dubai and the desert. Great for people of all ages - there were a few kids there as well.
April 2016
We loved it, every bit of it! Well organised tour from start to finish. Thanks Sameer Sam for taking care of us :-
Advertisement
Advertisement