Venture through the desert by vintage Land Rover and enjoy Arabic entertainments and dinner on this 7-hour experience from Dubai. Board an open-top Land Rover with a driver, and watch for wildlife as you drive into the Dubai Desert Conservation Reserve. See a falconry display and continue to a plush Bedouin-style camp within a royal residence. Here, experience traditional activities, including a camel ride and bread-making demonstration, and enjoy a delicious dinner, live music and dancing displays. Upgrade to ride in your own private Land Rover with a personal driver.
Highlights
7-hour dinner in the desert excursion with transport from Dubai
Travel by open-roof vintage Land Rover through Dubai Desert Conservation Reservation
Look out for desert wildlife such as Arabian gazelles and oryx
Spend the evening at a Bedouin-inspired camp in the grounds of a royal retreat
Enjoy live bread making and coffee making, falconry display, traditional dancing and more
A donation to the Dubai Desert conservation reserve will be made on your behalf for participating on this tour

Upgrade your experience to a private safari tour and enjoy your own vintage Land Rover.
Recent Photos of This Tour
Luxury Desert Experience: Dinner and Emirati Activities with Vintage Land Rover Transport from Dubai
What You Can Expect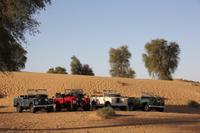 Begin your desert experience with a pickup from central Dubai hotel. Enjoy the views as you travel into the desert and swap your pickup vehicle for a shared, open-top vintage Land Rover. If you wish, upgrade when you book to travel in your own private Land Rover, with a private driver.
Take a seat in the rugged 4x4 — a classic vehicle used extensively for desert transport during the 1950s and 1960s.
Then, with an experienced driver at the wheel, set off through the beautiful Dubai Desert Conservation Reserve, a protected haven for desert wildlife.
On route, listen to interesting stories about Dubai's history and an introduction to the traditional desert activities on offer this evening.
As you rumble through the sands, look for wildlife such as Arabian gazelles and oryx. Then, as the sun sets, stop for a fascinating display of falconry. Watch fascinated as the magnificent birds soar through the air and swoop for lures.
Back aboard your Land Rover, drive to a Bedouin-style desert camp in the grounds of a private royal retreat. Admire the beautiful setting of plush tents and outdoor cushions cast in the flickering light of flame torches.
Before dinner, enjoy an array of Emirati activities. Savor an Arabic coffee, watch a bread-making demonstration, get a henna tattoo and take a camel ride.
Next, take a seat at a shared, low Bedouin-style table for a delicious 4-course dinner of Emirati specialities. See the Itinerary for a sample menu.
Afterward, smoke a shisha (Arabic water pipe) if you wish, and enjoy displays of Arabic folk dancing and music as the stars light up the sky.
Then, ride your Land Rover back through the sands to the camp entrance. Here, board an air-conditioned minivan and return to Dubai, where your experience ends with a hotel drop-off.
Itinerary
Sample Dinner Menu:
Starters:
Garden salad




Onion and tomato salad




Shorbat adas (lightly spiced lentil soup)
Meze selection:
Assorted appetizers such as tabbouleh (cracked wheat salad with tomatoes and lemon juice), sambousek (lamb- or cheese-filled pastries), harees (meat-stuffed wheat dumplings) and hummus (chickpea dip)
Main course (choice of one):
Grilled chicken kebabs




Ouzi (lamb served with spiced nuts and rice)




Ouzi rice and vegetables
Dessert (choice of one):
Seasonal fruit salad




Lgeimat (mini saffron-spiced doughnuts soaked in syrup)
May 2016
One of the best activities my wife and I have had. Could not of asked for anything better.
Truly informative and interesting, allowing you to do as much activity as you desire and to feel the culture.
The meal was also very good and had everything from for me exotic to regular.
Tasted camel for first time in my life.
I would highly recommend this tour, again we were away for 17 days, doing a lot of tours, this was the best
May 2016
Would highly recommend.! Every activity during the safari was enchanting. Loved the camel ride, the desert at night , and the good food.

May 2016
It was woderful,,,,our driver Hadgegi i am sorry,i forget the name was great
This experience worth it
May 2016
Nice tour, lots of people of course, but real fun esp. for the kids.
May 2016
By far the best tour i have ever been on. The tour staff was amazing and the tour was great we had a lot of fun. The local office placed calls to confirm pick up and then followed up with a call as someone had left their wallet at dinner. 10's all the way.
May 2016
This is an absolutely fantastic trip! If you are keen to learn about the heritage of Dubai this is a great place to start. Entertaining throughout and a great way to absorb the culture. Eslam was a great tour guide who explained everything really well. The 4x4 experience is excellent and the food was amazing.
This is definitely a must do!
May 2016
I loved Dubai, it is a new energetic emerging city. It is fun to get a glimpse of its desert heritage. We took our 2 teens and everyone had a great time. Guide was very knowledgeable. Land Rover ride, Falcon show, desert scenery, Bedoin camp, camel rides, henna, dancing and dining under the star
April 2016
Great tour! If you go to Dubai you have to do this tour.
April 2016
Phenomenal! An absolute must! Khairy, our guide, and the Platinum Frontier team made the experience authentic yet posh and very memorable. The tour is worked around sunset so exact time to start was dependent on the sun. Communication could not have been more thorough through email and direct calls to our hotel. We had no confusion about what to expect. Whisking through the sand dunes in an open air jeep is indescribable for those at any age. We are a party of ladies which include two age 70. Khairy treated the older ladies with absolute care and thoughtfulness without making them feel old ensuring they could get in and out of the 1950 jeep effortlessly, helping them climb the sand dunes and making sure their insistence to ride the camel was met. Their excitement was infectious. Every detail throughout the tour has been considered. Being ladies, we felt extremely safe. We were advised on clothing to get us from daytime heat to desert evenings. Headgear was provided to shield us from sand and to offer a bit of authenticity, Khairy spent endless time offering information about the tour, the culture and the history. The dinner was fabulous and really not to be missed! The camp is expertly done and truly provides a feeling of immersion into another time. A wide range of food was included all of which had a significant importance to the history while still being tasty for today's palette. HIGHLY recommend. If you have older generations, do consider the private jeep as this gives your guide the ability to customize the experience based on need which is exactly what Khairy did for us.
R Sharulnizam R Singapore
April 2016
Advertisement
Advertisement