93 Reviews
Location:

Dubai, United Arab Emirates

Duration:

7 hours

(approx.)
Pass through the desert in a vintage Land Rover and spend an evening dining under the stars at a Bedouin-inspired camp, tucked away in the grounds of a royal residence! This must-do cultural experience includes an afternoon safari through Dubai Desert Conservation Reserve, followed by a night of Emirati entertainment, hospitality and traditional food. Enjoy local music and dancing, cookery demonstrations and a falconry display; get a henna tattoo and ride a camel; and then relax during a 4-course set menu for dinner.

Upgrade your experience to a private safari tour and enjoy your own vintage Land Rover.
Highlights
7-hour dinner in the desert excursion with transport from Dubai
Travel by open-roof vintage Land Rover through Dubai Desert Conservation Reservation
Look out for desert wildlife such as Arabian gazelles and oryx
Spend the evening at a Bedouin-inspired camp in the grounds of a royal retreat
Enjoy live bread making and coffee making, falconry display, traditional dancing and more
A donation to the Dubai Desert conservation reserve will be made on your behalf for participating on this tour

Upgrade your experience to a private safari tour and enjoy your own vintage Land Rover.
Recent Photos of This Tour
Luxury Desert Experience: Dinner and Emirati Activities with Vintage Land Rover Transport from Dubai
What You Can Expect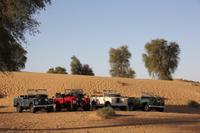 Start your experience with a pickup from your Dubai hotel, and then travel into the desert. Once in the desert climb aboard your open-roof vintage land rover – a mode of transport used extensively in 1950's desert expeditions. As you travel, your guide will regale you with stories of Dubai's past and present as well as the many customs and traditions that you'll experience throughout the evening.

Head through Dubai Desert Conservation Reserve, looking out for wildlife such as Arabian gazelles and oryx, after which, marvel at the UAE's national bird- the falcon- before sunset during the a falconry display. Make your way back to your Land Rovers and travel to the Bedouin-inspired camp in the grounds of a private royal retreat. Make your way past the gently flickering flames of the lights that mark the entranceway, and then hop out of your Land Rover to take a seat at your shared table.

Before your meal starts, enjoy a range of cultural activities are demonstrated around the tables. Enjoy an Arabic coffee, live bread making, henna artists and camel rides before a beautiful 4 course Emirati dinner in authentic goat hair tents on low Bedouin tables. The dishes are mostly traditional Emirati specialties, combining flavors from the Middle East and Asia, after which you can enjoy shisha and cultural dancing.

Take a seat back at your table in time for a cookery demonstration, where you'll learn how to make local bread. Then, all that's left to do is to feast on your 4-course dinner under the stars. Like the activities at the camp, the dishes are mostly traditional Emirati specialties, combining flavors from the Middle East and Asia.

After your meal, return to your Land Rover with your guide and journey through the desert back to the camp entrance. From here, board your air-conditioned van to your Dubai hotel, where your experience finishes.

Sample Menu:
First course:
• Shorbat adas (mildly spiced lentil soup)
• Tomato and onion salad
• Fresh garden salad

Second course:
• Selection of mezze including harees (cracked wheat dumplings with meat), kibbeh (minced meat and rice), sambousek (lamb- or cheese-stuffed pastries), hummus and tabbouleh (cracked wheat salad with parsley, mint, tomatoes and lemon juice)

Third course:
• Ouzi (succulent lamb)
• Chicken kebabs
• Vegetable and ouzi rice

Fourth course:
• Fruit salad
• Lgeimat (saffron-flavored fritters)
August 2015
Absolutely fantastic. This tour group is first class from start to finish. We could not have been happier. There's a reason these guys are number one on TripAdvisor! One of the best parts about this group is that they are at least in some part owned by the ruler of Dubai, and hence they have special access to a conservation sand dune area that is very special to visit, and is where most of the tour takes place. Absolutely wonderful!!
July 2015
Second time we have done a desert safari and this was by far the better :-
July 2015
There are a lot of tours like this one but, this one is truly special because it is the only one company allowed in this part off the desert and therefore has some perks. The beduine camp is just wonderful, the meals, the camel ride, the music, everything is wonderful. They even have an astronomer with a potent telescope talking about the stars and how the beduine used them to navigate the desert at night. Request Tiago as your tour guide. This guy will go far beyond what it is supposed to be done by a tour guide. Excellent!
July 2015
A great night, picked up on time by a very knowledgable tour guide Tiago, a great wealth of local history. Followed by a godd trip by vintage Land Rover trip through the nature reserve seeing the local gazelle and oryx followed by a great meal in the desert setting, lots of freshly mad food including soups, meats, salads and freshly made bread. A small camel ride and a bonus astronomy talk, which we found very interesting also with great views of the moon and Saturn through the telescope which had already been set up ready for us. A very pleasurable night.
July 2015
The Luxury Desert Experience was absolutely AWESOME! My husband and I travel often, but this was by far our best excursion ever. I would highly recommend this tour for anyone visiting Dubai. It was the highlight of our trip. Our tour guide Tiago exceeded all of our expectations. From the moment he picked us up from our hotel until he dropped us off, he was professional and went above and beyond what was expected. He provided great information about Dubai and genuinely worked hard to make sure that we had an unforgettable experience. The other staff members at the camp were also a lot of fun and great hosts. All of the food was super tasty. I was adventurous and tried the camel which I recommend. Definitely book this experience!
July 2015
Well structured evening of activities which didn't feel rushed. Food was excellent.
July 2015
Well paced, good variation and great tour guide. Well worth it !
July 2015
Absolutely fantastic. Very authentic , loved our guide Diego who was so informative and interesting. The food , camel rides, falconry demonstration , small group plus the Vintage Land Rovers all combined to be an amazing experience, would definitely recommend this Luxury Desert Experience !
July 2015
This was a fantastic tour.
We were worried we might be sitting in an open top Land Rover in the summer sun. But the transfers are in air-conditioned Fort Territories or the like and when you finally get into the Land Rovers, the heat has dissipated and it is great being outdoors in the remarkable and inspiring desert.
As you move from dusk to night and finish your feast, you find yourself sitting in the picturesque camp feeling the balmy night breeze, absorbed with a decision about what entertainment to turn to next - a quick camel ride? henna tattoo? lying on lounges smoking a sheesha pipe? OK, it's only artificial for health reasons, but the whole thing is fantasy really!, or star gazing through a telescope?
You can not fail to love this experience. We warmly recommend it.
July 2015
Great fun. Excellent food. Absolute professional staff.
Advertisement
Advertisement