Treat yourself to a VIP dinner-and-desert experience with this private, luxury 7-hour adventure from Dubai. Venture into the desert in a plush Mercedes-Benz G-Class 4x4, and take a thrilling wildlife drive through the Dubai Desert Conservation Reserve to look for rare Arabian oryx and other desert species. Then, after watching a stunning falconry display, ride a camel to a romantic, lamp-lit desert sanctuary and enjoy a private, gourmet 6-course dinner under the stars. Upgrade your experience to a private Mercedes-Benz G-Class and enjoy a private wildlife-spotting drive before dinner.
Highlights
Private dinner in the desert experience with transport from Dubai
Travel through Dubai Desert Conservation Reserve by an Mercedes-Benz G-Class
Stop in at a dining site around an oasis in the grounds of a royal residence
Watch a falconry display as the sun starts to set on the sand dunes
Enjoy a 6-course dinner in a private sanctuary within the grounds
Samples of local specialities
Upgrade you luxury desert experience to include a private Mercedes-Benz SUV

What You Can Expect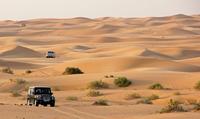 Begin your luxury experience at your central Dubai hotel. Hop inside your comfortable, air-conditioned Mercedes-Benz G-Class 4x4, and sit back and relax as you cruise into the surrounding desert.
As you travel, listen as your guide shares tales about Dubai's history and some of the traditional desert customs that still lie at the heart of Emirati culture.
After a while, arrive at the Dubai Desert Conservation Reserve, a protected area established to help preserve the desert's indigenous wildlife and ecosystem.
Set off on a wildlife drive around the dunes and plains. Watch for animals such as the rare Arabian oryx, and more common species such as gazelle and desert monitors, and learn about the flora and other features of this natural wilderness.
Afterward, leave your Mercedes-Benz to experience a spectacular falconry display. Learn how the falcon is the UAE's national bird and watch transfixed as these magnificent birds soar through the air to collect lures before returning to their gloved handlers.
If you wish, take the opportunity to get up-close to the falcons and have a souvenir photo taken. 
Then, as the sun sets, take a camel ride to a private and romantic desert dinner sanctuary softly lit by flame torches and lanterns.
Take a seat at your private table and absorb the setting over your 6-course dinner, cooked nearby by a private chef. As the stars twinkle above, savor gourmet Middle Eastern and Asian-inspired dishes such as spiced lamb cooked underground, grilled salmon and an exquisite dessert assortment. See the Itinerary for a sample menu.

Between courses, enjoy some desert activities such as getting a henna tattoo, watching a belly dancing show or taking the opportunity to try a shisha (Arabic water pipe) if you wish.

 With your meal finished, return to Dubai by Mercedes-Benz, ending your evening with a hotel drop-off.
Itinerary
Sample Menu:
Soup course:
Gently spiced shorbat adas, a stronger richer variation gently spiced. (Lentils, onion, black pepper, cumin, lime, coriander, garlic, tomato, thin noodles)
Salad course:
Fatoush (Fried pieces of pita bred, lettuce, tomato, cucumber, radish, onion, mint, sumac, olive oil and lemon juice)
Heritage Course:
A dish that symbolises hospitality in the region. Spiced Lamb is gently simmered in an underground pit overnight to ensure it is tender enough to fall of the bone.
Main course (Please make a selection from the following):
Australian Angus Steak (A thick juicy steak grilled on an open fire, drizzled with your choice of sauce).
Grilled Salmon and Tiger Prawns (Chargrilled Salmon with two succulent Tiger prawns. Served with mixed vegetables).
Arabic spiced half chargrilled chicken (A world famous Lebanese speciality, marinated chicken grilled on an open fire, served with grilled onion and parsley).
Grilled vegetable kebabs with Baked potato (Mushroom, red pepper, aubergine and cherry tomatoes, with baked potato).
Vegetarian Moussaka (Greek inspired dish transformed into a veggie delight. Chickpeas, lentils and cheese).
Dessert (both are served):
Platinum dessert selection (A selection of bite sized seasonal desserts, cakes and other delights inspired by the pure tradition of "la patisserie francaise."
Lgeimat (Arabic style donuts are drizzled with honey and date syrup).
Advertisement
Advertisement