Revitalize and relax with this oriental bath experience for women only at the ultra-stylish Spa CORDON in Dubai. After a pickup from your centrally located hotel, treat yourself to a time-honored bathing experience in the Zen-like calm of this acclaimed spa. Wallow in the whirlpool, sauna or steam room, enjoy a gentle cleansing ritual with eucalyptus soap and splashing warm water, and succumb to a sense-tingling 'kessa' glove scrub. Enjoy complimentary beverages and light snacks in the relaxation area before you leave feeling brand new and baby soft!
Highlights
45-minute oriental bath experience at Spa Cordon, Dubai (women only)

Sink into a soothing whirlpool, sauna or steam room before your bathing experience
Be cleansed and pampered with splashing warm water and black eucalyptus soap
Feel tingly-fresh with an exfoliating body scrub with a traditional kessa glove (textured glove)
Enjoy complimentary beverages and light snacks in the Zen-like relaxation area
Choose from two departure times for a morning or afternoon bathing experience
What You Can Expect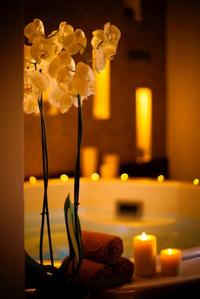 Start your experience with a pickup from your centrally located Dubai hotel and travel to the city's Spa CORDON for your oriental bath experience. A haven of tranquility, this acclaimed spa features everything from an oriental bath to a whirlpool, sauna and steam rooms, all beautifully presented with soft candlelight and elegant décor.
Step inside and immerse yourself in 45-minute of pampering inspired by the traditional bathing techniques of the orient. After a welcome drink, relax in the soothing whirlpool, sauna or steam room to loosen up for the treatment ahead. Next, enjoy a time-honored bathing ritual where your body is lightly splashed with warm water and cleansed with traditional, eucalyptus black soap — a key part of hammam.
Sit in a private steam room to give this healing soap time to purify, nourish and exfoliate. Breathe in the vapors and then wander to a candlelit massage room for your exfoliating scrub. Lie on a heated marble slab and enjoy the invigorating sensation as your masseuse gives you an all-over, foaming and exfoliating scrub with a kessa glove — a textured glove that improves blood circulation and removes dead cells to reveal the glowing, new skin underneath.
When your session ends, head for the calming relaxation area and let the afterglow of your scrub completely envelop your mind and body. Enjoy a complimentary beverage and a light snack, and leave the spa feeling tingly-fresh and completely rejuvenated. Your experience ends with a drop-off back at your hotel.
April 2015
Just beautiful! A perfect day to relax and unwind!!
June 2015
Pick up from hotel was late. Welcome drink at Spa, change into swimsuit, given fluffy robe and slippers, 10 minute Sauna, 5 minute rest then therapist takes you to treatment area. Relax treatment of deep breathing lavender scent. Given throw away pants then washed all over with warm water, rubbed with black eucalyptus oil, steam room for 10 mins, the washed again before scrubbed with kessa scrubbing all over. Very thorough, wouldnt recommend this with a couple of days tan as could be scrubbed off. Washed again then left to relax with lemongrass and ginger tea and a couple of small fruit skewers. Treatment took 45 mins, rest 30 then taxi back to hotel. Both journeys 25 mins. Not sure worth 65 but relaxing nonetheless.
Advertisement
Advertisement