Make like a Bedouin on this overnight experience from Dubai. Take a wildlife-spotting drive around the dunes of the Dubai Desert Conservation Reserve by open-top vintage Land Rover to watch for animals such as oryx and gazelles. Then, head for a royal retreat and enjoy an evening of traditional Emirati activities, including falconry displays, camel rides, cooking demonstrations and a scrumptious 4-course dinner. After sleeping in a Bedouin-style tent, wake to a delicious outdoor breakfast before returning to Dubai.
Highlights
Overnight desert experience with dinner with transport by Vintage Land Rover
Look out for wildlife while traveling through Dubai Desert Conservation Reservation
Eat and sleep at a Bedouin-inspired camp in the grounds of a Royal Retreat in the desert
See a bread-making demonstration, falconry display, traditional dancing and more
Feast on four courses of traditional Emirati cuisine while sitting under the stars
Sleep overnight in a comfortable Arabic tent with full bedding and enjoy a traditional breakfast the next morning
Recent Photos of This Tour
Overnight Desert Camp Experience: Dinner, Emirati Activities and Vintage Land Rover Transport from Dubai
What You Can Expect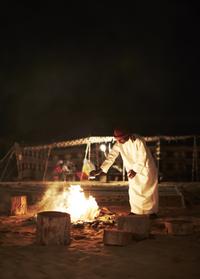 Spend a memorable night in the Dubai desert on this overnight tour. Enjoy a wildlife-watching drive by classic Land Rover at the Dubai Desert Conservation Reserve followed by an evening of desert entertainments, dinner by the campfire and breakfast the next morning, all at a beautiful outdoor camp. The tour includes round-trip transport and accommodation in an Arabic tent, with a comfortable mattress, pillow and blanket.
Itinerary
Day 1: Dubai – Dubai Desert Conservation Reserve (D)

Start your overnight experience with a pickup from your Dubai hotel, and then travel into the desert aboard your open-roof vintage Land Rover, a mode of transport used extensively in 1950s desert expeditions.
As you travel, listen to your guide's stories about Dubai past and present, as well as the many customs and traditions that you'll experience throughout the evening.

 Head through Dubai Desert Conservation Reserve on an Africian-style wildlife safari, looking out for Arabian gazelles and oryx, and then stop in a Bedouin-inspired camp in the grounds of a private royal retreat.
Make your way past the gently flickering flames from the lights that mark the entranceway, and then hop out of your Land Rover to take a seat at your shared table.

 Before your meal starts, a range of cultural activities are demonstrated around the tables. Enjoy an Arabic coffee and sit back to watch flamboyant dancers performing to traditional Emirati music, or perhaps take a wander around the camp.
Pose in the sand dunes for a photo as the sun goes down, watch a bread-making demonstration or gaze at UAE's national bird – the falcon – during a falconry display. If you want to immerse yourself in the culture even more, why not get a henna tattoo, smoke a
shisha
pipe (Arabic water pipe) or even try the traditional mode of Bedouin transport
—
a camel.


Take a seat back at your table in time for a cookery demonstration, where you'll learn how to make local bread. Then, all that's left to do is to feast on your 4-course dinner under the stars. Like the activities at the camp, the dishes are mostly traditional Emirati specialties, combining flavors from the Middle East and Asia. 


After your meal, sit around the bonfire and gaze up at the stars, and then make your way to your Arabic tent — complete with comfortable mattress, pillows and blanket — nestled inside the camp. Settle in and enjoy sleeping overnight in the heart of the desert!


Overnight: Arabic camp in the desert


Day 2: Dubai Desert Conservation Reserve – Dubai (B)

Wake to a beautiful sunrise in the morning and to the scent of strong Arabic coffee brewing and to see your breakfast being cooked. Then, feast on traditional breakfast bread with balaleet (sweet noodles) and chabaab (pancakes), washed down with Arabic coffee, of course.
You will also hear fascinating tales first-hand from a local Bedouin who will be joining you for breakfast. 

After your flight or breakfast, meet your driver and bid your friends in the desert camp a fond farewell before traveling back to Dubai. Then, finish your experience with a drop-off at your hotel mid-morning.
April 2016
Exceptional! Added the sunrise hot air balloon ride. Loved every minute of all activities! Special thanks to our desert tour guide Sharaf who was so friendly and attentive! Originally thought the two tours were pricey but was worth every penney! Best excursions I have ever experienced anywhere, any country!

Robert James R United States of ...
February 2016
A mmemorable overnight desert experience, staffs were courteous and professional.
November 2015
Very interesting and scenic.
June 2015
It was a wonderful experience totally reccommend it,
Robyn M Australia
December 2014
A Must Do In Dubai Our Guide HaMDy Was Excellent Very Much A Hands On Traditional Experience . Sleeping Was Very Comfortable As Were The Vehicles.Food Was Amazing...So Many Experiences Rolled Into One. Pick Up And Drop Off Puntual. The Best Tour In Dubai That We ExperienEd. We Would Of Liked A Longer Stay. A Jacket Would Be Needed For The Night.....Handy Has Inspired Us To Return To Dubai In The future. Highly Recommend This tour
April 2014
fantastic experience. staff were brilliant ..caring..informative.. the setting was amazing. sleping out in the desert was one of the highlights....woman you will need to take a small towell and lots of wet wipes as there is no real washing facilities there...but you just have to be creative. this is an up market tour not touristy at all..yes you pay a lot more than yur average desert trip ..but it is so worth it. Very professional..top marks.
January 2014
I had the experience to go to the desert with two different tour operators. What made the Platinum Heritage tour better for me was the authentic manner in which the meal was prepared and served, the opportunity to smoke sheesha comfortably, and the guide Hamdy going out of his way to meet the unique interests of each tour participant without neglecting the others.
On the tour we watched our food being prepared as it might have been by a Bedouin, we had a variety of mezza served to us at the table as if we were royalty, and our lamb was prepared as it was in the past. After dinner we had the opportunity to sit and smoke sheesha for as long as we liked sitting or resting on cushions in the center of the camp. There were two honeymooning couples so the guide Hamdy arranged for a special toast for the honeymooners, in addition to other activities to suit the needs and interests of the guests. It felt like a personal private tour with so much attentiveness.
The sleeping arrangements were comfortable and the desert at night delightful. In the morning we once again watched our food authentically prepared and had the opportunity to ask questions of a local Bedouin. The overnight camping safari could not have been better….had a great time.
June 2016
The guide was generally excellent, although he did not explain that I was not to return to the desert camp after the hot air balloon ride. He took time to explain many things to us, including the camel racing we passed on route to the desert camp. The activities at the desert camp were not particularly appealing to me, and in hind sight I may have opted to return to the city after dinner. Seeing the desert dunes and the falconry display were good experiences.
March 2016
Of course there are no real bedouin camps any more but this reproduction is interesting and comfortable though a bit contrived. Staying overnight was like being on a school camp with a 'lights out' curfew and no sitting around the fire talking for too long. The ride into the desert in the trucks was OK but there were a dozen other trucks running a well worn track with you. Hovering 4000 feet above the desert in a hot air balloon? Now this is living.
February 2015
A thoroughly unique experience! Hossam our guide was fantastic, and we were a nice intimate group of four as part of a larger group. The vintage Land Rovers were perfect and really set the atmosphere. We saw amazing desert landscapes and some wildlife. Heading back to the camp for the falcon demonstration/dinner, etc. it got a little too touristy for my taste as we were probably 40 people when all the Land Rover groups joined together. But then only a few of us remained to stay overnight. The tent could have been a bit more special as it was just a big tent that was compartmentalized, but still, I slept in a tent in the desert! And the mattress/bedding was comfortable. Next morning, I opted for the hot air balloon ride which is operated by a different company and not quite the same calibre. However, it was a magical experience in the end as well. FYI- you will not be back in time for breakfast, counter to the description. All in all, big thumbs up! But given the price, a special treat, and probably just worth it.
Advertisement
Advertisement