Visit Hatta Heritage Village and the beguiling desert rock formations of Jebel Maleihah (fossil rock) and Camel Rock with a private guide! With transport by 4x4 jeep, the day trip from Dubai takes in some of the United Arab Emirates' finest scenery, from desert dunes to craggy mountain passes of Al-Hajar. Learn about life in 16th-century Hatta on a tour of its heritage village, stop for a packed lunch in the desert, and pose for photos by impressive rock formations. The itinerary on this private tour is flexible and can be tailored to your interests.
Highlights
Private day trip to Hatta Heritage Village and the UAE desert by 4x4 jeep
Travel with a friendly private guide from Dubai to the towering mountains of Al-Hajar
Discover the UAE's contrasting scenery with enchanting city, desert and mountain vistas
Walk around Hatta Heritage Village to learn about its 16th-century mud-brick mosques
Pose for photos at the rock formations of Jebel Maleihah and Camel Rock
Enjoy personalized attention from a knowledgeable private guide
What You Can Expect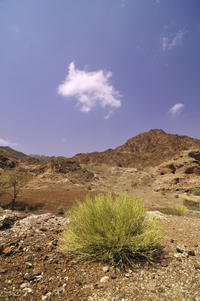 Start your day with a pickup by 4x4 jeep from your Dubai hotel, and then travel east through the UAE'S sultry desert landscape. As you travel, chat with your private guide about the UAE and the sights that you want to see. The itinerary, as described below, is flexible and can be tailored to your preferences.

Traveling in the direction of the Omani border, your first destination of the day is Hatta, a sheikdom and ancient trading enclave high up in the Al-Hajar mountains. Relax as you watch the terrain change from the pristine streets of Dubai to the soft-red dunes of the desert and rocky mountain passes of Al-Hajar.

After roughly two hours, arrive in Hajar and stop to explore its 16th-century highlight: Hajar Heritage Village. With your guide, walk around the village's mosques, watchtowers and houses while hearing how such buildings were made from materials such as mud, reed and stone. See Hatta Fort, and learn about daily village life for the Hatta people many centuries ago.

Having enjoyed 1.5 hours walking around the village, stroll back to your 4X4 jeep to travel deeper into the desert. Stop for a packed lunch of a burger and soda along the way, and then continue traveling to Jebel Maleihah, a site known locally as 'fossil rock.' Look for marine fossils — imprints of ocean life millions of years ago when water covered Arabia — on a stroll around the rocky desert outcrop, and then continue to nearby Camel Rock in Fujairah. The otherworldly rock formation makes for a dramatic photo set against the backdrop of undulating dunes and sandstone buttes.

Continue your journey back to Dubai, taking in more sweeping expanses of desert, and then finish your day trip with a drop-off at your hotel in the early evening.
September 2014
A good trip that was worth the full day if you have it to spare.
It would be quite tedious if the car was full so I recommend doing this as a 'private' drive
The trip to the desert dunes was the highlight and quite an experience. The driver gives you a choice of excitement from 'Weeee!' to death defying. We stuck with the Weee but still held our breath a few times.
Even though it is a car ride, wear closed shoes as the desert sands are damn hot where we picnic for lunch in the desert. Not a feast by any means, just a snack.
Have to use your imagination for the 'Camel' Rock visit, but the ride there was fun.
The heritage village was quite interesting. As it was off season (hot!) we had the place to ourselves which made it easy to stroll and explore. It would probably be less pleasant in peak times as the exhibits are inside small rooms with even smaller doors.
The water in the tour picture is not an exotic oasis destination. The reality is an almost empty dam roughly cut into the hillside, not noteworthy.
Although you pass through Oman immigration (for 22km each way) there appeared to be an understanding that visas were not required for the Hatta visit (we had Australian passports)
Expect the obligatory stop at the toilet break (right outside a 'hard sell' gift shop) on the way.
Overall; an interesting day with some fun experiences but not a 'must do' while in Dubai
January 2014
Interesting excursion into desert beyond Dubai. Little visible wildlife. For those interested in birds, stop off at wetlands on outskirts of Dubai, where flamingoes flock. This was a highlight.
Advertisement
Advertisement