Discover the top tourist attractions in Abu Dhabi on this private full-day trip to the UAE's glittering capital from Dubai. Traveling to Abu Dhabi from Dubai by comfortable minivan, enjoy ample time to get to know this modern city of glass skyscrapers, mosques, museums and malls. Learn about Abu Dhabi's past and visit must-sees such as the Sheikh Zayed Mosque, Abu Dhabi Heritage Village and a dhow shipyard. Let your private guide know if there's anything else you want to see: the itinerary is customizable to suit your preferences.
Highlights
Full-day Abu Dhabi city tour with a private guide
Visit Sheikh Zayed Bin Sultan Al-Nahyan Mosque, Abu Dhabi's grand mosque
Explore Abu Dhabi Heritage Village and see a recreated Bedouin camp
Enjoy a flexible itinerary with personalized attention from a private guide
Recent Photos of This Tour
Private Tour: Abu Dhabi Sightseeing with Transport from Dubai
What You Can Expect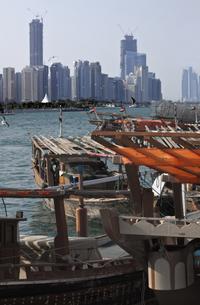 After morning pickup from your central Dubai hotel, hop inside your comfortable, air-conditioned minivan with your informative private guide. Then, set off on your private day trip to Abu Dhabi, roughly 1.5 hours away.
As you travel, listen as your guide shares interesting facts about the city. Learn how it grew from a humble trading port into one of the world's most cosmopolitan cities in just a few decades following the discovery of oil in the 1950s.
If there's anything you want to see more or less of during your tour, simply let your guide know. Because your tour is private, the itinerary can be tailored around you.
On arrival, travel around the sights in comfort and stop for photos and to visit the attractions as and when you wish.
Make your first stop at the Sheikh Zayed Bin Sultan Al-Nahyan Mosque, otherwise known as the Grand Mosque. Admire the gleaming white domes and minarets, and view the ornate interiors as you learn how the mosque accommodates 40,000 worshippers, making it one of the world's largest.
Drive along the beautiful, palm-lined Corniche, and after time out for lunch (own expense), visit the Abu Dhabi Heritage Village, an outdoor museum that recreates a traditional oasis village.
Stroll around the replica souks, courtyard houses and Bedouin tents to gain insight into daily life in the region before oil, and browse the interesting craft workshops and stalls for souvenirs.
Finally, see a dhow-making yard where craftspeople build these traditional Arabian wooden boats. Admire some of the work and learn more about the time-honored techniques used to construct these beautiful vessels.
Afterward, relax on your ride back to Dubai where your trip ends with a hotel drop-off.
April 2016
The guide/driver was on time and very pleasant. Although Malik our guide talked a lot he was passionate about the history.
April 2016
A must do! If your only time in the UAE is in Dubai, this excursion offers an interesting glimpse into the capitol of the Emirates. The main highlight is visiting the mosque which is well worth your time. Our guide Yassar, and the tour team, without question made the trip for us. He was informative, engaging and funny. Due to cultural expectancies, what you wear on this trip is extremely important. Ladies, clothes to the wrist and ankles required with no transparency. Scarves or fabric to cover the head and shoulders as well required. Men, shorts ok but they must cover to below the knee. We were lucky in that Yassar took extreme care in how we looked before we left our hotel which allowed us all to make modifications before starting the tour. We must confess, his help in stylishly tying our headwear was most impressive! Do note that the amount of walking to / from the car park is sizable. By design, this tour is fantastic for small groups as considerations are made in route to accommodate interests and/or needs. Our groups is multi-generational and we appreciated the ability to skip the amusement part. It helped that Yassar was able to get us into the exclusive Emirates Palace hotel for a walkabout! Talk about AMAZING! Through Yassar, we learned a great deal about the history of the Emirates. The visit to the Historical Village offers a phenomenal view into the investment and development that has been made over a short period of time. Lunch at the restaurant in the village is truly worthwhile. Very authentic and tasty!
April 2016
Our guide Norman was excellent and provided answers to our many questions. Liked all sites we visited but especially the museum dedicated to Sheik Zayed.
April 2016
Very convenient private tour, from/to the hotel with driver and guide, very good both of them
April 2016
Excellent from start to finish
March 2016
Amazing experience. Women, make sure you know that you have to be totally covered up. The mosque was beautiful and our tour guide, Daniela, made sure to let us know before we left our hotel that we needed to have sweaters and head scarfs. Tour was worth every dime.
March 2016
This was a great tour. Mr.Malik and the driver were the best. On the drive from Dubai to Abu Dhabi, Mr. Malik told us the history of the area and intelligently answered any questions we had. The Grand Mosque is such a beautiful edifice! I am not Muslim, but the people and atmosphere at the Mosque demands my respect. We had a nice visit at the Heritage Village and the Shiekh Zayed Museum. I would take this tour again and highly recommend Mr. Malik.
February 2016
February 2016
This tour was absolutely worth every penny. Our driver Kotu and guide Malik gave us the royal treatment and kept us laughing. Malik was very knowledgable and knew everything about Dubai and Abu Dhabi. I don't know how he keeps all of that history in his head lol. This is a must do, while others are in large groups at the various sites, you get personalized attention and access.
February 2016
Very good tour with a nice lunch at the top of a skyscraper where we could look over the entire city. We had the best Quiche Lorraine that I've had in a long time. The Grand Mosque is beautiful be sure to wear a long sleeved shirt and pants or a skirt that cover your ankles as well as a scarf to cover your head. The guards are very nice to visitors but very strict about the dress code. The Heritage Village is very nice however go to the bathroom before or after you go!
Advertisement
Advertisement