Explore Sharjah city, the capital of Dubai's neighboring emirate of Sharjah, on this 4.5-hour tour from Dubai. Sharjah is sometimes called the 'Pearl of the Gulf,' and boasts a beautifully restored Old Town of heritage areas, museums and souks. Visit premier sights such as Sharjah Fort, originally built in 1820; see the grandiose King Faisal Mosque; and learn about local life through the ages at the Sharjah Heritage Museum. Lastly, scout out traditional handicrafts and other goodies at two colorful Sharjah markets —the Souq Al Arsah and Souq Al Markazi.
Highlights
Sharjah tour from Dubai

See why many call this bustling city the 'Pearl of the Gulf'
Visit Sharjah Fort and grand Faisal Mosque

Gain insight into Arab culture and history at the

Sharjah

Heritage Museum

Find local treasures and snatch souvenirs at Souq Al Arsah or Souq Al Markazi

Recent Photos of This Tour
Sharjah City Sightseeing Tour - The Pearl of the Gulf
What You Can Expect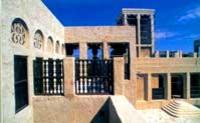 Your 4.5-hour tour starts with a pickup from your central Dubai hotel and a drive to Sharjah, one of Dubai's neighboring emirates.
Situated on the shores of the Arabian Gulf, Sharjah is the UAE's third-biggest city and centers around a restored Old Town that boasts lovely heritage areas, souks and museums.
On route, hear about Sharjah's history from your guide and stop first at Sharjah Fort, a restored fortress-palace originally built in 1820 by Sheikh Sultan bin Saqr Al Qasimi.
Head inside to view the courtyard, walls and original Al Kubs tower, and walk through the museum to chart Sharjah's past, its ruling families and life in the city 200 years ago.
Next, continue to the King Faisal Mosque, the largest of the emirate's 300 mosques. Admire the splendid building and learn how it was built to accommodate 15,000 worshippers.
Venture into the heritage area and visit the Sharjah Heritage Museum. Go inside to explore the galleries that offer fascinating insights into different aspects of Sharjah's heritage, from the local desert to customs and everyday life here, past and present.
Afterward, stroll around the Souq Al Arsah, believed to be the UAE's oldest market and where Persian, Asian and Arab traders once dealt their wares. Browse the stalls selling goodies such as pashminas, coffee pots and jewelry and perhaps snap up souvenirs (own expense) if anything takes your fancy.
Lastly, visit another of Sharjah's marketplaces, the Souq Al Markazi. Delve inside to peruse everything from designer goods to carpets and traditional Emirati handicrafts.
Your tour then concludes with a drop-off at your Dubai hotel.
June 2016
Sharjah is full of Islamic cultural tradition. Good trip to the blue souq. Recommended for the tour to be a full day instead of half day.
February 2016
Excellent tour, beautiful architecture, well informed guide and plenty of time for photos.
June 2015
Thank you very much for an excellent and interesting tour. Shiju, our driver, picked us up at the hotel and was patiently waiting at all the dfferent locations. We met Gamini our guide in Sharjah and throughout the tour he thoroughly explained the history of Sharjah, pointed out daily life issues, answered questions about the Islam, the UAE and its people and presented interesting buildings, museums, mosques, the renovated fort of Sharjah, and monuments. Most interesting for me was the museum of civilizations as well as the highly recommended Heritage Museum. I found this museum even more interesting than the one in Dubai. At the end there was a good opportunity to stroll through the Al Arsa Souk as well as through the Al Markazi souk.
Well worth. All together a good opportunity to explore an area outside of Dubai where the majority of the working families live, Sharjah, that showcases many more interesting museums and an exiting history. Konrad Richter, New Zealand
December 2014
well organised tour. the most impressive sight was the museum of islamic civilization, the best museum in the uae. highly recommend
July 2014
Excellent value. Our private guide Gabor was fantastic-he was extremely interesting and informative and very entertaining throughout. He took us to many interesting venues- especially the museums. Sharjah was a great place to visit even during Ramadan-it was far more relaxed than we expected as long as you observe a sensible dresscode. The locals were very friendly. We would definitely like to stay so we could see it in more depth and as an alternative to Dubai.
February 2014
Excellent, the tour guide has a very good knowleged, he ask all the question, was very friendly.
In the tour we saw more thing that the ones we expected.
Would highly recommend tour.
January 2014
There were only my wife and I during this trip, and we were lucky to have a knowlegable senior tour guide. TY.
January 2014
Excellent, informative tour with a guide who really knew what he was talking about. I've lived in the UAE for several years and this has been the best tour so far. The guide has lived in Sharjah for many years and we found him really interesting to listen to. Would highly recommend tour.
December 2013
Good trip unfortunately many attraction were closed due to Ramadan, however the guide was excellent and took us to some other interesting places.
Janise M C Australia
June 2013
I really enjoyed this tour. It was very informative.
Advertisement
Advertisement