Immerse yourself in the coastal majesty of Northern Ireland on a 2-day trip to Belfast from Dublin by train. With your guide, you'll travel along Ireland's rugged coastline to Belfast – Northern Ireland's vibrant capital city - where you'll enjoy free time to explore independently. Discover the world-famous Antrim Coastal Road by coach; summon your courage to cross the Carrick-a-Rede Rope Bridge; explore the picturesque island of Carrickarede; and marvel at the mystical majesty of the UNESCO-listed Giant's Causeway. Overnight accommodation, select meals and return rail tickets from Dublin are included.
Highlights
2-day tour of Northern Ireland including round-trip rail transport from Dublin
Be seduced by the rugged scenery of the Antrim Coast Road
Cross the suspended Carrick-a-Rede Rope Bridge to explore the island of Carrickarede
Marvel at the 40,000 basalt columns that comprise the UNESCO-listed Giant's Causeway
Round-trip rail transport, select meals and overnight accommodation are included
Receive personalized attention from your guide on this small-group tour
Recent Photos of This Tour
2-Day Northern Ireland Tour from Dublin by Train: Belfast and Giant's Causeway
What You Can Expect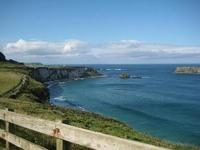 This 2-day guided trip by train and comfortable coach includes an overnight stay in a 4-star hotel plus breakfast – a delightful and comfortable way to experience the city of Belfast and the natural wonders of Northern Ireland!
Day 1: Dublin – BelfastMeet your friendly host upon check-in at Dublin Connolly Station for your 1:20pm train departure, and head to your first destination – Belfast. When you arrive in the city, transfer with your guide by local train to your hotel on Victoria Street. You'll have the rest of the afternoon and evening to get to know Belfast and explore as you like.
Overnight: 4-star hotel in Belfast
Day 2: Belfast – Dublin (B)Enjoy breakfast among members of your tour group before pickup from your hotel. Then, board your comfortable coach for the world-famous Antrim Coast Road!
En route, cross the eye-catching greenery of the Glens of Antrim, a region that contains nine glens – or valleys -- which extend from the Antrim Plateau all the way to the coast. Stop in the lovely coastal town of Ballycastle where you can catch a glimpse of the Scottish coast on a clear day.
Next, head to the Carrick-a-rede rope bridge, which spans 65 feet (20 meters) to the island of Carrickarede. Open from March to October only, you can walk across it for a small local fee. Follow the short footpath down and stop for stunning views along the way. Then hold onto the handrails and look down at the gorgeous blue water 98 feet (30 meters) below.
Continue to the stunning Giant's Causeway, renowned for its 40,000 interlocking basalt columns. It's fun to walk around atop the polygonal shapes, so be sure to wear good walking shoes. You'll make a final photo stop at historical Dunluce Castle, whose medieval ruins teeter on the edge of a basalt outcropping over the sea, before your return to Belfast.
Catch your train to Dublin (snacks available for purchase on board), arriving back at Dublin Heuston Station at 10:15pm.
June 2016
Our entire experience on the 2-Day Northern Ireland Tour from Dublin was exceptional! Traveling between Dublin and Belfast was interesting and informative, thanks to the people who accompanied us, and the Giant's Causeway was amazing!
December 2015
Both are train guide, Sean, and bus driver Alan, were professional, personable, and pleasant. Our accommodations at the Europa were excellent. We really enjoyed the experience and the convenience of traveling by train and bus.
August 2015
This was a great tour from beginning to end! Our guide, John, who picked us up at the train station was fantastic. He was very knowledgeable and was able to give us important information about how the tour would be set up and what to expect. He made sure to help us get onto another train quickly so we could get to our hotel fast and still be in time for our own booked tickets to the Titanic museum. He went above and beyond. We also enjoyed our tour with bus drivers Paul and Paul. They kept the tour lively and fun. The sights you will see are beyond spectacular!!! I would definitely book this tour again!
April 2015
The guys who accompanied us on the train were so nice. We were the only ones in our group so we got a lot of insights on Ireland and it's cultural norms. Belfast was great loved the hotel! and the drive along the coast was stunning. The hanging bridge and Giant's Causeway were just incredible.... so glad we made that trip to Northern Ireland - we saw a LOT in a short time.
October 2014
Beautiful tour along the coast! Our guide was very knowledgeable and personable and made the bus ride a great sightseeing experience. Giant's Causeway itself was beautiful beyond words. The Carrick-a-rede rope bridge was also a great site to walk around and explore the landscape. My only complaint about the whole tour is the lack of time to do things around Belfast. I had a great dinner at Crown Liquor Saloon, but I wish the tour had gotten in town early enough to take a Black Taxi tour or see the Titanic museum!

Shane B USA
October 2014
This tour was unbelievable. As promised, Brendan, our rail tour guide was there with his yellow jacket on to identify himself as our guide at the train station.
He gave us our itinerary and tickets and guided us to a car on the train. On the ride over, he sat with each of us in our group and gave us the rundown of what to expect in Belfast, as well as the Causeway tour.
The only thing I will add is that you will definitely need some British Pounds in order to transact any business while in Northern Ireland. That information was a little incorrect. So, ask the hotel desk about the nearest ATM to draw out some pounds.
The next morning, they corralled us all onto the coach. We had very nice seats reserved for the "railtour" people, and the bus accommodated our overnight bags--underneath.
Our tour guide for the day was Patrick, and I have to say that he was truly a one-man tourism guide of Northern Ireland. He even explained the "troubles" that occurred in Ireland years ago. It was an informative history lesson that I wasn't expecting, but gladly soaked it up.
Patrick was very kind and knowledgeable of all the surrounding scenery, villages, and historical markers.
This trip was especially wonderful for me as I got to ride in the front, beside the driver. As I was traveling alone, I enjoyed being up front and seeing the countryside change as we barreled along.
The Giant's Causeway was breathtaking. I can't even put into words how tremendous the site was to behold. The hike to the Carrick-a-Rede bridge and the crossing was also a once-in-a-lifetime adventure that I'm glad I didn't miss.
We stopped in Bushmills and had lunch at the distillery after the bridge hike. You can purchase a nice bottle to bring home there.
I'd definitely do this tour again--hopefully with Patrick as my guide!
Make sure you bring good hiking/ climbing shoes and a good windbreaker/ rain coat. The weather can be quite fickle and it's blustery on the cliffs and causeway.
August 2014
This was a great trip. Our hotel was lovely and central and our knowledgeable guide helped us to decide what to do with our afternoon (we chose the new Titanic Museum). The next day we were picked up promptly from the foyer and joined the coach. We had reserved seats, undoubtably giving us the best view of the coastal sights on our journey. Our driver was knowledgeable and funny and kept us very entertained as we drove to each of the stopping points. The giants causeway is well worth a visit as is the rope bridge if you have the nerve! We would highly recommend this trip.

October 2013
Thoroughly enjoyed the train ride up with our guide who made arrangements for us to do the 'Black Taxi Tour' which was amazing! Beautiful hotel and excellent breakfast. Loved the trip to the Giants Causeway and to the Rope Bridge. Excellent guides!!
September 2015
Good morning I thoroughly enjoyed my time in Belfast my wish would have been to go to Belfast and have more time, as I understand there are earlier trains that go to Belfast, we only had a chance to go on the Black Taxi Tour that our guide arranged for us at 4:30. No time to see the Titanic Musuem, the hotel was wonderful and the guides were wonderful we had. The other thing was there was no air condition on the bus on Tuesday, and we did not get notification that our tour was shorter because of the upgrades to the rail system on Tuesday so we felt a little rushed on the tour....
December 2014
Loved the Giants Causeway and driving through the small towns of Northern Ireland. Great guide. Just hoped that I could have arrived in Belfast earlier in the day.
Advertisement
Advertisement