Experience the charm and grandeur of Western Ireland on a 2-day small-group trip from Dublin. Aboard a comfortable coach and train, you'll wind through the picturesque region, passing quaint villages, glens, golden coastline and more. With an expert guide, spend two days exploring the area's top attractions such as Bunratty Castle, the Cliffs of Mohair, the Burren coast and Galway Bay. Overnight, enjoy 4-star accommodation in lively Bunratty Village.
Highlights
2-day guided tour of Western Ireland from Dublin
Enjoy free time in the towns of Galway, Bunratty and Doolin
Attend a medieval dinner banquet complete with traditional Irish entertainment
Visit the dramatic Cliffs of Mohair and travel the rugged Burren coastline
Relax in 4-star guest accommodation in Bunratty Village
Free entry to Bunratty Castle and Folk Village Park
Round-trip transport by coach and train included
Recent Photos of This Tour
2-Day Western Ireland Tour from Dublin by Train: Limerick, Cliffs of Moher, Burren and Galway
What You Can Expect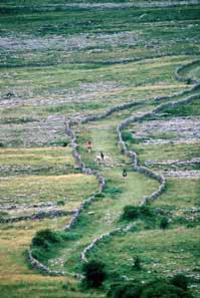 Don't miss this spectacular 2-day guided trip through Ireland's west coast by rail and coach, including an overnight stay in a 4-star accommodation plus breakfast!
Day 1: Dublin – Galway - Bunratty Village
Check in at Dublin Heuston Station, where you'll meet your friendly host and catch the 11:25am train to Galway. Enjoy the afternoon exploring Galway before a 6pm transfer to your accommodation in Bunratty Village, where you'll spend your evening enjoying a medieval banquet with legendary Irish entertainment.
Overnight: 4-star hotel in Bunratty
Day 2: Limerick – Dublin (B)
After breakfast at your hotel, meet your nowledgeable guide and group, tour the castle. Fully restored in 1954 to its former 15th-century glory – and view the beautiful medieval tapestries, art and furnishings inside. Continue to the 26-acre (10-hectare) Folk Village Park and tour the grounds where more than 30 buildings bring 19th-century rural Ireland to life.
Next, stop for lunch (own expense) at a classic pub in Doolin Village, a charming seaside town located along the rugged Atlantic coastline near the stunning Cliffs of Moher. After enjoying a meal and perhaps a pint, pass the stunning cliffs – designated a UNESCO Geo Park – and catch breathtaking views of natural landmarks like the Aran Islands, Galway Bay, the Twelve Pins and Maum Turk Mountains.
Finally, enter the barren limestone landscape of the Burren coast, rounding Black Head before heading along the shores of Galway Bay. When you arrive in Galway, join the Dublin-bound train (dinner service available onboard at own expense), arriving at Dublin Heuston Station at 9:45pm.

Please note: the Bunratty Castle banquet will not be operating until March 12 due to renovation work

October 2015
This was my first trip to Ireland and I decided to take it solo. What a smart decision to book through Viator. The tour staff were knowledgeable and helpful. The tour was always on time and the transportation was top notch. I realized how important it was to have a tour guide when the train from Galloway to Dublin was delayed due to an accident. Our guides were there for us problem solving and informative. Thank goodness for the local tour company and their team. I can't wait to book my next return trip to Ireland thru Viator!
Cindy L USA
October 2015
This was the best tour to take if you have limited time in Ireland. My friends said the train trip was fantastic. They loved the dinner at Bunratty and the hotel accommodations were perfect. They loved the time in Galway and also were lucky with the weather. The lunch at the pub was perfect, with the waiter helping one of them charge their cell phone and he brought back candy to their table. What a perfect gentleman. Hard to find such superior customer, but this tour met all expectations and beyond. If you are visiting Ireland, do not miss this one!

September 2015
My husband Oliver and I recently took a 2-Day Western Ireland Tour from Dublin and had a fabulous time. The train trip from Dublin to Galway was very comfortable and relaxing. We had about 4 hours to tour Galway and found it to be very compact and easy to get around. We also had lunch at a traditional pub and the food and atmosphere were enjoyable. We then met the coach for our trip to the Bunratty Castle Hotel. In fact, we were the only people on the coach! We arrived at our destination and checked into the hotel. We were very pleased with the quality of the room and the hotel itself. We walked the short distance to the Bunratty Castle for our medieval banquet. What a wonderful evening! The food was great and the entertainment wonderful. The next morning we met the rest of the group for our tour of the castle and grounds. It was very interesting to hear about the history of the castle and explore on our own. We then boarded the coach for our trip to the Cliffs of Moher. Our guide, Brendan was very knowledgeable and pleasant. He told us all about the Cliffs and about the town of Doolin where we would be stopping for lunch. We were then back on the coach on our way to the Cliffs. We were fortunate that we had a beautiful day for our visit as we learned that the previous day was rainy and overcast and not great for visiting. The Cliffs are spectacular and the Visitors Center very informative. We especially enjoyed the Postcard from the Edge exhibit. We then continued on our way to visit the Burren. What an unusual landscape. It felt like we were exploring the surface of the Moon. After a brief stop to see Galway Bay we were back in Galway for our train trip back to Dublin. Our guide, Brendan accompanied us on the train and continued to give us tidbits of information. We had an absolutely fabulous time and would highly recommend this tour to everyone.
August 2015
Perfect combination of free time and structure. We saw a lot over the course of just two days, and it felt relaxing at the same time. Friendly escorts and guides. The hotel was clean and comfortable. The bus drivers maneuvered narrow roads with finesse. So glad and grateful that I did this tour.
April 2015
The guides were helpful and there was plenty of time to explore on your own. The train/coaches were comfortable.
The feast at Bunratty was really fun. Good food and entertainment...Way better than I expected. Great adventure!

March 2014
Did this tour with our 15 year old daughter and it was all great. The guides were wonderful, Patrick was informative and so friendly. The cliffs were lovely and luckily it was almost sunny!! The Abbey was the highlight, we were not excepting that and it was beautiful, wish we had more time there! Staying over in Galway was a nice break, might need to go back and see that again! Our guide ( Sean) at the end of the tour made sure we knew where we were going and got off at the tram stop to make sure, made the trip even more special.
Would highly recommend this tour, even families with teenagers!! Viator was a positive experience again. Thank you
December 2013
This tour was so much fun and we saw so many things in a short time, but got a real feel for the area, both by train and bus. The guides we had on each had us well prepared for the things we experienced. One was Robbie and the other Jim, bus driver was Mike. We saw Galway, a charming city, The Cliffs of Moher, the Burren, and even enjoyed a great medieval banquet at Bunratty Castle, and explored Bunratty Village before we left the next day. Had lunch at a Pub in a little village and gorgeous scenery along the way. Viator is very well organized and take care of everything so you can just enjoy the trip. When I needed to change the day of a trip departure, I was able to reach someone quickly on the phone. They were very accommodating and took care of it right away.
April 2016
Sally met us at the train and traveled with us to Galway. She was very informative and made sure we had everything we needed. Tony met us in Galway and provided us place to store our bags. Then he showed us to Eyre Square and the main strip where there is shopping, pubs, street performers, etc! The place was beautiful and Tony recommended a few places, so we hit them all in our four hour layover. Our bus arrived and John took us to Bunratty Village where we were able to check in and get ready for the medieval dinner, which was awesome and I highly recommend! The next day, we met the rest of our group for a tour of Bunratty Castle, then headed to the Cliffs of Moher. Beautiful spot! We headed back to the train and back to Dublin. All in all, it was a great trip and would highly recommend to anyone.

October 2015
this was our 2nd tour on our 3 week trip. I was a bit concerned, when the tour guide picked us up and rode with us on a train to the city of Galway, then handed us off to another guide, the who handed us off to the city for several hours. We the boarded a coach bus, with only 5 people and headed to the castle. It was a bit confusing what and where we to be that evening and the next morning. After we figured it out, we loaded another tour bus that apparently had picked up others and headed to the Cliffs of Moher. The tour guide was great, lost of stores and history through the the trip to/fro. This tour guide rode the train back with us to Dublin. All the tour guides were great, had sense of humors, great smiles and loved their jobs. The hotel was nice, large hot breakfast was included as well.
October 2014
The tour exceeded my expectations. The tour guide was very informative and the views were spectacular. I would recommend this to my friends and family
Advertisement
Advertisement