Journey from Dublin on a three-day coach, rail and air tour along Ireland's spectacular western coast. With the vibrant city of Galway as your overnight base, you'll head out to explore both the rugged mainland and catch a scenic flight to the Aran Islands, home to prehistoric Dun Aengus fort.
Highlights
Three-day coach, air and rail tour from Dublin to Galway, Cliffs of Moher, Connemara and Aran Islands
Limerick city tour
Dramatic scenery of the Cliffs of Moher and the Burren
Scenic flight from Connemara to Inis Mor
Island tour of Inis Mor, including the magnificent Dun Aengus fort
Clifden, Kylemore Abbey and Killary Harbor or Roundstone, Coral Beach and Sky Road
Overnight B&B accommodation in Galway including full Irish breakfast
Hosted train travel
Information pack
Friendly, professional tour guide
Recent Photos of This Tour
3-Day Cliffs of Moher, Connemara and Aran Islands Rail Tour from Dublin
What You Can Expect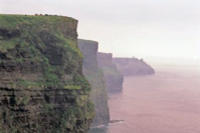 On this delightful three-day excursion you will explore Limerick city and the village of Doolin, before heading to the Cliffs of Moher and the Burren.

Next day, you'll take a scenic flight to the largest Aran Island, Inis Mor, where you will take a tour of the island, including a visit to the magnificent ancient fort Dun Aengus.

Day three will see you travel to the magnificent Connemara where John Ford filmed The Quiet Man with John Wayne in 1951. During the day you'll visit Clifden, Kylemore Abbey, Leenane and Killary Harbor or Roundstone, the Coral Beach and the Sky Road.
Itinerary
Day 1: Dublin - Cliffs of Moher - Doolin - Galway:
Check in Dublin Heuston station for a 7:00am Intercity train to Limerick. You join your coach here for a short tour of Limerick City and then to Bunratty Castle and Folk Park. You then travel to Doolin for lunch (own expense) at O'Connors Pub. Next you will visit the stunning Cliffs of Moher, Black head, the Burren and Galway Bay and spending the night in the heart of Galway City.

Day 2: Galway - Aran Islands:
At 10.30am transfer to Connemara Airport for flight to Inis Mor where you will join a tour of the Islands. There is time for lunch (own expense) at Kilronan before your visit to the magnificent ancient fort Dun Aengus. Return flight and transfer back to Galway city late afternoon. Overnight in your Galway hotel.

Day 3: Connemara - Kylemore Abbey - Dublin:
At 10;00am you head into the magnificent Connemara where John Ford filmed ' The Quiet Man' in Clifden, Kylemore Abbey, Leenane and Killary Harbor or Roundstone, the Coral beach and the Sky Road. See lots of breathtaking wild Atlantic coastline. You return to Galway for your return Intercity train to Dublin Heuston arriving at approximately 9:45pm.
June 2014
Everything ran as smoothly and efficiently as could be! We very pleased with the tours. Brendan and Norman provided terrific service and all of our connections were perfectly coordinated. We even got perfect weather for our days. Imperial Hotel in Galway was very nice. Would have liked more time at Kylemore Abbey, but otherwise, no problems and appreciated how everything ran like clockwork. Way to go, tour company and Viator.
June 2013
A very well run tour, the logistics for accomodations and meeting up with the tour group on subsequent day were handled very smoothly. The tour guides were were very entertaining and informative.
March 2013
We had a great trip for three day tour and wish that we had time for the four day tour.The whole thing was Wow! We were given friendly knowledgable tour guides who were ever courteous and brilliant at thier jobs and professions,We were escorted by rail and bus and saw magnificent castles which had been restored to thier original pristine grandeur and estates and of course the amazing Cliffs of Moher which was truly magnificent.On the third day we were taken by plane to the largest of the Aran Islands where we saw the magnificent ancient settlements from the Bronze Age.We love the whole tour and were sad when it came to an end.Please do experience this beautiful tour!
October 2010
Since I was traveling alone in a place I never visited I really appreciated the service that was provided by you, it was fabulous. I knew exactly where I needed to be, met a lot of great people and truly enjoyed the tour.
Amy K USA
April 2010
It was fabulously beautiful! I loved that we didn't have to take care of any of the details. All we had to do was show up! It was a dream-come-true trip!
December 2014
VERY nice, comfortable, well organized, knowledgeable tour guides. Time on our own was just right!
Malcolm H USA
April 2010
The guide did not have us on the roster for the second day, and as a result we almost were excluded from the Aran Island part. The tour service on the Aran Islands simply took us to the bronze age fort, dropped us off and then returned two hours later and dropped us off in town again, with no real tour of the island. That was unsatisfactory. Otherwise the guides were excellent first and third day, especially Connemara.
August 2014
This trip is really three one day tours, with a hotel in Galway. You wait until the other people coming on the tour take the train from Dublin, so you get a late start and see less than you might. Still, the Cliffs of Moher and Connemara days were good. They were spent on one bus, with one guide all day.
The Aran Islands day should be the highlight, but Railtours totally mishandles that one. They keep passing you off from person or operator to the next. Leaving you someplace with instructions that someone will pick you up in 10 minutes or some other time. They are late, then once they get there, they make you wait until others from some other tour come or they look for more customers.
There was no continuity and so much time was wasted that we saw less and were rushed at what we did see. Frankly, we started worrying that no one would show up at all. And all that time spent waiting, was time that we could have been enjoying the Island.
The hotel in Galway is probably fine in the winter, but having no air conditioning was a real problem The window opens out a tiny bit at the bottom, not enough to let air flow. There is no fan.
But noises from outside do get in. Young people screaming until late at night, what sounded like thousands of birds calling when the dawn starts to brake and then the city vehicles picking up trash and doing other things. We had two straight nights of hardly any sleep.
Suneetha United Kingdom
September 2011
It was a good trip.
Nice hotel in Galway.
But, I felt it was over priced compared any other European tours I have ever bought from Viator or any other company.
Advertisement
Advertisement