Special Offer
Book by August 22nd, 2016 to save 10% off our previously offered price!
Discover the best of Ireland's pristine southeast, including Blarney Castle and the Blarney Stone, the Copper Coast, Waterford, the Wicklow Mountains and Glendalough. With an experienced local guide to show you around, you'll take in the picturesque harbor town of Kinsale, the maritime history of Cobh, and ancient and contemporary sights in Kilkenny. From beautiful beaches to ancient monasteries, traditional pubs to gourmet restaurants, this small group tour limited to 16 people will show you Ireland's natural beauty and historic treasures.
Highlights
3-day tour through southeast Ireland including Kinsale, Kilkenny and West Cork, from Dublin
Visit Blarney Castle and the Blarney Stone or wander in the magical gardens of Rock Close
Learn the history of Irish emigration from the port of Cobh, which was also the Titanic's last port of call

Drive along the UNESCO-listed Copper Coast, named for 19th-century copper mining and now a stunning wildlife area
Stroll through the streets of Waterford, Kilkenny, and Kinsale to see castles, pubs and shops
Explore the ancient monastery at Glendalough or walk along beautiful trails in the Winslow Mountains
Small-group tour with a maximum of 16 ensures a more personalized experience
What You Can Expect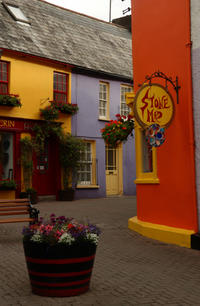 Leave the bustling streets of Dublin behind and visit the highlights of southeast Ireland, stopping in Cahir, Blarney, Kilkenny and Glendalough where you can visit ancient castles and cathedrals, or modern crafts shops, restaurants and pubs. You'll explore the natural beauty of the West Cork coast and the Wicklow Mountains, and you'll admire the lush countryside as you travel by luxury minicoach with your expert guide.

Your 3-day tour includes overnight stays in Kinsale and Kilkenny; your accommodations are centrally located, allowing you to explore the towns when you have leisure time. Breakfasts are included, all entrance fees, activities and other meals are at your own expense.
Itinerary
Day 1: Dublin – Cork – Kinsale
You'll meet your small group and guide in central Dublin and travel by comfortable minicoach through the lush farming counties of Kildare, Laois and Tipperary, with a short stop in the heritage town of Cahir. Then you'll head on to Blarney on the outskirts of Cork. You'll have time to explore the woodland walks and mystical Rock Close as well as visit the village of Blarney – a good place for lunch and a bit of shopping. You can check out Blarney Castle, built nearly 600 years ago by one of Ireland's greatest chieftains, Cormac MacCarthy. The castle also houses the famous Blarney Stone, purported to bring eloquence to those that kiss it!

In the afternoon you'll explore the coast of West Cork with its historic villages, beautiful beaches, inlets and tiny coves. At the end of the day you'll reach the attractive fishing village of Kinsale – famous for its food – where you'll spend the night. Have time at your leisure to pop into the artsy shops, traditional pubs and gourmet restaurants. From Kinsale, you can walk less than two miles (3 km) to Charles Fort, where you can take in spectacular views as you explore the 17th-century star-shaped fort, one of the best-preserved in Europe.

Overnight: 3-star hotel or B&B in central Kinsale

Day 2: Cobh – Waterford – Kilkenny (B)
After breakfast, you'll board your minicoach for a short drive to Cobh, a port town known for its maritime history. Your guide will explain the history of Cobh, known as the gateway for Irish emigration through the 19th and 20th centuries as well as being Titanic's last port of call.

You'll then follow the road along the Copper Coast – a UNESCO Geopark with beautiful scenery and a fascinating history. You'll stop in Tramore – a popular beach for surfing, before you reach Waterford, Ireland's oldest city. In Waterford you'll have time to explore the Viking history of the ancient town, visit the Waterford Crystal factory, or check out one of the excellent museums.

In the late afternoon you'll travel north to Kilkenny, a bustling city with a fine castle and park, riverside walks, and plenty of pubs and restaurants. You'll stay overnight in Kilkenny, voted Ireland's friendliest city.

Overnight: 3-star hotel or B&B in central Kilkenny

Day 3: Kilkenny – Wicklow Mountains – Glendalough – Dublin (B)
In the morning, you'll have free time to explore Kilkenny. Visit Kilkenny Castle, wander through the 17th-century streets, check out the medieval cathedral or the National Craft Center,

After a couple of hours seeing Kilkenny, you'll board your minicoach and drive north to the Wicklow Mountains where you'll find some of Ireland's highest peaks. Soak in the dramatic mountain scenery as you stop in Glendalough, meaning Valley of the Lakes, where you'll have the choice to hike some of the beautiful trails or explore the ruins of a 6th century monastery, situated in a gorgeous valley flanked by two lakes.

Once you have taken in the rugged beauty of Glendalough, you'll travel through the heart of the Wicklow Mountains National Park and cross the famous Sally Gap on your way to Dublin, approximately an hour's drive away. You'll arrive in Dublin in the evening to conclude your tour.

Neil M Australia
June 2014
Darren was great saw some great scenery fully recommend this tour plenty of time go look at sites accommodation ok

June 2014
I highly recommend this 3-day tour! Our tour guide (Darron) was fantastic! We visited all the areas listed on the tour description, and MORE! Some of the most beautiful scenery I've ever seen! To have a full experience, expect quite a bit of physical activity (walking trails, inclines, coastal cliff areas, steps. etc.). However, if you can't or don't want to do the physical activities there is still plenty to do/see. There is simply no way we could have covered so much territory on our own in such a short time.
October 2014
Very relaxing 3 days, wonderful scenery, enjoyed our 2 hour stay in Cobh most of all closely followed by visits to the Blarney Castle, Waterford and Glendalough. Accommodation was very good, more so in Kinsale, and the "craic" in the coach most enjoyable. Our guide/driver Brian from Donegal was extremely knowledgeable, humorous and very entertaining. Would certainly recommend this tour.
September 2014
The trip and the tour guide was very much enjoyed, and has help create some great memories to reflect on in the future.
One BIG disappointment;
The BB used as accommodation on night 2 was disgraceful.
The most basic of facilities were not in the room (could not even make a cup of tea). The state of the room was equally disappointing. This was matched by the awful breakfast and the attitude of the operators.
I could only hope the tour operators investigate this matter and resolve it a way to allow future guests to have a complete enjoyable experience.
September 2014
I missed bus on very first day. I was standing at departure point since 7.45AM looking for a BUS with VIATOR TAG. You guys never mentioned that it will be run by RABBIES and the bus will have RABBIES TAG. So could not join tour on first day by ??? mistake. End up spending 200 Euros to reach Kinsale to catch up 2nd day.
Special Offer
$350.80 Save $35.08
Advertisement
Advertisement