20 Reviews
Location:

Dublin, Ireland

Duration:

4 days

(approx.)
Traveling by rail and coach, this comprehensive four-day tour shows you the very best of Ireland. You'll visit Cork, Ireland's second largest city, and see the home of the famous Blarney Stone. Then you'll drive the world-famous Ring of Kerry and Dingle Peninsula, and see the breathtaking Cliffs of Moher before returning to Dublin from lively Galway City.
Highlights
Four-day train and coach trip from Dublin to Cork, Blarney Castle, Ring of Kerry, Dingle Peninsula, Cliffs of Moher and Galway Bay
Travel through Ireland's scenic countryside
Kiss the Blarney Stone at Blarney Castle
Short city tour of Cork
Moving Queenstown Story Heritage Center in Cobh
Scenic coastal drive around the Ring of Kerry
Dingle Peninsula scenery
Limerick City tour
Bunratty Castle and Folk Park
Stunning Cliffs of Moher, the Burren and Galway Bay
B&B accommodation in Killarney including full Irish breakfast
Hosted train travel
Information pack
Friendly, professional tour guide
What You Can Expect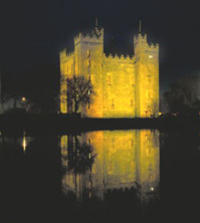 On day one, you'll kiss the famous Blarney Stone and enjoy some free time in Blarney before returning to Cork for a short city tour. You'll then transfer to Cobh, where the Queenstown Story Heritage Center retraces the steps of the 2.5 million who emigrated from Ireland.

Next day, you'll take the lovely Ring of Kerry coastal drive around the Iveragh Peninsula. The stunning mountain and coastal scenery here includes the famous Lakes of Killarney.

On day three, you'll visit the Dingle Peninsula, made famous as the location for the movie Ryan's Daughter. You'll enjoy a loop drive of the spectacular Slea Head Peninsula and stop in the picturesque town of Dingle.

Next day, you'll tour Limerick City before continuing to Bunratty Castle and Folk Park. You'll also enjoy a pub lunch in Doolin before visiting the stunning Cliffs of Moher and Black Head, the Burren and Galway Bay.
Itinerary
Day 1: Dublin - Cork - Cobh - Killarney:
Depart from the Dublin Heuston Station on the InterCity train to Cork. On arrival, transfer to Blarney Castle and kiss the Blarney Stone. After time for lunch and shopping, enjoy a short city tour of Cork and then visit Cobh Heritage Center home of the "Queenstown Story". Transfer back to Cork station for train to Killarney where you will be transferred to a comfortable bed and breakfast accommodation (with en-suite facilities). Evening free.

Day 2: Killarney - Ring of Kerry - Iveragh Peninsula:
At 10:00am depart on the famous Ring of Kerry tour which is a coastal drive around the Iveragh Peninsula - lots of stunning mountain and coastal scenery, including the famous Lakes of Killarney.

Day 3: Killarney - Dingle Peninsula - Slea Head:
At 10:00am depart for a tour to Dingle Peninsula made famous as the location for the movie "Ryan's Daughter". Enjoy a loop drive of the spectacular Slea Head Peninsula, and a stop in the picturesque town of Dingle.

Day 4: Doolin - Limerick - Cliffs of Moher - Dublin
At 7:30am transfer from Killarney to Limerick. Upon arrival, take a short tour of Limerick City and then continue on to Bunratty Castle and Folk Park. Continue on to the village of Doolin for a pub lunch. Next visit the stunning Cliffs of Moher then Black Head, the Burren and Galway Bay, before returning to Dublin for a 9:45pm arrival.
August 2014
Great stuff and everything was done brilliantly well by the tour organisers. Starting with the Tour guides (Mr Norman for 3 days and Ray Furlong for 1 day) who shared great tid-bits of information, the bus ride, the photo-stops, the scenery itself and of course the pubs and inns where good food was always available (though a little bit restricted in terms of choice for strict vegetarians). The routes chosen were stunning leaving us panting for more...wishing that this tour never ended !!
August 2012
I had the most wonderful time on my tour. My guide for day one and four was Norman and he was truly fantastic! His stories and wealth of information made for a truly enjoyable tour. My only request was that I wish our tour was able to spend more time at Cliffs of Moher and in Galway.
July 2012
A wonderful tour of Ireland! And if are lucky enough to have Tim Tim as your guild, all the better for you!!!! He made the journey for us. This trip gives you a wonderful taste of the country--and we cannot wait to return to see more.
July 2011
Very interesting tour and lovely areas to visit!! The tour guide on the Ring of Kerry was absolutely fantastic. My only wish was to have been allowed more time to spend in each area as opposed to short stops. I do highly recommend the trip and staying in B and Bs. Beauty's Home in Killarney was so welcoming!!
January 2011
This was a well organised trip, with good B&B accomadation. The scenery was spectacular well worth going even if the weather is not good.
March 2010
I would definitely recommend this tour. Fantastic - over exceeded my expectations.
March 2010
Great. The B&B was very nice. The tour guides were kind and knowledgeable.
October 2015
Our guide Jonathon was spectacular. We had so much fun with him. My biggest complaint was that in Kilearny our B and B was so far from town and it made it hard to get around. It took 30-40 min to walk to town. Other than that it was great.
April 2013
I didn't reailize that the trip was basically 4 day trips, but it worked out well. There was just a bit of a different flow because I basically had a different tour guide for the different days. I had Dave as my guide two days who was stellar. He went above and beyond, and was a treasure chest of information. He was very helpful with questions as well. Was a great way to see the scenic parts of Ireland packed into 4 days. Stayed at a great B and B in Kilarney with this tour called Robeen House. It was nice to see have the different day trips but have them all coordinated for me.
August 2012
An excellent tour that takes you to the best of Ireland. In Cork and Limerick only a short orientation tour from the bus is included and you don't actually get to walk in the town. Also be aware that the visits to the 2 castles are very rushed (Blarney and Bunratty). Especially at Blarney be prepared for queues from hell. Having queued for 20 minutes to enter Blarney castle I gave up but the grounds are themselves worth exploring including a pre-historic site. Also the guided tour at Bunratty castle doesn't leave you with enough time to walk around the folk village as well so you might find that you have to choose what you do. However, the Cliffs of Moher, the Burren, Ring of Kerry and the Dingle peninsula are the true highlights of this tour and there you do get the time with plenty of stops for photos and to take in the gorgeous scenery. The hotel in Killarney was also a good quality 3-star hotel. The only issue I had on this tour was that the Railtour hosts were sometimes in confusion as to who was doing what and it didn't look like anything you said to them could help. In Killarney when I arrived for the Dingle tour there was no host available to assist and when she eventually arrived she got busy on the phone dealing with other non-Railtour business so she was still not available to help. There seem to be communication/organisation issues with the hosts that don't inspire much confidence. However, they are very nice and friendly and I would go on this tour again.
Advertisement
Advertisement