Discover the Ireland of old with this unforgettable day trip to Galway from Dublin, including a flight to the Aran island of Inis Mor. Travel to Galway city by train and enjoy a scenic flight to the largest Aran island, set in Galway Bay. On an island tour, admire Inis Mor's stark- but-beautiful landscapes, dry stone walls and thatched villages; visit prehistoric, clifftop Dun Aengus fort, and learn about Inis Mor's rich heritage. Then, fly back to the mainland and enjoy free time in lively Galway before returning to Dublin.
Highlights
Full-day trip from Dublin to the Aran Islands and Galway
Scenic flight from Connemara to Inis Mor
Island tour of Inis Mor, including the magnificent Dun Aengus fort
Island seascapes and cliffs
Free time in Galway City to shop, explore or visit a typical Irish pub
Hosted train travel
Information pack
Friendly, professional tour guide
Recent Photos of This Tour
Aran Islands Scenic Flight and Galway Tour from Dublin
What You Can Expect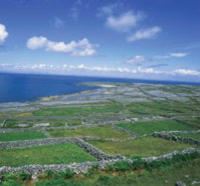 Board your early morning train in central Dublin, settle into your reserved seat, and relax on your roughly 3-hour journey to Galway city. As you travel, admire Ireland's peat boglands and rolling hills, and catch views of the Shannon River at Athlone. A light breakfast service is available on the train.
On arrival in Galway, travel by air-conditioned vehicle to nearby Connemara Airport for your flight to Inis Mor, the largest of Ireland's Aran Islands, set at the mouth of Galway Bay. Hop into your small plane and marvel at the bird's-eye views on your 10-minute flight. Gaze down over Galway's rugged coast and the Atlantic, and catch tantalizing glimpses of Inis Mor's villages and fields, a patchwork of greenery criss-crossed by dry stone walls.
After landing, set off for a scenic island tour, following the winding lanes through barren-but-beautiful limestone landscapes. Pass thatched cottages, sandy beaches, medieval churches and Celtic stone crosses; and hear about the island's age-old Celtic mythology and Gaelic linguistic heritage from your guide.
Stop for a pub lunch (own expense) in Kilronan, the main village; and visit Inis Mor's star attraction: Dun Aengus fort. Wander around this semi-circular prehistoric fort, whose crumbled stones edge a 300-foot (90-meter) sea cliff, and enjoy the thrilling views down over the island, sea and Ireland's mainland.
After your island tour, fly back to Connemara and transfer to Galway city. Enjoy some free time to stroll around the charming streets, shop for souvenirs or perhaps enjoy a glass of Guinness (own expense) in one of the friendly pubs.
Then, relax on your train ride back to Dublin, where your trip concludes.
April 2016
What a fantastic way to see Galway Bay and the sights of the Aran Islands from a small plane. This is a very unique tour and now I can check it off my bucket list -- traveling in a very small aircraft where the pilot was so close that you could watch as he flew the plane. The Island itself is very small and the food at the cafe was outstanding. The locals were very friendly and helpful.

Kim L Australia
January 2016
My recommendation is based on the history and beauty of the island only. I wouldn't go by rail as we were escorted all the way from Dublin to Galway on the train, which was not needed. It was just Mum and I and another couple of ladies who were doing another tour. This also happened on our return journey to Dublin. My recommendation during the winter months is not to provide the escort, as we are all adults and can find our seats, as per the package provided to us in Dublin for our day trip. Once in Galway we were offloaded to a transfer bus to the airport for the Aran Islands scenic flight. This was an amazing way to see the islands, in a little 8 seater plane with the locals and a pet dog, which was interesting... Once we got to the island, we were not greeted by a tour guide, which is what we thought we had paid for! No we were given to a local bus transfer driver on the island, where they do local stops for the people from the plane and we get a spiel on the island while he did his bus stop rounds. Very weird and not a pleasant experience, as he did not introduce himself or tell us about our day tour plan. We proceeded to the ruins, where we were told to get off, do our thing and then he'd meet us again in an hour. The ruins were spectacular, but I was imagining them bigger than they were due to the photos I had seen and you were not allowed to climb on the ruins, so it really was a quick visit to see such an amazing place. Once back aboard our local bus, we were taken to the seven churches which was an interesting site, but I would like to have seen more of the other ruins and history of the island, but we just seemed to be an inconvenience and shuffled from one place to another. We did get to visit the Aran Wool Mill, which was a highlight for my Mum. The experience on the island wasn't great for us and this needs to be explored by the tour company further. On our return to Galway, we did get a couple of hours to explore Galway further, which was great fun.

November 2015
A wonderful day all around and the highlight of our trip to Ireland! Everything went well.. smooth connections between all points Dublin to Galway by train, a van to the airport outside of Galway, the flight to the Aran Island and a tour all over the island. With all of this we had time for a hike up to the ancient fort, shopping and lunch on the island and dinner in Galway. Everything was taken care of! A jam backed fun day blessed by incredible weather!! We'll never forget it!
October 2015
I wanted to see Ireland in its rural state and it was wonderful. I'll never forget it.
Dennis S Canada
September 2015
Everything went very smoothly and the experience couldn't have been better. The trip was extremely well organized and the perfect amount of time was allocated for each part of the journey. We couldn't have been happier as even the weather was perfect.
August 2015
The highlight of my Irish vacation!!!!!
June 2015
This was awesome! Well worth the time. Exciting from start to finish!!
April 2015
This was an amazing place! From the moment we arrived at Heuston Train Station in Dublin until we got off again, the tour guides and arrangements were flawless, particularly since one in our group has mobility issues. The puddle-jumper flight was so brief you hardly left Galway before you were landing on Inishmore, and vice versa. This is a VERY highly recommended tour.
March 2015
Our tour guide Frank was incredible. We had the most amazing time. The sight seeing was absolutely stunning. One of the best tours we have ever been on.
March 2015
This trip was amazing. It did rain while we were there. But it is Ireland! The train trip was amazing and we had the best escorts! Both were retired train workers and knew everything about the lines and the sights along the lines. Our time on the island was led by locals who knew everything about the islands history, industry, and sights. We highly recommend this and the other train tours (we also did the train tour to the Giants Causeway and highly recommend it too!)!! Thank you. We truly enjoyed our time in Ireland!
Advertisement
Advertisement