Travel through mystical Celtic Ireland on this full-day bus tour from Dublin! With an expert guide, journey back in time to Boyne Valley, home of the ancient Loughcrew Celtic Tombs, the Hill of Tara, and the town of Drogheda, a hotbed of archeological treasures. Along the way, view primeval sites across Meath and Louth counties, and stop to admire the elaborate Celtic High Cross of Muiredach.
Highlights
Full-day Celtic trip from Dublin to Boyne Valley
Visit some of the oldest sites in Ireland with an expert local guide

See 6,000-year-old artwork carved in the passage tombs at Loughcrew
Stop in Louth County to view the Celtic High Cross of Muiredach in Monasterboice
Travel to the Hill of Tara from where the High Kings ruled the country 1,000 years ago
Recent Photos of This Tour
Celtic Heritage Day Trip from Dublin: Boyne Valley, Hill of Tara and Loughcrew Celtic Tombs
What You Can Expect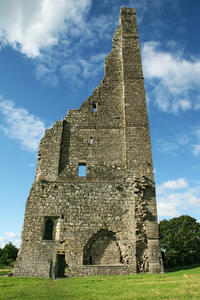 Your Celtic adventure begins bright and early at Suffolk Street in Dublin, where you will meet your coach for the full-day tour to Boyne Valley. Be sure to grab your own breakfast for the ride north to your first destination – the remarkable Loughcrew Cairns passage tombs. Walk through the winding stone passageways with your knowledgable guide and ponder the 6,000-year-old petroglyphs that adorn the walls.
Next head to the ancient town of Trim, just a short ride through Ireland's picturesque countryside. See the famous Trim Castle set along the River Boyne. Constructed in the 1170s, this monument remains the largest Anglo-Norman castle in Ireland. Continue east of Trim to the Hill of Tara, one of Ireland's most prized archeological gems and sacred sites. Used as far back as the Stone Age for rituals and festivals, the Hill of Tara is revered as the ceremonial seat of the Celtic High Kings from the 1st-century AD through to the 1100s. Explore some of the ancient monuments, then head back to Trim for some free time to stroll and grab some lunch (own expense).
After lunch, travel north past the gorgeous 18th-century Slane Castle en route to Ardee, where you'll visit the Jumping Wall, a 14th-century monument imbibed with an intriguing (and humorous) origin myth. Then continue to Monasterboice to view the magnificent Celtic High Cross of Muiredach, considered by some as the most beautiful existing specimen of Celtic stonework.
The last leg of your excursion is a walking tour through ancient Drogheda. Hear about the town's rich and turbulent history stretching back to the early 900s with Danish settlement. After the tour, explore some of the local shops and cultural sights independently before boarding the bus back to Dublin. Your tour returns to the starting point on Suffolk Street in the evening.
May 2016
May 2016
A great experience with guide Chris. So much I did not know about Ireland's past was explained very well.
April 2016
Excellent: the driver, loughcrew tombs, Unscheduled stop to Bective abbey. It was excellent value for money - especially compared to the M.G new grange/Tara tour I did. However, we did not: get a guided tour around drogheda, go to Ardee, or even get into trim castle and #39;s keep. But I throughly enjoyed.

April 2016
Great tour guide which made to a wonderful trip. Darryl gave us so much history, showed us many little sites along the route and made it a fun day. This is a must do!
March 2016
This tour was quite good. There are two things to note: the tour guide was quite punctual so if you are late you would be left behind!!!! Also wear suitable shoes... especially with grips because you will be doing a lot of walking up and down hills and it was quite slippery and muddy. I fell on the beginning of the tour and basically had to walk around with a huge mud stain on the back of my jeans. The tour guide Carolyn was quite knowledgeable on the history of Ireland. It was also engaging and fun. She made little jokes and played music on the tour to keep our interest from site to site. We also made a lot more stops than what is mentioned which was quite nice.I would highly recommend this tour to anyone who doesn't mind some walking.
February 2016
Our trip was in November---All in all this was a terrific trip. Worth the money. Our guide was knowledgeable and pleasant. We will plan to do this again the next time we are in Dublin. Lovely countryside and comfortable bus. Very happy.
January 2016
Nothing less than great. Darren was a great guide, he knows a lot about the subject, and we had a bonus, since he made us enter the Trim castle through an aquaintance of his, who is in the Castle staff. Darren and the driver were very willing and kind, and made us get to know amazing places.

Kim L Australia
January 2016
This was a great tour, with lots of history. The Hill of Tara was amazing, lots of history to take in. We were also lucky with the weather for our tour, blue sky's all day and there was an amazing sunrise over the valley and the site when we arrived, just beautiful. The Loughcrew Tombs are perched on top a hill, so for me it was an amazing walk up this green steep hillside maybe not so for my Mum to see these tombs with the historical significance in time. The walk was absolutely worth it. We then proceeded onto lunch at the town where the tour guide was from, which was interesting, as there was nothing to do there, except eat at the pub. Mum and I found this on a number of tours we went on with Extreme Ireland, that the tour guide took you to his hometown, dropped you at a pub or attraction and off they went home to visit family. As we are paying for the tour and to see highlights of this area, the tour guides should be taking us to the sights and best areas to eat, rather than their home towns. Overall, the history we learnt on the tour was great. Just wished the Trim Castle was open to explore at the time...
January 2016
This was my favorite day trip. It was relaxing and our guide really knew her stuff. The drive beautiful!!
January 2016
Jim was a fabulous tour guide! He was interesting, funny, and personable. We had a wonderful day in the Irish countryside!! We highly recommend Jim's tour!
Advertisement
Advertisement