Swap Dublin for the wild beauty of western Ireland on this rail and coach day trip to County Galway and Connemara. After traveling by train to Galway city, take a scenic coach tour around Galway Bay and the unspoiled Connemara region. Drive through breathtaking mountain-and-lakes scenery and visit the pretty coastal towns of Clifden and Roundstone. See romantic Kylemore Abbey set on a Connemara lake, and pass remote Atlantic beaches, thatched villages and deserted coves before returning to Dublin by train. Round-trip rail and coach travel are included.
Highlights
Full-day rail and coach trip from Dublin to Connemara and Galway
Scenic drive through Connemara's magnificent scenery
Seafood lunch overlooking Roundstone Harbor
Clifden, Connemara's capital
Stunning Kylemore Abbey
Hosted train travel
Information pack
Friendly, professional tour guide
What You Can Expect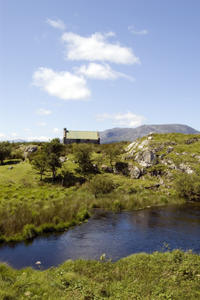 Hop aboard your train at Dublin's Heuston Station in the early morning, and settle into your reserved seat. As you journey west, gaze out over Ireland's lush countryside with its rolling hills and expansive peat boglands, and see the Shannon River as you cross it at Athlone. A light breakfast service is available on board the train.
After your roughly 3-hour trip, meet your expert driver-guide at Galway rail station, and take a seat in your comfortable, air-conditioned coach or minivan for your scenic journey around the county of Galway and Connemara.
Have your camera ready and listen to the informative commentary as you head into western Galway and trace parts of one of Europe's most spectacular coastal routes. Pass by steep cliffs, untouched beaches and sleepy villages, and visit the picture-perfect coastal towns of Roundstone and Clifden.
Stop for a seafood lunch (own expense) overlooking Roundstone harbor and drive through magnificent scenery to Kylemore Abbey, a 19th-century lakeside Benedictine abbey in Connemara famous for its romantic location and walled garden.
Venture further into Connemara, a region of rugged mountains, dark lakes and thatched villages hemmed by a stunning coastline. Drive by deserted coves and bays washed by the Atlantic Sea; stop for photos of remote peaks and valleys, and hear fascinating facts about the ancient, unspoiled landscapes around from your driver-guide. Later, return to Galway station to travel by rail back to Dublin, where your day trip ends when you leave your train in the late evening.
Louis N Canada
April 2016
Well, I absolutely loved this tour. Everything went extremely smoothly from the early rail trip to Galway to the return to Dublin in the evening. The tour guides were phenomenal Jim O'Keefe, Peter, and the stupendous driver of the coach, Martin. The guides had lots of interesting information to impart and struck a perfect balance of humour, information, and silence. Well done! The scenery was breathtaking. Quite unbelievable. I strongly recommend this tour...it very much surpassed my expectations!
September 2013
An absolutely breathtaking, beautiful tour. Don't miss this picture book destination! Thank you!!!
Ruth and Robert Australia
October 2012
All aspects of the trip were marvellous. A great day out in beautiful Ireland.

September 2012
A unique and really unforgettable experience!!! Really wish to stay there... Well done to the tour leader and even to Liam the train assistant who was such an interesting person to meet being so informative and nice!!
October 2011
the tour was wonderful amazing views great tour guide would recommend it to all
July 2011
Very good trip. It's a long day, but worth it. Kylemore Abbey is spectacular.
February 2011
Our winter tour to Connemara and Galway Bay was terrific! Our train companion, Frank, was charming and informative. We were met at Galway station by the Coach and tour driver, whose wit and information was delightful. I'd recommend this tour to everyone!
Angela B USA
March 2010
I loved it! Kylemore Abbey makes the entire tour! The tour operator is really organized. I never felt like I was lost or left on my own to figure things out. For a beautiful tour, definitely take this one!
March 2010
This was an opportunity to see a large, green sweep of country side. It was SO worth the time! I would return and bring my family members with me.
Dean T Australia
March 2010
Connemara is a beautiful place. The views were breathtaking. The bus driver and guide was very pleasant and funny. He made the long trip very enjoyable.
Advertisement
Advertisement