Discover the natural splendor and cultural richness of Galway City and Connemara on a full-day trip from Dublin. From the comfort of a luxury coach, admire the splendid scenery and unsurpassed beauty of the coastal region; take a tranquil cruise around Kiary Harbour, Ireland's only fjord; see the magnificent Kylemore Abbey; and absorb the exuberant atmosphere of Galway City, a chic and cosmopolitan enclave. Relish the convenience of round-trip transportation on this enriching excursion.
Highlights
Full-day trip to Connemara and Galway City

Enjoy a contrast of sightseeing opportunities - from the rugged beauty of Connemara, to the vibrant Galway City

Take photos at Kylemore Abbey, amid spectacular surroundings

1.5-hour boat ride around Killarey Harbour, Ireland's only fjord

Explore charismatic Galway City at your own pace

Recent Photos of This Tour
Connemara and Galway City Day Trip from Dublin
What You Can Expect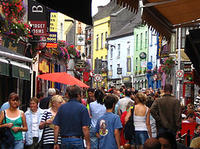 Depart from a central Dublin location in a luxury, air-conditioned coach destined for the beautiful Connemara region. Allow your guide to share intimate knowledge of the region as you travel through spectacular Irish countryside. See herds of wild ponies grazing in verdant fields and watch the surfaces of lakes shimmer in the shadow of the Twelve Bens mountains.
Continue through the delightful Inagh Valley to Kylemore Abbey, a former Benedictine monastery shrouded in rich history. Admire the distinctive façade of one of Ireland's most popular tourists attractions and capture photographs of the spectacular natural surroundings. In wintertime, venture within the abbey to learn of the buildings tragic history and see the majestic Gothic church and Walled Gardens.
In summertime, enjoy a tranquil cruise around the Kiljary Ford instead; marvel at the ubiquitous mussel beds as you gaze at the sky-skimming spire of Mweelrea, the highest mountain on the west coast of Ireland.
Travel onward to Leenane, a provincial charmer featured in popular film The Field, and then arrive in the chic and cosmopolitan city of Galway to spend some leisurely free time exploring the vibrant area. Admire the picturesque harbor and relax in a refined seafood restaurant (own expense) before reconvening with your guide for the return journey to Dublin.
June 2016
My wife and I took this tour with Darren as our driver,
We had a fantastic time which was enhanced by Darren's friendliness and his entertainment skills.
Darren's knowledge and light hearted banter really contributed to a great day.
At one point he had the whole bus singing the chorus of The Irish Rover and I joined with him in a rendition of Seven Drunken Nights and learned the two verses of Saturday and Sunday night,
Once again a great day and many thanks to Darren.
Jim and Sue Glanvill Gosport UK
June 2016
These tours are a fantastic way to see other parts of the country without having to take on the challenge of driving in a country you're unfamiliar with. My husband and I did feel like we were on the bus A LOT, however, we still saw A LOT and it was beautiful!! Because Connemara and Galway are about 3 hours from Dublin, I'm not sure being on the bus so much can be changed, so it's just sort of a double edged sword. This trip was definitely worth the money!
April 2016
Our trip to Connemara, led by Derek, was most enjoyable from start to finish. We enjoyed the Irish music en route too. The trip was relaxing and informative and we learnt snippets of the countrys history which encouraged us to find out more. We will recommend this company to others and will book again with you if we return to Ireland. Thank you.
March 2016
This trip was amazing! Everything was great!!! Even the last minute changes! We ended up going to a sheep farm instead of the boat tour, which was an unbelievable great experience and something I wanted to do since I got to Ireland! Loved it!!! Thanks Wil for everything!
February 2016
Tour incrível, especialmente pela beleza natural da região de Connemara e pela charmosa cidade de Galway. Nosso guia foi ótimo. Um dos pontos altos deste tour é a visita a uma fazenda de ovelhas onde o dono nos mostra como conduzi-las com seu cão. Realmente demais.

Kim L Australia
January 2016
This was a fun tour. We were on the bus a lot, but that is because you need to travel a long distance. The Connemara was amazing and beautiful. As part of the tour, there was a sheep roundup demonstration, which was amazing being on the side of a mountain, with the lake down the bottom and spectacular mountains all around and a sheep dog in the distance being told directions with whistles and calls in the distance. We then proceeded onto the Abbey for lunch, which was great, I just wish we had a little more time there to explore the grounds. Galway was fun, but not enough time to see things.
September 2015
June 2015
Loved it ! The boat trip scenery was beautiful. Liked the Quiet Man bridge and the Abbey also. Ended in Galway city and not Galway Bay , there was nothing really to see there. Overall all was well worth it !!!
December 2014
great tour and great guide !
July 2014
Loved this tour. When we told some folks in Dublin we were heading to Connemara, they were not excited for us saying it was a barren, un-beautiful area of Ireland. I beg to differ. I thought the terrain was exceptionally beautiful and unspoiled. The boat ride up the fjord was really exciting and you could just picture the vikings traveling down the waterway hundreds of years before and seeing this land for the first time just as we did. Gab, our guide was exceptional. He was funny, enthusiastic and very knowledgeable not to mention he sang us a few Irish favorites to keep us entertained on the drive back. He made our trip very special and personal. Great memories.- The Brennan Family - USA.
Advertisement
Advertisement