Take a Dublin rail tour to Blarney Castle, the medieval stronghold of southern Ireland. On this historical and cultural day trip, you'll course through Ireland by train and coach, enjoying views of the lush countryside on your way to tour the castle grounds and plant a kiss on the Blarney Stone. Then take a city tour of Cork and visit the Queenstown Story Heritage Center in Cobh, Ireland's largest emigration port.
Highlights
Full-day train and coach trip from Dublin to Cork, Blarney Castle and Cobh
Travel through Ireland's scenic countryside
Kiss the famous Blarney Stone
Free time to shop and have lunch in Blarney village
Short city tour of Cork
Moving Queenstown Story Heritage Center in Cobh
Hosted train travel
Information pack
Friendly, professional tour guide
Recent Photos of This Tour
Cork and Blarney Castle Rail Trip from Dublin
What You Can Expect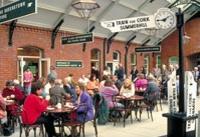 Leave bright and early from Dublin Heuston Station on a morning train to Cork to begin your day trip. Have a leisurely breakfast on board as you traverse picturesque southern Ireland (all food and drinks are at your own expense), and then disembark in Cork and head straight to Blarney Castle, just a short coach jaunt from the city.
Tour the grounds and look for marked attractions such as rock formations fancifully named 'Witch's Kitchen' and a 'Poison Garden,' housing a collection of poisonous plants. Then explore the castle ruins and learn a bit about the site's beguiling and chaptered history. Climb to the top to visit the 'Stone of Eloquence,' known by many as the Blarney Stone; if you — like many others — wish to acquire the gift of eloquence, take your turn giving the stone a kiss.
Next, take your newly refined speaking ability and head into the village of Blarney. Explore the colorful architecture, do a little shopping and enjoy lunch before heading back to Cork for a city tour.
Your historical excursion concludes with a visit to Cobh and the Queenstown Story Heritage Center. Explore the beautifully restored Victorian railway station that was the largest embarkation point for emigration in Irish history, and hear the harrowing and hopeful story of Annie, the first Irish emigrant to reach Ellis Island, as well as others like her. Then board the train for a relaxing return journey to Dublin, where your day trip ends at the station.
Sandi United States of ...
June 2016
The best tour we have taken in any country. Norman was the absolute best guide. We have made a friend for life with Norman. I have told all my friends to make sure they ask for him when booking a tour. I would give this tour a 10 if possible
May 2016
This was a wonderful experience. Our tour guide, Bob, was professional and very personable. Everything went smoothly. Would have loved another few minutes at the English Market but was happy just to visit it.
May 2016
This tour was one of the highlights of my trip to Ireland. The tour guide was truly outstanding. Bus driver was friendly and great handling the bus. Both gentleman were professional and very polite. I really appreciated the tour guide, Bob's, obvious knowledge and his congenial manner. The Blarney Castle grounds were very enjoyable. Wish we had a few more minutes at the English Market, but it was nice getting there.
April 2016
This is an awesome trip! It covered quite a bit of the area, and we were given plenty of time to visit where we wanted to go. Once you got off the train, you were on and off the bus several times. We didn't spend a lot of time on the bus, which was nice even though it was a nice bus. Meals are always factored into your time, but not included in the price. These tours are great because you're not lead by the hand they really let you go at your own pace and just give you the information you need and when to be back at the bus. Norman was our guide twice and was outstanding. The guides are always around and happy to answer any questions they keep you up to date on timing and they are very knowledgeable about the area. We have used Viator several times in several countries and I have nothing but great things to say about them. They are well organized and well executed they only work with reliable local partners so it's an easy choice.
January 2016
We did this tour over the New Year's break, and from start to finish were very happy with our experience. The app was easy to use, and the entire trip was well organized. My husband and I were particularly happy to get to know our guide, Andy, who was not only extremely knowledgeable but also very funny and engaging. The scenery and experiences would have been great on their own but Andy made them especially memorable. We highly recommend this tour.
December 2015
We had a great trip, Norman-guide, and Ned-driver were very informative and helpful, and kind. Was an interesting trip You get to see more than listed as well. We went in December and had a small group too which made it even better. Would highly recommend.
December 2015
Great tour. Our guide, Jonathan, was knowledgeable and personable he really added to the trip and made the time fly. I liked the train better than a bus, more comfort and convenience - only drawback is you're leaving very early. Focus is on history - Ireland, the castle and the famine/migration. I liked Dublin but it was good to get out and see the countryside and Jonathan gave us plenty of stories to keep us entertained and informed. Castle stairs get very narrow as you get higher. Kissing the stone involves holding on as you're upside down. Take a walk around the grounds if you get a nice day. Facilities inside the castle are minimal, bathrooms, snack bar and gift shop. The bus picks you up at a small shopping center down the road from the castle. There's a nice pub there that's a good choice for lunch.
December 2015
This is a wonderful day trip from Dublin! It is well timed, but you never feel rushed. We even had time for some extra stops according to our guide which made it even more interesting. It probably helped that we were there in the off season so not so many people on the tour or at the sites and we had fabulous weather, too. The trains are comfy and a wonderful way to see the countryside and the coach ride portion was also nice. Our guide, Jonathon B. From Dublin, was awesome. He was personable knowledgeable and very helpful in giving us other tips and insider info on the rest of our time in Ireland. It was a bonus getting to talk with him awhile on the return train trip while discussing Gaelic sports compared to US. Cork and Castle Blarney are a must if you have any time. We thoroughly enjoyed it!
October 2015
This was a fantastic trip. I toook my wife and 10 year old son. The train was great -- beautiful country side and easy ride. The visit to Cork was really interesting but the best part of course was Blarney Castle. I'm sure my 10 year old will never forget kissing the blarney stone -- what an incredible experience. The Tour staff were very nice and very informative. I would highly recommend booking this trip especially if you only have a few days in Ireland.
October 2015
glad we selected the option to go by by rail/coach and not just coach.. pleasant train ride. our guide Bob was fun and shared lots of interesting tid bits. we made several stops not advertised on the itinerary. the castle grounds were lovely.. wish i had done my homework, was not aware you climb up to the top of the castle to the blarney stone, be prepared, its not for the faint of heart or claustrophobic !! through out the day we had time on our own to shop and eat which is nice in these tours.. this was a good choice, enjoyed it alot
Advertisement
Advertisement