Delve into the darker recesses of Dublin's haunted history on this evening gravedigger ghost tour. With your (slightly spooky) local guide, learn about the devastating human effect of the medieval plague, visit eerie local sites such as Dublin castle and Kilmainham Jail, and hear how opportunist gravediggers made a killing (so to speak) on body snatching. Cap it off with a 'ghoulish brew' at Gravediggers Pub.
Highlights
Discover Ireland's haunted past on a Dublin ghost tour by bus

Visit the chilling Bully's Acre cemetery and learn how watchmen witnessed gravediggers in action

Admire the Dublin Castle, where some of Ireland's most historic events have taken place

Stop at St Audoen's, Dublin's oldest-running parish church
Visit the original Gravediggers Pub and enjoy a free 'ghoulish brew'
Listen to accounts of strange occurrences witnessed at Kilmainham Jail
Free pass for the 'Haunted Dublin Historical Walking Tour' included

Recent Photos of This Tour
Dublin Gravedigger Ghost Tour
What You Can Expect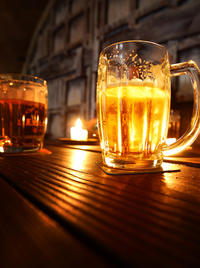 As evening sets in, meet your tour guide at College Green for a journey into the gruesome side of Dublin. From here, travel by bus to each sinister location, where you will have a chance to stroll and hearing chilling tales of hauntings and misdeeds.
View Dublin Castle and Christ Church as you head to the first stop – St Audoen's Church, one of the city's most haunted locations. Learn about the site's grisly past including its bordering district known as 'Hell,' 'The Black Dog' jail with its mysterious phantom pig and the burning of Darkey Kelly, an accused witch and serial killer whose infamous ghost still wanders the area.
Your next stop is Kilmainham Jail (Kilmainham Gaol), a menacing stone building that has seen scores of death from battle and execution since its construction in the 1790s. Hear tales about Kilmainham's resident ghosts before heading to Bully's Acres, a millennia-old graveyard that was once a ripe picking zone for local grave robbers. Hear tales of body snatching that stretch back to the cemetery's opening.
Afterwards, you may feel like a drink. Accompany your guide to the Gravediggers Pub, passing by Croppies Acre and St Michan's Church along the way. At the pub, partake in a complimentary 'ghoulish brew' with your group.
Your return trip passes by Black Church, also known as St Mary's Chapel of Ease, and the ruins of the original Augustinian Priory Chapter House . Your guide will provide cringe-worthy tales of the plague house that once stood on the grounds. You'll return to College Green once night has completely descended on the city.
Added bonus! Your tour ticket includes a free 'Haunted Dublin Historical Walking Tour' pass. Any time within one monthly of your gravedigger tour, use your ticket to experience even more of Dublin's dark underbelly – witches, gravediggers and creepy stalkers, oh my!
May 2016
The trip was amazing, I have never laughed so much. Very entertaining!!
April 2016
Fun! Informative and funny.
April 2016
The Tour was amazing :) Use won and #39;t be disappointed such a great laugh. It and #39;s a must when in Dublin. 10/10.
March 2016
If you want to have fun, do this tour! Eamon was great even though he had to do the tour solo. A bit scary, but very interesting and informative and most of all, FUN
January 2016
Great fun along with a receiving a historical perspective of Dublin.

December 2015
fantastic tour its the best one in Dublin! tells great ghoulish stories about Dublin dark past of the plague. The free drink is hardly a drink, some watered down shot of WKD? Great guinness though in the gravediggers pub! The hosts and staff are fantastic they made the night well worth while.
100 have to do this whilst in Dublin.
December 2015
October 2015
This tour was fun, educational, scary, and a total blast! The guides were on point! By far a great deal on cost and enjoyed every minute of it!! I would definitely say this is a must do for friends going to Dublin!!!
September 2015
We had an awesome time on this tour. More story telling than tour, but a lot of fun all the same!
September 2015
The Gravedigger Ghost Tour was one of the highlights of our short vacation in Dublin! Our two tour guides dresses up as ghosts did an amazing job telling us about Dublin's past and showing us some of the scariest locations in the city including Kilmainham Gaol and Glasnevin Cemetery. Especially Aidan was really funny and would definitely have deserved an Oscar for his performance : We had a great time on this tour! Thanks guys!
Advertisement
Advertisement