Travel back in time to the darkened days of Victorian Dublin during a 1.5-hour waling tour of the Glasnevin Cemetery, winner of the coveted TripAdvisor Certificate of excellence in 2014. With a knowledgeable guide, absorb the tranquil atmosphere of the area as you stroll past headstones belonging to fascinating Irish characters. Hear entertaining anecdotes surrounding the thieves, rebels, authors and politicians laid to rest in the cemetery, and then visit the museum to enrich your knowledge further. Receive discounts on gift shop purchases and café refreshments after your enriching tour.
Highlights
1.5-hour walking tour of Glasnevin Cemetery plus museum admission

Explore one of Ireland's most impressive burial grounds
Gain an insight into life in Dublin during the Victorian era from a knowledgeable guide
Visit the O'Connell Crypt and tower, and learn about Daniel O'Connell
Learn about many of Ireland's famous citizens while browsing the museum exhibits independently

Use a genealogy voucher to trace your own ancestry after the tour concludes
Enjoy discounts on select purchases in the museum's shop and cafe

What You Can Expect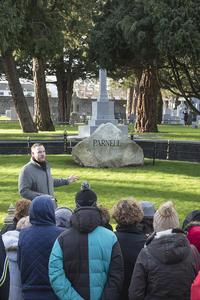 Greet your guide outside of the grand Glasnevin Cemetery, a 19th-century graveyard in which more than 1.5 million Irish citizens are buried. As you step inside, receive a fascinating introduction to the cemetery and the famous, and infamous, Irish characters buried within.
Head first to the O'Connell Crypt, the final resting pace of one of Ireland's most important figures, Daniel O'Connell, and listen to tales surrounding O'Connell's tireless campaigning for Catholic emancipation. Gaze at the beautiful O' Connell Tower before ambling over to the grave of Michael Collins, an influential revolutionary whose grave still receives floral tributes today.
Pay your respects at the gravestone of Constance Markievicz, the first woman to be elected in the House of Commons, and scour the cemetery for local actors delivering old speeches and poems if you're touring the cemetery in the afternoon.
After exploring thoroughly, bid your guide a fond farewell and head inside the on-site museum to enrich your knowledge of Irish history. Browse Glasnevin Cemetry Museum's impressive collection of exhibits, discovering fascinating facts about prominent figures buried in the cemetery.
Use your complimentary voucher to trace your family tree in the Glasnevin Cemetery Museum's Genealogy Research Center, and enjoy discounted refreshments and souvenirs in the museum's café and gift shop before departing the center.
June 2016
Loved this tour my favourite tour of all lots and lots of history and info mind boggling at times but very entertaining learnt so much the great weather made it even better

May 2016
This cemetery is just spectacular! There is so much history in one place and the tour guide knew everything there was to know about it all!
October 2015
We booked the tour, having seen previous reviews, but were still a little unsure. After all, how interesting can a tour around a cemetry be? So, if you're reading this and are a little unsure, my advice is, just book it or you will be missing out on a great tour. We caught the bus from O'Connell St, very easy. Arrived a little early and so time for a cup of tea in the cafe and a look around the museum. Our tour started promptly and was fascinating from beginning to end, jammed with information on the history of Ireland and some of the people who helped to shape it. Our guide was excellent, knew his stuff inside out and his delivery was clear and captivating. If you have even a remote interest in the history of Ireland, this is one not to be missed.
October 2015
Fascinating for both my 11 year old son and myself. It was probably the highlight of our trip. The history was so interesting and our guide so engaging.
October 2015
Very knowledgeable tour guide. The cemetery is beautiful and vast, and contains the resting places of many notable people. The tour includes many of these, and gives participants quite a good education on the history of the country's revolutionary period. Lasted about 90 minutes.
September 2015
Great history told with enthusiasm. Guide was very knowledgeable.

Claudia S United States of ...
August 2015
Excellent tour! Brought all the disparate information together about the Irish Revolution and the primary cast of characters. Learned so much I didn't know before. Cemeteries often tell the best stories! The museum was excellent.
May 2015
The tour was most enjoyable. The tour guide (Liam I think) was extremely knowledgeable, informative at times amusing. Terrific hour and a half. Well worth a visit.
May 2015
We had a great day in Glasnevin. The tour was fantastic. The tour guide excellent. The museum very interesting. The tea and scone excellent too.

April 2015
Really enjoyed it. Paddy was a great guide. The two hrs flew by. Could have done two hrs more. Have recommended to family and friends
Advertisement
Advertisement