Break from Dublin for a tour of medieval Irish architecture and folklore in Kilkenny and Glendalough. Aboard a luxury coach, take a day trip to the most glorious sights in south-east Ireland from Kilkenny Castle to the breathtaking Wicklow Mountain National Park and Glendalough's medieval monastic settlement.
Highlights
Day trip to Kilkenny City and Glendalough from Dublin

Visit south-east Ireland's top attractions, including Kilkenny Castle

Take the scenic route through Wicklow Mountains National Park en route to Glendalough

Explore the monastic settlement at Glendalough, and see medieval archeology alongside abundant wildlife

Transport by luxury, air-conditioned coach

Walking tours of Kilkenny Medieval City & Glendalough Monastic Site
Recent Photos of This Tour
Kilkenny City and Glendalough Day Trip from Dublin
What You Can Expect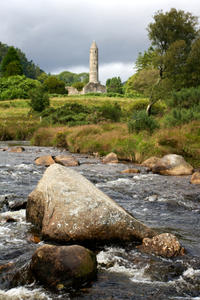 Depart Dublin early to get maximum time at your first stop of the day – Kilkenny Castle. Built in the 12th century, this Anglo-Norman castle stands dramatically along the River Nore, dominating the backdrop of Kilkenny city. Tour the castle at your own pace, exploring the renovated chambers and corridors, and then meander through the enchanting rose garden before heading into town.
At your leisure, explore the charming village of Kilkenny. A true mecca of medieval architecture, Kilkenny offers many splendid sights for the cultured explorer. Explore the Black Abbey, built in 1225, and the Hole in the Wall Elizabethan Tavern, both recently restored to their original design. And don't miss St Francis Abbey Brewery, brewing Irish ales for more than eight centuries.
Following your Kilkenny tour, head over the wild and rugged Wicklow Gap glacial valley for some spectacular views of the Wicklow Mountains National Park. Enjoy a unique photo opportunity with a scheduled stop at the top of the mountain. Gaze down through the centuries old passage way linking east and west Wicklow. Retrace the footsteps which the Celtic clans and St Kevin travelled when travelling through the forested countryside and view the park's upper slopes, blanketed in heath and bog, before dipping down into the glacial valley of Glendalough.
Throughout history, visitors have come to 'the valley of the two lakes' for its mystical history, archaeology and unique wildlife. The monastic city of Glendalough, found in the 6th century by St. Kevin, was once an active locale featuring areas for manuscript writing and copying, an infirmary, guest houses, and a monastery. Now it offers guests a peek into Ireland's rich cultural history. You'll have approximately 2 hours and 15 minutes to journey through the monastic city before heading back to Dublin.
Yogesh J USA
June 2016
It was a very enjoyable trip, with a knowlegeable and friendly guide, Yoan. The drive itself is quite pleasant and the stop in Kilkenny was wonderful. It was great to have a guided tour, walk around, have a leisurely lunch and enjoy the local environment. The drive through Wiklow mountain and the stop in Glendalough were interesting. Again, the guide made everything fun and pleasant, with interesting comments on history and life in the region. Overall, a fun trip that I would strongly recommend.
June 2016
Yoan and Jack were pretty funny during the bus ride. Yoan knows a lot about the history of Ireland and is very knowledgeable. All in all, a fun worthwhile trip to take.
June 2016
It was a wonderful tour! The exquisite Gronia kept us entertained all day with here knowledgeable and funny commentary. We would recommend this tour to everybody, it was a great day.
June 2016
This was my first visit to Ireland. Friends recommended a visit to Glendalough, so I went looking for a tour. This trip on Viator, actually operated by Wild Rover Day Tours, had great reviews, so I booked it. I was NOT disappointed. Glendalough is spectacularly beautiful, rich in beauty and history. Kilkenny has a beautiful castle and some nice medieval buildings. Unfortunately, it wasn't clear when we arrived at the Wicklow Gap, but two out of three isn't bad! Grainne is a wonderful guide. Her knowledge of history and culture is quite extensive. I particularly appreciated her skill at storytelling. She helped make both Glendalough and Kilkenny come alive for me. It helped that we didn't have any rain during the walking tours! Hats off to John for professionally negotiating those amazingly narrow streets and lanes!
June 2016
June 2016
Gorgeous! The castle in Kilkenny was breathe taking. The grounds of the castle was beautiful. It really gave you a taste of what a castle should be. Fully decorated, it was like going back in time. Wicklow was so surreal. The walk to the lake, awesome. The scenery looked like a post card. The monastery was very interesting. Our guide, Siofra, was great. Wish we had more time in Kilkenny.
June 2016
Out tour was great! A wonderful driver and Yoann was a fantastic tour guide!
June 2016
This tour was great! I loved Kilkenny, it was picture perfect! I would have loved more time to explore around. The scenery was gorgeous and my tourguide Grawnya was great! Glendalough was fascinating and gorgeous, it was a perfect day trip!
Gary S United States of ...
June 2016
Had great guides Paddy and Richard would have liked more time never seems to be enough to see everything. I recommend the walking tour of Kilkenny city the guide gave us and then picking one major thing to see Like the castle or the church otherwise it feels rushed.
June 2016
Great tour and Chiffre was very knowledgeable
Advertisement
Advertisement