Break from Dublin for a tour of medieval Irish architecture and folklore in Kilkenny and Glendalough. Aboard a luxury coach, take a day trip to the most glorious sights in south-east Ireland from Kilkenny Castle to the breathtaking Wicklow Mountain National Park and Glendalough's medieval monastic settlement.
Highlights
Day trip to Kilkenny City and Glendalough from Dublin

Visit south-east Ireland's top attractions, including Kilkenny Castle

Take the scenic route through Wicklow Mountains National Park en route to Glendalough

Explore the monastic settlement at Glendalough, and see medieval archeology alongside abundant wildlife

Transport by luxury, air-conditioned coach

Walking tours of Kilkenny Medieval City & Glendalough Monastic Site
Recent Photos of This Tour
Kilkenny City and Glendalough Day Trip from Dublin
What You Can Expect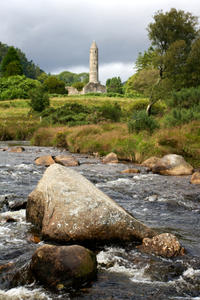 Depart Dublin early to get maximum time at your first stop of the day – Kilkenny Castle. Built in the 12th century, this Anglo-Norman castle stands dramatically along the River Nore, dominating the backdrop of Kilkenny city. Tour the castle at your own pace, exploring the renovated chambers and corridors, and then meander through the enchanting rose garden before heading into town.
At your leisure, explore the charming village of Kilkenny. A true mecca of medieval architecture, Kilkenny offers many splendid sights for the cultured explorer. Explore the Black Abbey, built in 1225, and the Hole in the Wall Elizabethan Tavern, both recently restored to their original design. And don't miss St Francis Abbey Brewery, brewing Irish ales for more than eight centuries.
Following your Kilkenny tour, head over the wild and rugged Wicklow Gap glacial valley for some spectacular views of the Wicklow Mountains National Park. Enjoy a unique photo opportunity with a scheduled stop at the top of the mountain. Gaze down through the centuries old passage way linking east and west Wicklow. Retrace the footsteps which the Celtic clans and St Kevin travelled when travelling through the forested countryside and view the park's upper slopes, blanketed in heath and bog, before dipping down into the glacial valley of Glendalough.
Throughout history, visitors have come to 'the valley of the two lakes' for its mystical history, archaeology and unique wildlife. The monastic city of Glendalough, found in the 6th century by St. Kevin, was once an active locale featuring areas for manuscript writing and copying, an infirmary, guest houses, and a monastery. Now it offers guests a peek into Ireland's rich cultural history. You'll have approximately 2 hours and 15 minutes to journey through the monastic city before heading back to Dublin.
May 2016
We thoroughly enjoyed ourselves on this excursuin
May 2016
The tour was amazing! At first I thought it was funny that our irish tour guide was actually half french but i quickly overlooked it by his fun stories and information he knew. The trip was full of (craic) fun/enjoyment ! If i could do another trip with Jo-Hann than I would sign up right away.

May 2016
Great tour enough free time to see both places. Excellent guide and driver

May 2016
This tour was fantastic! Yoan, our tour guide, was super friendly and very entertaining. Ireland is such a beautiful place.
wjolson Canada
May 2016
This was a great day spent. Jim was our guide. He was entertaining and a wealth of knowledge. He shared the history of the area from hundreds of years ago.
April 2016
Just finished a great tour! The tour guide, James, really knows his history and he is great with people. He made sure every member of our large group was well informed, whether they were taking the walking tour with him or not. I learned so much about the history of religion in Ireland as well as Irish history and folklore. The 3 stops on this tour were beautiful and we spent adequate time at each. Great value for an unforgettable experience! I recommend this tour, especially with James as your guide!
April 2016
bud I think his name was and Paddy were terrific. Friendly, knowledgeable, and funny they were. Both my husband and I had a great time. We will definitely book with this website and these tours again. Great tour guides, great tour. Liza from Texas
April 2016
This was my second time to do this tour, and it didn't disappoint.
The weather was beautiful and our guide, Yoan, decided that since the weather was so wonderful and frankly, since Ireland's weather changes quite frequently we should go to Glendalough first. I cannot emphasize enough what a great choice that was! We had one of the best walks around the lake with the most picturesque weather!!
We made our way to Kilkenny and were allowed a few hours there. The weather changed a little, so we were super thankful we went to Glendalough first. Kilkenny is a great city that is easy to maneuver, so we were able to see a lot in a little amount of time.
Yoan was incredibly knowledgeable and his passion for Irish history is evident. Bravo to him and the busdriver his name escapes me, but he's from Wicklow for creating such a wonderful day for my mother and me!
April 2016
I picked this tour at random online without knowing much about the trip or the company. We had a fantastic time. I would go again and recommend it for everyone looking for a day trip from Dublin. The countryside is beautiful and the tour guide, Mark, was fantastic and very knowledgeable. The driver, Seamus was also a very skillful driver. This was a fantastic trip and I wish I could go again.
April 2016
Advertisement
Advertisement