Escape Dublin for day trip along Ireland's majestic west coast, traveling by both train and coach to the breathtaking Cliffs of Moher. You'll also take a city tour of Limerick, see Bunratty Castle, walk through the charming Folk Park, admire the Burren and drive along Galway Bay.
Highlights
Full-day trip by train and coach from Dublin to Limerick, Cliffs of Moher, the Burren and Galway Bay
Limerick city tour
Bunratty Castle and Folk Village
Cliffs of Moher on the wild Atlantic coast
The Burren's lunar landscape
Scenic drive along the shores of Galway Bay
Hosted train travel
Information pack
Recent Photos of This Tour
Limerick, Cliffs of Moher, Burren and Galway Bay Rail Tour from Dublin
What You Can Expect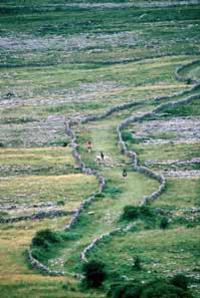 Depart from Dublin Heuston Station in the early morning on your train to Limerick, and enjoy breakfast on board (own expense) while taking in Ireland's lush central landscape. Upon arriving in the ancient city of Limerick, enjoy a tour of this city that was once the key settlement for Vikings in Ireland, and is more recently known as the setting of Frank McCourt's harrowing memoir Angela's Ashes.
Following this rich bit of history, board your northbound coach to Bunratty Castle and Folk Park. Explore the fine medieval castle, complete with 15th- and 16th-century furnishings, tapestries and traditional works of art. Then tour Folk Park for a taste of Irish village life at the turn of the 20th century, including a schoolhouse, post office, doctor's office and more.
Next up, take a break for a traditional Irish pub lunch (own expense) at Gus O'Connor's Pub in Doolin, where you'll enjoy a steamy bowl of seafood chowder or some crispy fish and chips with a cup of tea (or a pint of Guinness!). Then head for the Cliffs of Moher, one of Ireland's most famous natural sites.
After a stroll along the sweeping cliffs, sit back for a scenic drive along the rocky coastal edge of the Burren and Galway Bay before arriving in Galway. Depending on what time you get to Galway, you may have time for a quick walk through the cobbled streets before catching your evening train back to Dublin. Have a leisurely dinner aboard (own expense) while recounting your favorite moment from the day. Your tour ends when you return to the train station.

May 2016
A great trip. The tour guides were knowledgable and friendly.
May 2016
A long day but very well organized. Everything ran like clockwork and gave such a good overall feeling for the countryside of Ireland. The castle was interesting, the Cliffs of Moher fantastic, The Burren was so unique. If you want to get in several sights in one day this is the trip for you.
May 2016
Highly recommend this tour. Breathtaking sights.
April 2016
We thoroughly enjoyed our tour. Our guide Jonathan was excellent very knowledgeable and funny!
April 2016
The sun was out and this tour was the best of all I took. We ate at a great pub in Doolin and spent adequate time at the Cliffs. I wish we had more time in Galway but will save that for another trip.
April 2016
The tour was great but the weather didn't cooperate too well. It was super windy and raining. I thought the tour was put together well. I love the place we ate at. Great food good service.
April 2016
Johnathan was a great tour guide!! Very happy we did this tour. Thanks again!!
April 2016
Great guide and lovely scenery. Long day though!
April 2016
What an amazing tour and top with an awesome guide...Jonathan B. Not only he enumerated all the highlights of the trip, he'd personally came to each tourists on a one on one chat, asking if we had any questions or comments. We were worry about how to get back to the hotel as the tour would end up at 10 PM. He explained and then sketched a detail map how to get to the bus stop from the Heuston Train station, and even after the departure, he didn't forget us and ran to look for us to remind again the way to the bus stop. Thank you, Jonathan and our driver, we really have a wonderful time and thanks for all your helps during this trip.
Retired OF 49 USA
April 2016
Very nice Rail / Bus combo Tour. Train leaves early from Heuston train Station, and transfers to bus in Limerick. Helpful hint is after checking in for the Tour, try to stay up front near the entrance to the
gate to the train turn styles. The reason for this is you want to be one of the first on board to get a train seat facing forward next to a window, and preferably a train seat with a table. We got on toward the end of the group and ended up facing backwards and next to a bulkhead with no window to look out. The Rail segment is pleasant and goes quick. The Cliffs are really nice on a clear day, which we were fortunate to have. I would advise taking the climb up both sides to the Cliffs to get the best views and photos. Inside the hill, is a restaurant and shops, and an exhibit with a green screen to stand in front of different scenes of the Cliffs, and the ability to send an E mail post card to whoever you want. The Burren was a remarkable geologic scene that was very fascinating to walk over and photograph some of the various rock formations. Andy, our Tour Guide, remained with us the entire trip and was very knowledgeable and most helpful in keeping us informed on what we would see and detailed background information for each stop. As someone else previously mentioned, the tour wording makes it sound like your lunch is included, but all that is included is the actual stop at a Pub. Once inside, after reviewing the menu, you go to the bar order and pay for your food. In the late afternoon , you depart the bus in Gallway and have sufficient time to visit another local pub for dinner. I strongly recommend you take advantage of trying the Pub food, as it will be superior to the
pre-made sandwiches you'll encounter on the train back to Dublin. Plus, the Pub we visited had live Irish music to enjoy with Dinner. Ask Andy which Pub has the live music.
Advertisement
Advertisement