Explore Northern Ireland's biggest draws — Belfast, Giant's Causeway and the Carrick-a-Rede Rope Bridge — on a day trip from Dublin. In a traditional black cab in Belfast, you'll explore sites of the capital's conflicted history: the mural-strewn streets of the Falls and Skanskill neighborhoods and the Belfast Docks. Then course along the Antrium coast to experience one of Ireland great geological marvels, the UNESCO World Heritage–listed Giant's Causeway, followed by a stop at the Carrick-a-Rede Rope Bridge.
Highlights
Day trip from Dublin to Belfast including a black cab tour and Giant's Causeway excursion
Learn about Belfast's complex history as you visit the Falls and Shankill neighborhoods in a black cab

See top Belfast attractions including the Harland and Wolff shipyard and Belfast Docks

Travel along the Antrim Coastal Drive and admire the scenery from your luxury coach

Spend time at leisure at the Giant's Causeway, a UNESCO World Heritage Site
View the 15th-century Dunluce Castle, a filming location for Game of Thrones

Walk across the teetering 80-foot (24-meter) high Carrick-a-Rede Rope Bridge
Recent Photos of This Tour
Northern Ireland Day Trip from Dublin: Belfast Black Taxi Tour and Giant's Causeway
What You Can Expect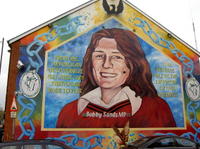 Your full-day tour of Northern Ireland's major sights starts with early-morning hotel pickup in central Dublin. (Be sure to grab your coffee and breakfast for the ride, because it will two hours before you arrive in Belfast.)
An iconic black cab awaits you in Northern Ireland's beautiful and infamous capital. This tour gives you a safe and introspective account of this impassioned city, most well known for its history of political and religious unrest. Explore Belfast's Falls and Skankill neighborhoods, where hundreds of ornate murals impart Unionist and Nationalist political messaging in glorious color. Learn of the city's industrial roots, its divisive conflict and its current youthful revival.
During the tour, you'll see several of Belfast's top attractions, including sites such as the Belfast Docks and the Harland and Wolff shipyard — snapshots of the city's industrial beginnings. If the sentiment takes you, feel free to request a stop at other notable sites like the Peace Wall, where you can add your name to those of other peacemakers who have touched this monumental city.
The next leg of your journey is the grand Antrim Coastal Drive, taking you along Ireland's wild, rocky north coast for dramatic sea views and the fairy-tale glens of Antrim. Speaking of drama, catch a view of Dunluce Castle, a medieval construction that's enjoying a second life is as the House of Greyjoy in the award-winning TV series Game of Thrones.
The 2-hour drive brings you to the UNESCO World Heritage–listed Giant's Causeway. Stretch your legs and enjoy a meander through this geological wonder that has been the source of many Irish myths. Then punctuate your tour of the north with an invigorating walk across the teetering, 80-foot-high (24-meter) Carrick-a-Rede Rope Bridge (not for the faint-hearted!). After you've had your adrenaline boost for the day (or year), get cozy in your coach seat for the ride back to Dublin for hotel drop-off.
May 2016
Wonderful day trip - smooth, seamless and a great mix of history and nature. Loved the Belfast tour and the Northern Causeway was really special. Would definitely book again.
May 2016
Had a blast, got amazing weather and thoroughly enjoyed our day exploring Northern Ireland. Our guide, Richard, was amazing! Both very informative and funny. Everything went according to schedule and we made great time. Would recommend, and can't wait to visit this amazing country again!
May 2016
The best part of our week-long trip to Ireland. Well worth the time and money! We opted for the Belfast black taxi tour of Belfast and our driver Tom was incredibly knowledgeable and had personal experience with the troubles of the times. Signing the Peace Wall was the highlight of our trip! Our driver Jack and guide Richard had wonderful chemistry and made the day very fun and memorable. Schedule was kept to perfectly, and each stop had the perfect amount of time allocated to it. I highly recommend this tour!
May 2016
This trip was amazing. The Black Taxi Tour of Belfast was both informative and compelling. Despite it being February we had warm, sunny weather that day. I was thrilled by the Giant's Causeway as it was more beautiful than I had imagined. Thanks Viator for putting together such a great itinerary!
May 2016
We opted to do the Titanic exhibition in lieu of the black taxi tour and had an incredible time! Fabulous exhibition! Giant's Causeway was so beautiful! We were bummed that the weather prevented us from doing the rope bridge, but our guides took us to the Bushmills Distillery instead which was great! Our guides were so funny and worked very well together! This tour is definitely worth the money! We got a lot of bang for our buck!
May 2016
What an amazing day! I am normally not a fan of being on a big bus, but this tour was wonderful. It was broken up in a fashion so that we weren't on the bus for too long at any one given time. Our tour guide, Kevin, was incredible. His knowledge was outstanding, and he was engaging and genuine. We especially loved the Irish mythology and history he shared, and how he weaved it together with music. It sparked so much interest, we've been buying books to learn even more. We're very grateful for such a wonderful experience!
April 2016
The tour guide was very informative and we learned a lot from him. I highly recommend the Black Taxi Tour for anyone who likes history or wants to learn about Ireland as a country, it was amazing. Beautiful landscapes and history!! They packed in a lot in one day which I appreciate. It's a long day but definitely well worth it.
April 2016
First class trip. Friendly, informative guides both on coach and on taxi tour. Very interesting taxi tour and beautiful scenery both on journey to and at Giants Causeway. Highly recommended.
April 2016
The tour was informative and fun. It really brought Belfast's history alive. I would love to go back and explore more!
April 2016
Very worthwhile and interesting. Tom was friendly and knowledgeable.
Advertisement
Advertisement