Explore Northern Ireland's biggest draws — Belfast, Giant's Causeway and the Carrick-a-Rede Rope Bridge — on a day trip from Dublin. In a traditional black cab in Belfast, you'll explore sites of the capital's conflicted history: the mural-strewn streets of the Falls and Skanskill neighborhoods and the Belfast Docks. Then course along the Antrium coast to experience one of Ireland great geological marvels, the UNESCO World Heritage–listed Giant's Causeway, followed by a stop at the Carrick-a-Rede Rope Bridge.
Highlights
Day trip from Dublin to Belfast including a black cab tour and Giant's Causeway excursion
Learn about Belfast's complex history as you visit the Falls and Shankill neighborhoods in a black cab

See top Belfast attractions including the Harland and Wolff shipyard and Belfast Docks

Travel along the Antrim Coastal Drive and admire the scenery from your luxury coach

Spend time at leisure at the Giant's Causeway, a UNESCO World Heritage Site
View the 15th-century Dunluce Castle, a filming location for Game of Thrones

Walk across the teetering 80-foot (24-meter) high Carrick-a-Rede Rope Bridge
Recent Photos of This Tour
Northern Ireland Day Trip from Dublin: Belfast Black Taxi Tour and Giant's Causeway
What You Can Expect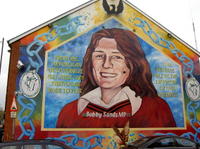 Your full-day tour of Northern Ireland's major sights starts with early-morning hotel pickup in central Dublin. (Be sure to grab your coffee and breakfast for the ride, because it will two hours before you arrive in Belfast.)
An iconic black cab awaits you in Northern Ireland's beautiful and infamous capital. This tour gives you a safe and introspective account of this impassioned city, most well known for its history of political and religious unrest. Explore Belfast's Falls and Skankill neighborhoods, where hundreds of ornate murals impart Unionist and Nationalist political messaging in glorious color. Learn of the city's industrial roots, its divisive conflict and its current youthful revival.
During the tour, you'll see several of Belfast's top attractions, including sites such as the Belfast Docks and the Harland and Wolff shipyard — snapshots of the city's industrial beginnings. If the sentiment takes you, feel free to request a stop at other notable sites like the Peace Wall, where you can add your name to those of other peacemakers who have touched this monumental city.
The next leg of your journey is the grand Antrim Coastal Drive, taking you along Ireland's wild, rocky north coast for dramatic sea views and the fairy-tale glens of Antrim. Speaking of drama, catch a view of Dunluce Castle, a medieval construction that's enjoying a second life is as the House of Greyjoy in the award-winning TV series Game of Thrones.
The 2-hour drive brings you to the UNESCO World Heritage–listed Giant's Causeway. Stretch your legs and enjoy a meander through this geological wonder that has been the source of many Irish myths. Then punctuate your tour of the north with an invigorating walk across the teetering, 80-foot-high (24-meter) Carrick-a-Rede Rope Bridge (not for the faint-hearted!). After you've had your adrenaline boost for the day (or year), get cozy in your coach seat for the ride back to Dublin for hotel drop-off.
June 2016
Fantastic day! Anthony, our guide, and John, the driver, were terrific companions. Anthony was personable, funny, and full of great bits of information throughout the trip and kept everything on a tight schedule so that we were able to see everything. You might think there is no way to do all of this in one day, but Anthony made it happen and we had plenty of time to enjoy each site. Our cabbie in Belfast, Patrick was terrific as well. So engaging and we learned so much from him and the places he took us. My only complaint was that the lunch spot the Nook at the Giant's Causeway was unable to handle the crowds and we wound up with only a scone for lunch. But we made do. We were having such a great time. I highly recommend this tour.
June 2016

June 2016
It was so interesting to learn of the troubled history of Northern Island from the local Black Cab drivers.
June 2016
Cheryl Canada
June 2016
I loved this tour. Very cool
June 2016
très bien, bon programme, timing bien préparé. le taxi à Belfast : belle surprise et belle rencontre . en plus on a eu un temps magnifique !!!
June 2016
Fabulous trip! The bus driver was very interesting with all kinds of facts along the way. The Black Taxi Tour was one of my favorites. The driver of the taxi had lived through the troubles and was a wealth of information! The Giant's Causeway is just spectacular! Of course we had wonderful weather all over Ireland when we were there! I highly commend this tour!!
June 2016
On May 23, 2016, my husband and I visited Northern Ireland with Yuan and Paddy. The Giants Causeway is an unusual rock formation that is either formed by cooling volcanic eruptions or by a mythical hero building a way to slay the giants. It is definitely different than anything I've seen before and well worth the trip. There were beautiful sights to see along the way. The Belfast Black Taxi Tour gave us a lot of perspective on the past violence of this country.
June 2016
Beautiful scenery, chance to do some nice walks. Not too rushed. The Black Taxi Tour was particularly rewarding. It is a big bus tour, with the limitations that creates, but we enjoyed the day a lot.
June 2016
Advertisement
Advertisement