Tour code:
2776GUINTASTING
Skip the line and experience the age-old tradition of Ireland's Guinness brew during this connoisseur taste experience at the Guinness Storehouse. Spend 75-minutes in the luxurious bar and enjoy a guided tasting session with samples of several Guinness blends. Choose your favorite and enjoy a pint with a view at the Gravity Bar. Once you're finished, explore the museum at your leisure and learn about the history of one of Ireland's favorite beers. This tour option is perfect for beer-lovers who want to experience the best of Dublin's darkest brews.
Highlights
75-minute Guinness connoisseur tasting session inside Dublin's Guinness Storehouse
Skip the long entrance lines outside the Guinness Storehouse and head straight inside

Learn all about the legendary Irish dry stout from your guide – a Guinness connoisseur!
Sample four popular Guinness variants: Guinness Draft, Guinness Extra Stout, Guinness Foreign Extra and Guinness Black Lager
Enjoy two pints of Guinness: one at the end of your tasting session and one inside the Gravity bar

Take home a Guinness Storehouse souvenir
Recent Photos of This Tour
Skip the Line: Guinness Connoisseur Taste Experience at the Guinness Storehouse
What You Can Expect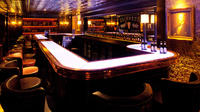 Step inside Guinness Storehouse in Dublin, and head to the Guinness Connoisseur Experience – a luxurious lounge tucked away on the attraction's 4th floor. Meet your personal Guinness connoisseur – an expert Guinness guide – and then sit down for your 75-minute tasting session.

As your guide explains Guinness' history, characteristics and quirks, learn how the legendary Irish stout has come to be one of the most successful beer brands around the world. While explaining the different brands and the pouring 'rituals' needed to achieve a perfect head, your guide will pour four samples for you to try: Guinness Draft, Guinness Extra Stout, Guinness Foreign Extra and Guinness Black Lager.

Enjoy the creaminess of the draft beer, poured fresh from a tap in the bar, and contrast its smooth flavor with the rich chocolate-like tones of the extra stout. Savor the full-bodied notes of Guinness Foreign Extra and hear how it's brewed with extra hops and barley to give it a more bitter bite. The fourth sample – black lager – is a cold-brewed version of the classic Irish stout that was only launched in 2012.

At the end of your tasting session, pick your favorite stout and enjoy a pint of it while relaxing with your group. Before leaving the room, your guide will give you a Guinness souvenir to take home, and then point you in the right direction to explore Guinness Storehouse at leisure. The museum is huge, with seven floors of memorabilia and interactive exhibitions that document the brew's history, production and Irish appeal! Finish up with a visit to the Gravity bar, enjoying great views over Dublin as well as another complimentary pint of Guinness draft.

June 2016
The storehouse wouldn't have been the same without getting to experience this connoisseur taste. Plenty of Guinness, a small group of people and all with the same desire to learn how to pour the perfect pint. It was a really fun time!
June 2016
If you are lucky enough to acquire a voucher/ticket to this experience, you are in for a treat! This is such an unique experience that only 50 people get to do each day out of the 5000 visitors to Guinness each day. You get to try 4 half-pints of various Guinness beer while learning about the origins and history of the various Guinness beers, as well as learn how to pour the Perfect Pint of Guinness! Thanks to this experience I have broadened my Guinness taste, while still loving Draught, and have a higher standard for what I expect from my server when I order a Guinness Draught. We also had an outstanding guide named Alan who made the experience so memorable!
June 2016
June 2016
Really a great experience. The lines were wrapped around the building so it was a relief to beat the line and enter a room with only 20 people with an excellent tasting and pouring experience. Our host was entertaining and we all had a good time!
I would highly recommend this Experience!

June 2016
Fabulous experience - totally worth upgrading from the normal your. The tasting room was an incredible room and the guide was so knowledgeable and friendly. Simply wonderful
June 2016
The Guinness Connoisseur Taste Experience is well worth the extra above the regular Guinness tour. We had a designated expert which guided us to a private bar room with about 12-14 total people and gave us the history of Guinness along with 4 tasters these were about 1/2 pint tasters, not just a little splash. We all then learned how to pour our own full pint of Guinness which we enjoyed. Upon the completion of the private experience about 90 minutes we were given a choice of which Guinness we would like to take in a bottle with us. This was all in addition to the regular Guinness tour. It was amazing and we would recommend upgrading to the Connoisseur tour. A great value.

Moz Australia
May 2016
the only way to do the Guinness tour...private room a guide to take us thru the history of Guinness taste testing different beers trained to pull the best Guinness beer to consume takeaway bottles of your favourite from the taste test and a voucher to get a drink upstairs overlooking Dublin. A must for beer lovers!

May 2016
Brilliant, loved the connoisseur experience! Highlyrecommended!

May 2016
This was a really amazing tour. It is a small group in a private room with a beer connoisseur. It was incredibly informative as well as fun. Plus there was a ton of beer! You learn how to properly pour a Guinness which is a memorable experience. Highly recommended!
May 2016
Highlight of our trip! The connisseur tasting room was above and beyond our expectations. Darren our host and master connisseur was charming and made the experience very enjoyable. And of course, the best part was the Guinness!!
Advertisement
Advertisement