This scenic rail tour from Dublin highlights the best or rural Ireland with coastal views and mountain scenery that's sure to dazzle. Sit back and relax as you travel through the Wicklow Mountains, visit the tiny town of Avoca and wander rate ancient monastery at Glendalough. Experience the best of Ireland in a single day during this all-inclusive tour that takes travelers through the countryside by road and rail.
Highlights
Seven-hour trip by train and coach from Dublin to the Wicklow Mountains, Avoca and Glendalough
Wicklow Mountains - the 'Garden of Ireland'
Lovely village of Avoca, location for the BBC series Ballykissangel
Ancient monastic settlement at Glendalough
Hosted train travel
Information pack
Friendly, professional tour guide
Recent Photos of This Tour
What You Can Expect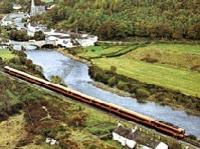 Departing from Dublin Connolly Station, you'll travel by train (snack bar onboard) to village of Rathdrum, incorporating a journey into the heart of County Wicklow. Taking a stunning scenic coastal route you'll pass the magnificent Killiney Bay, a must-see Irish beauty-spot framed by the Great Sugar Loaf Mountain, and the sriking Bray Head hill. From here, your train tour swings inland to the mountains of County Wicklow, where you'll experience the 'Garden of Ireland' at its best!

On arrival at the village of Rathdrum, you'll join the coach for a journey through the Vale of Avoca. In the lovely village of Avoca (where the BBC series Ballykissangel was filmed) you can see famous Avoca wool-weavers at work and spend time at leisure.

Continue to the ancient monastic settlement at stunning Glendalough before rejoining the train for the scenic return journey to Dublin Connolly Station, conveniently arriving in the late afternoon.
November 2015
Different, but beautiful side of Ireland
September 2015
The tour was so well organised and really fun. we went to some amazing places and im so glad we picked this tour.our tour guide Paddy was fantastic he gave us information and some really fun facts but also let us walk around and enjoy the places in our time also. He was a brilliant tour guide and I would happily go on another tour if he was to be our guide. I ended up giving him a huge hug at the end because he had made our day. Please pass on our thanks.
August 2015
We loved the beautiful scenery and stops on the tour. However, our tour guide Paddy was the best! He made the trip worth while!

August 2015
Great tour! Paddy was a great guide, friendly and informative. It was nice to see the countryside.
August 2015
The trip was wonderful! Paddy our tour guide was friendly and entertaining. A wonderful trip!!
June 2015
Very full itinery with many areas of interest. We wouldn't have seen most of this if we had gone it alone. Loved the train journey. The tour guide Liam was very knowledgable and kept us up to date with lots of information about all the places we visited. Well worth a visit.
June 2015
Great tour.....perfect day and nice guide Paddy
February 2015
A very good agenda, wonderful tour guide.
December 2014
Liam and Patrick were wonderful. Liam was full of fun facts and went at a great pace for the group. We got to see so much and it was so pretty. Thanks again! Very easy too.
December 2012
This tour was really excellent. It was well timed and the places we saw were what I came to Ireland to see. The train ride was pleasant and the coach ride was too. Edmund, our guide, was just wonderful and Tony, our driver, was a terribly decent fellow. I will definitely recommend this to everyone!
Advertisement
Advertisement