Explore the Dalmatian countryside and get some exercise in a fun way with this 4.5-hour guided tour by bicycle. Head to the village of Gruda, 20 miles (33 km) south of Dubrovnik to pick up your bike. Then ride on, taking in the incredible panoramic views of the Adriatic Sea and the Dubrovnik Riviera. With your guide riding alongside, pedal past olive groves and vineyards, waterfalls and villages, all while learning about the history of the area. The tour concludes with a sampling of wine at a local winery. This tour is limited to eight cyclists, which means you'll get a lot of personalized attention.
Highlights
4.5-hour bike tour around the Dubrovnik countryside with a visit to an award-winning winery
Enjoy panoramic vistas on the journey to the village of Gruda
Cycle through charming Croatian villages with a guide, and pass olive groves and waterfalls
Hear stories of local history and make the most of several photo stops
Visit an award-winning winery, and sample some of the fine wine on offer
Small-group tour with a maximum of eight people ensures personalized attention
What You Can Expect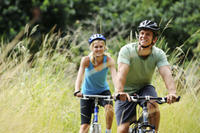 Meet your guide at the Old Town, or Stari Grad, in Dubrovnik and then hop in a comfortable mini-van for the 30-minute ride south to the village of Gruda. Enjoy the trip, taking in the eye-popping views of the shimmering Adriatic Sea and the Dubrovnik Riviera, while passing through small, sleepy seaside villages. Pause at a lookout point for a great photo opportunity.
Once in Gruda, listen to a safety briefing from your guide and receive a helmet and other safety equipment. Then hop on your bike and start pedaling.
Follow your guide, as you pass through ancient villages and a bucolic countryside of olive groves and citrus orchards, waterfalls and vineyards.
Stop frequently to take photos and to listen to your guide regale you with stories of the local history and culture. The route goes by 17th-century windmills and 15th-century monasteries. See evidence of the Croatian War for Independence in buildings still pockmarked by bullet holes or partially ruined by bombs.
After riding for a while, take a much-deserved break for a swim in a mountain stream, and then relax and eat a sandwich.
For the final stop of the tour, take another break at a local winery to sample some award-winning southern Dalmatian wine. Learn about the characteristics of wine in the area as you sip a glass or two. And then travel back to Dubrovnik via comfortable minivan.
Emma K United Kingdom
April 2016
A great chance to ride around the Croatian countryside and see some different sights, small villages and a fresh water spring. Our guides Mario and Dario were great, full of lots of stories, organised our lunch and helped some of us over the little stream with our bikes. I would thoroughly recommend.
August 2015
My friend and I were apparently the only ones to sign up that day, so we had a personal tour guide. He was really good about adjusting the pace and path we took to our needs. I can't remember his name because it was a few months ago but he was funny and fun to spend the day with. The countryside was so beautiful and I highly recommend this tour.
June 2015
The tour was fabulous. Good bikes, plenty of water and lunch provided. Dubrovnik country side was really pretty, the river was beautiful and refreshing to swim in and our guide Ivan was very friendly and provided a v interesting account of Croatian history. Would highly recommend.
September 2014
This tour is very enjoyable in a lovely area at the far reaches of Croatia. This tour does however attract sporty people so make sure you have some level of fitness before going as I was quite embarassed at the back the entire way and missed a lot of the talking about things. But its well run.
September 2015
Beautiful ride, tour guides a little rough around the edges, but OK. Part of the ride over very rocky terrain, some people had difficulty with it. Instead of enjoying the scenery you were trying not to hit hole in the road.
October 2014
It was a really nice change of scenery, slightly marred by bad weather in the early part but we made the best of it. Our guide was fantastic, I'm sorry I forget his name, but he went above and beyond, even carrying our bikes across a swift moving river for us. If you are looking for an even slightly challenging bike ride, this is not really it, but for an easy cruise through the countryside, it's perfect. The wine tasting was fine, rather short, only somewhat informative.
Advertisement
Advertisement