Set sail and and get out of the city by booking this fun day trip to the ancient Elafiti Islands. Hop on a boat in Dubrovnik and then navigate the soul-restoring Adriatic waters until reaching the islands where you'll time to explore the villages and countryside. While visiting Koločep, Lopud and Šipan Islands, learn the history of the places and even indulge in a traditional Croatian lunch with live folk music.
Highlights
Sail from Dubrovnik to the Elafiti Islands

Enjoy free time to explore the Croatian islands of Koločep, Lopud and Šipan
Walk through lush gardens and admire the Elafiti Islands' picturesque landscapes

Enjoy a fresh seafood lunch on board the boat, accompanied by wine and live folk music

Learn about the Elafiti Islands and Croatia from an expert local guide

Recent Photos of This Tour
Elafiti Islands Cruise from Dubrovnik
What You Can Expect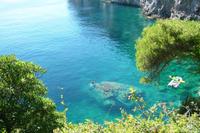 Explore the beautiful islands off the coast of Croatia by sailboat – a replica of a historical galleon – and experience breathtaking views of the Dubrovnik region. Discover three of the most beautiful of the islands, Koločep, Lopud and Šipan, and learn about the history of each place, as your boat makes its way from Dubrovnik through the azure blue Adriatic Sea. The Elafiti Islands, reportedly an ancient Greek word for 'deer,' was an old hunting grounds for the Greeks.
Today they are a bucolic archipelago, studding with old sleepy villages and a verdant countryside. Dock the boat at each island and explore the places on your own. Walk through citrus and olive groves, diminutive villages with centuries-old manor houses and churches right on the sea.
Abut midway through the adventure, sit down on the island of Šipan to a typical Croatian lunch. Indulge in grilled seafood and sip some locally made wine while a band performs traditional Dalmatian folk music for you.
Then head back to Dubrovnik and get dropped off at your hotel.

ahmednl_kkkk Sweden
June 2016
Very much organised tour , I recommend it . I give 5 stars.
June 2016
Great tour with beautiful views!
June 2016
Friendly staff, great lunch. Boat was bigger than expected, looked like a pirate ship. Islands beautiful and worth a visit. Highlight was the 3 piece band that played songs from different countries to cater for the different nationalities onboard. Love the accordion.
June 2016
very fun tour and the food was really good! the last island has a nice fortress up the hill and it was amazing to see the view. the staff was friendly and up beat! i really love this tour
June 2016
The sights you get to see on this islands are realy beautiful .
Great guides too .
May 2016
We thoroughly enjoyed our day cruising to Elafiti Islands. Very picturesque lots of walks to do on each island or just enjoy relaxing having a drink. Guides and crew were very friendly and I would recommend doing this cruise if you are interested in seeing other islands.
November 2015
Great day, very well organised. We had to change the day of our trip and this was not a problem even though it was peak time. We were picked up and returned to our hotel which made it a lot easier. The musicians on the boat were great and very entertaining. It was good to get out on the water and see some of the islands. The staff were very helpful. Would thoroughly recommend this trip.
October 2015
This trip was excellent,we had a fabulous time.The gallion was great,we met another scottish couple and the onboard musicians played scottish music for us,it was so much fun.The islands were lovely.Lunch was fine and staff very helpful.Would definately recommend this trip.
October 2015
Fun way to see the islands around Dubrovonic, staff very friendly and lunch if you like fish was good. Very good value for money and would recommend to couples and families.
October 2015
The galleon, fresh fish lunch on board, and the 3 islands we visited were awesome. I only wish when we boarded there would have been a brochure for us with some more in-depth information about galleons. Without our guide's brief history lessons at each island, the trip would have been far less interesting. We had just the right amount of time to explore each island. The trip was definitely worth the amount of money charged. We were on the last cruise of the season so it is was almost filled to capacity.
Although we were told the family on Sipan did not allow visitors inside, the door was open and I walked in. I was turned away as a group of some 20 people were on a private tour. Not sure how they could tour and we could not. Perhaps Viator/local tour company could check further. Someone is getting tours.
Advertisement
Advertisement