Hop on a bike and start your cycling adventure in Croatia! Discover the Konavle Valley on this small-group half-day bike tour from Dubrovnik. Enjoy the beauty of the Dubrovnik countryside, biking around small villages, orchards and vineyards. Rest your muscles on a small break, with local fresh fruit and water provided. It's a great way to have fun while exploring an amazing region, suitable for all levels! With this small-group tour, you are sure to enjoy a personalized and valuable experience with your guide.
Highlights
Small-group half-day bike tour from Dubrovnik

Cycle through Konavle Valley and see Ljuta River
Enjoy local fresh fruit and bottled water (included)

Get up-close to nature!

Small-group tour ensures personalized attention

Recent Photos of This Tour
Konavle Valley Small-Group Bike Tour from Dubrovnik
What You Can Expect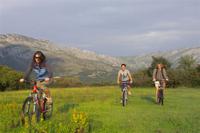 From Dubrovnik, enjoy views of Croatia's countryside on the drive to the small town of Gruda, about 20 miles (30 km) from Dubrovnik. When you arrive in Gruda, meet your local instructor, who will provide you with everything you need for your adventure. You will be given a bike, which will be fitted to your height, and a helmet for your security. Then, after a safety brief and explanation of the route, you will be ready to go!

Your 2.5-hour ride will lead you through the Konavle Valley, off the main highways and on less-traveled flat and hilly paths. Located southeast of Dubrovnik, Konavle Valley is a beautiful stretch of vegetation located between the Sniježnica mountains and the Adriatic Sea.

Explore the region with all your senses heightened, seeing and smelling the orchards, corn fields, vineyards and fruit bushes, and hearing the Ljuta River lapping against the shore. Have a break with the countryside and enjoy some refreshing water, then continue on your cycling tour!

On your way back to Dubrovnik, relax on a comfortable coach and take in views of the fields and villages around you.
June 2015
Nice leisurely cycle through beautiful country side.The guide was very attentive and informative.
June 2014
Great experience and nice way to see the local country side.
Beautiful farms and meadows.
Very charming ride!
June 2013
Fantastic tour - so much fun, and great to get some fresh air and see something different. Awesome tour guides too, really enthusiastic and answered all our questions about the area. Loved it!
September 2012
Inauspicious start when told it would be 12km ride (in 2.5 hours) as I could have walked it carrying the bike in that time, but super Mario teamed me up with 'Iron Man' Matet for a more interesting 26km hillier ride. Matet was an excellent guide and a decent fellow telling me about his volunteering work as a Mountain Rescue helper. He was also making efforts to promote outdoor tourism locally and showed me bike maps on signposts that had been put up (excellent idea).
Not even a puncture to halt my progress (apparently commonplace on dry roads) could detract from a good half day out.
Tour was followed by trip to a mill, which was interesting and also wine tasting at vinery. Even though I am a real ale drinker and also suspicious of these 'linked' visits, I can still appreciate a quality wine when I taste one and ended up buying a bottle which will make a nice gift for a friend.
During my ride with Matet I also mentioned that I liked cycling through pine forests for the smell of the pine and he recommended his hometown Cavtat as a place having lots of pines. As the minibus had to pass Cavtat on the way home, I asked the driver if he could drop me there and I would then bus on to Dubrovnik later under my own steam. Initially this caused confusion but I was cleared for drop off, which was handy as saved me time in making a special journey for Cavtat.
Good day out overall and lucky to be able to ride with the Iron Man.
July 2015
This tour was great fun and brilliant exercise the wine tasting was a great finish too.
September 2014
For this tour we were picked up from our hotel and enjoyed a drive out to start point. Noting that this was suitable for those with no experience I was a bit concerned when all other members of the small group looked as if they were used to far more serious cycling than myself but true to the description it was a leisurely cycle along quite country lanes stopping at points of interest and waving to the locals. Snack of fruit were provided at turn around point and time to for a chat. It is as advertised, a chance to see life in the countryside while enjoying a bike ride but if you are expecting a challenging ride of great length then this may not be the ride for you. For me it was perfect. Even getting drenched on the return journey didn't spoil it! Many thanks to Marko and Branko for a very enjoyable morning.
This is the second holiday where we have booked trips through Viator and each time we have been pleased with the ease of booking, confirmation and all communication leading up to what has been very successful tours.
July 2014
This was an enjoyable gentle ride along country roads passing villages as we went. Our guide (sorry I forgot his name - he appears in an earlier review nicknamed (Iron Man') showed us some local interests including a monastery - which was our turning point. We then went offroad (which included a paddle in a stream to cross it) back to our starting point - a winery where there was a wine tasting. It was definirely not a Tour de France more a leisurely tour of local places. The group consisted of four - myself and three Japanese sisters who were on holiday from universities in England. Our guide was very attentive and very knowledgeable about the area.
December 2013
The bicycle ride itself was rather short - more time was spent travelling to and from the location (about 40 mins each way). Overall, the experience was fun and the guide was very friendly.
The half-way mark was the monastery where we had a bit of a break. Nobody was allowed in the building anymore which was a shame.
Topping the experience was a wine-tasting session towards the end which was very refreshing.
Definitely worth doing.
Advertisement
Advertisement