See the Croatian countryside beyond the beautiful city of Dubrovnik with this full-day guided trip to the Konavle Valley to sample locally produced wine from four traditional family-run wineries. Journey by comfortable coach from Dubrovnik about 20 miles (30 km) south. Travel between the wineries in style via a mini-train that chugs its way through the countryside. Meet the winemakers, eat a 'peasant's lunch' and, in the village of Ljuta, witness a wool-making demonstration.
Highlights
Full-day Konavle Valley tour from Dubrovnik with a local guide
See the scenic foothills of Sniježnica Mountain as you travel to Brajkovici village by coach
Visit four family-run wineries and travel between each one by mini-train
Enjoy three wine-tasting sessions and savor a hearty 'peasant's lunch' to soak up the wine
Watch a wool-making demonstration at an old mill in the seaside village of Ljuta
Hotel pickup and drop-off from central Dubrovnik included
Recent Photos of This Tour
Konavle Valley Wine Tour from Dubrovnik with Train Ride
What You Can Expect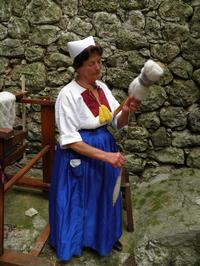 Say 'dovidjenja,' or 'goodbye,' to Dubrovnik as the comfortable coach snakes its way down the southern Dalmatian coast with the priceless Adriatic views to your right, to the rustic Konavle Valley, about 20 miles (30 km) south of the city.
Located at the southernmost tip of Croatia, near the border of Montenegro, Konavle Valley is flanked by the Adriatic Sea and the foothills of Sniježnica Mountain. The valley boasts ample amounts of vineyards, as the climactic and geological conditions are ripe for winemaking.
Stop in the village of Brajkovici to visit a family-run wine cellar. Learn about grape cultivation in the area, as well as, about the age-old knowledge that local winemaking experts use to produce excellent vino.
Listen to your guide tell the history of the area, as you voyage from charming village to village, passing by olive orchards and citrus groves as your vehicle winds its way through the rural landscape.
Visit a few different wineries and meet the local winemakers, hearing about how the produce wine and learning about the chief characteristics of southern Dalmatian wine. Sample the best reds and whites on offer and don't skip on the sweet dessert wines. At one vineyard, indulge in a typical 'peasant's lunch,' that will be certain to soak up some of that wine in your stomach. Feast on eggs, cheese, bacon and bread and be sure to save some room for a slice of traditional cake served at the last stop.
Get back on the wine 'train' for the final stop: the coastal village of Ljuta, where you'll stop by an ancient flour mill and watch a wool-making demonstration, performed by locals in historical garb.
After, hop back on the coach for the short ride back to Dubrovnik, returning to the 'Pearl of the Adriatic' in the early evening.
Itinerary
August 2015
Absolutely amazing tour, everyone was so friendly, the wine was amazing and we even got food along the way.
William H USA
October 2014
The wine tour was very enjoyable and exceeded expectations. The tour guides were very pleasant and handled those who spoke English as well as those speaking German.
September 2014
This was brilliant value, and one of the highlights of our stay in Dubrovnik. We visited five vineyards, from very small (two and a half acres) to large commercial operations, and were offered at least two wines at each as well as some mysterious and very potent spirits - so don't make ambitious plans for the evening! The owners were all friendly and welcoming, and in the case of the excellent dessert wine, gave an enthusiastic and very interesting talk about its production. The rustic lunch is excellent, and the woolen mill is idyllic and our young guide was superb. Very highly recommended.
December 2013
It was an excellent tour -we enjoy the tour the nature and the wine. Try it !
July 2015
Tour was great fun. Enjoyed the experience, the owners of the vineyards were not at all pushy in trying to sell produce. It has been a long time since I rode a kiddy train ride - great fun
October 2014
Great time, great people. I would highly recommend this trip.
June 2014
Nice wines, friendly staff, and the train is fun. The lunch is basically bread, hard boiled eggs and bacon, which may not work well for some people, but I liked it well enough. No hard selling at any of the vinyards, which was nice.
July 2013
This wine tour was a very enjoyable and well organised trip. We had the opportunity to visit 5 different vineyards and meet the families running them. Lots of delicious wine and foods were available to try. The train ride was fun as well and there was some beautiful scenery to enjoy.This trip was excellent value for money.
June 2016
overall, a fun trip into the countryside and meeting local wine makers.
we reconfirmed our trip and our pickup time the day prior yet when we arrived, the transfer vehicle had to double check that we were on the tour. a little hiccup that was quickly fixed but it took me by surprise since we had just reconfirmed...
the bus to Konavle Valley was entertaining. we learned some local history and i found our guide to be very engaging.
the white wines were excellent at every stop. the reds left me a little underwhelmed but i come from California so i have high expectations. some of the liqueurs and dessert wines really surprised me. they were quite good!
do not expect to have a meal out of this trip. uncooked bacon, raw green onions and hard boiled eggs do not constitute a lunch to me but i get the concept of the peasants lunch. and i was quite surprised that i liked the bacon so much!
would i do it again? probably not but it was entertaining and a decent value for the money.
Audrey C United Kingdom
December 2013
A bit disappointing not much wine and lunch was poor.
Advertisement
Advertisement