From Dubrovnik, take a day trip to one of Europe's most holy, peaceful and spiritual places – Medjugorje. Located in the green mountains of Bosnia and Herzegovina, many people make a pilgrimage to Medjugorje to find faith and peace in this special city. Enjoy a guided tour of the city and the Apparition Hill, where you will have the option to attend a service at the beautiful St James church. Have free time to explore the city on your own and grab a snack at a local cafe.
Highlights
Full-day trip to Medjugorje from Dubrovnik

Explore one of Europe's most important pilgrimage sites

Learn interesting facts of the area on a guided walking tour

Go to the Apparition Hill and see where the Virgin Mary appeared in 1981

Attend a service in the beautiful St James church (optional)

What You Can Expect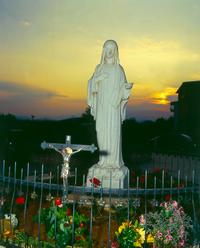 From Dubrovnik, enjoy views of Croatia's countryside as you relax on a comfortable air-conditioned coach on the three hour drive to Medjugorje, in Bosnia and Herzegovina. When you arrive, enjoy a walking tour with your guide, who will tell you the history of this religious site, and share other interesting facts of the area.

The legend says that in 1981 the Virgin Mary appeared to six children on a hillside in Medjugorje. Since then, the small, rural town has become one of the most important European pilgrimage sites. More than one million people from all over the world come here every year to pray.

Next, visit the Apparition Hill, where Our Lady is said to have appeared. The climb is a bit challenging, but you will be rewarded by reaching the impressive sky-high cross on the hilltop. You will also have the option to attend a service in the St. James church, or just relax and enjoy the peacefulness in the Garden of Contemplation.

Continue with free time to explore the city on your own and to grab a snack at a local cafe or restaurant, before you make your way back to Dubrovnik.
August 2015
Great tour. The guides were very good. Not that long of a trip and were lucky going through the borders as we had no delays. Highly recommend going to visit here.
August 2014
nice trip.the guide and the driver were excellent and very helpful.the trip was very well organised and interesting.
August 2013
My family of 4 (2 teenagers) very much enjoyed our tour of Medjugorje. Our guide, Nicolina, was great. She narrated on the bus while we drove between Dubrovnik and Medjugorje. She was experienced and real, not canned and boring. We not only learned a lot about Medjugorje, but also about Croatia ... the history and culture. We recommend this tour!
August 2012
I thoroughly enjoyed my day trip to Medugorie. The transport was punctual and the guide on the bus informative - pointing out significant landmarks and historical facts as the journey progressed. The guide at Medjugorje was excellent - very knowledgeable and willing to give each memeber of the trip time to ask personal questions. The only douwn-side was the ari-conditionaing on the minibus was not effective.
August 2014
I will not recommend this tour to friends and relatives. We went to Croatia mostly because we wanted to visit Medjugorje. We were so disappointed that we got there late and we almost didn't catch the 10am mass. That was the primary purpose of this trip. The organizers should have anticipated the border traffic. As it was, we had to wait for some people and we got delayed. Then the first stop was too long. The guide gave us 20 minutes for coffee and toilet stop which was unnecessary.
July 2014
Our time in Mejuggorje itself was great. We loved the knowledgeable guide and the activities at Medjugorie. once we got there. Our problem was with the logistics of the tour and "Elite" ,the transportation provider. When you book a tour of this nature, you are paying for convenience and expertise. We were told that our fee included transfer to and from our hotel door. This did not happen. We were told that this tour did not include a pick up where we we're staying, so we walked 20 minutes to their office for pick up, as we were instructed. When the tour left for Medjugorje, they drove RIGHT PAST the "Botel Dalmatia" where we were staying! The same thing happened on the return trip. We went right past the place we we were staying, and dropped EVERY OTHER PASSENGER off directly to their hotels all over the Dubrovnik area. We watched as the bus criss-crossed in every direction, at times very close to where we needed to be, and yet we waited 45 MINUTES, until we were finally dropped off at the bus terminal. In addition, it was stressed that we needed to arrive 15 minutes before the tour left because the tour started on time, so we honoured these instructions. The tour did not leave on time as we waited 10 minutes for late arriving passengers. We also had to pick up other passengers en route off, the highway, which added more time to our journey. A stop for coffee and a bathroom break added another 20 minutes to the excursion( it could have easily been 10 minutes long).We ended up being late for mass as a result. Our tour guide stressed that the border crossing into Bosnia could cause delays and make our arrival time "unpredictable" ,but there was no problem with the crossing, and was not the reason why we were late. They were the reason. The reality is this: We could have organized this trip on our own, with greater efficiency, at half the cost. We thought were paying for their convenience and expertise, but "Elite" failed miserably at both.
Advertisement
Advertisement