From Dubrovnik, visit off-the-beaten-path Montenegro, a diminutive southeast European country that boasts big things: the UNESCO-World Heritage-listed Bay of Kotor, the walled seaside town of Budva, and the eye-pleasing city of Kotor, situated within Europe's southernmost fjord. Have some free time to explore Kotor and Budva on your own and then enjoy a ferry ride across the Bay of Kotor on your way back to Dubrovnik.
Highlights
Day trip to Montenegro from Dubrovnik, including Kotor and Budva
Learn about Montenegro's colorful history from a guide
Swoon over the Bay of Kotor's views, and travel through Risan and Cetinje
Make the most of free time in the must-visit cities of Kotor and Budva
Explore at your own pace and check out sights such as the Cathedral of St Tryphon
Cruise back across the idyllic Bay of Kotor, a UNESCO World Heritage site
Recent Photos of This Tour
Montenegro Day Trip from Dubrovnik
What You Can Expect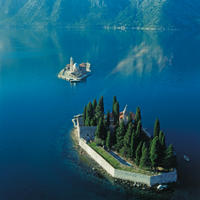 Begin the full-day trip to Montenegro at Gruz Port, Dubrovnik's 'new' port, located in the northern part of the city, or start with a pickup from your hotel. As the comfortable air-conditioned coach snakes along the gorgeous seaside highway in a southernly direction, enjoy the views of the shimmering sea and learn from your guide about the history and culture of Montenegro.
After crossing the border, encounter the Bay of Kotor, flanked by towering craggy mountain and dotted with bay-side medieval villages. One such spot is Risan, one of the most ancient settlements on the bay. Learn how how Queen Teuta, monarch of the Illyrian dynasty, once fought off the mighty Romans. From there, ride on to gorgeous Kotor, a UNESCO-protected town tucked away within a fjord. Take some time here to explore the walled town, strolling the narrow streets, lingers in the diminutive squares or even walking the 1,350 steps up to the Castle of San Giovanni for an unforgettable view.
Hop back on the bus, traveling south through the town of Cetinje, stopping along the way at the charming village of Njeguši. After reaching the medieval walled seaside town of Budva, hop off the bus and take some more free time for exploring. Lounge on the beautiful beach, wander the streets, sit down for a seafood lunch (at own expense), and gawk at the plus-sized yachts in the marina. You'll also get the chance to check out the island of Sveti Stefan, linked to the mainland by a narrow inlet, which is today a posh Aman resort.
In the late afternoon, reunite with your guide. After a short bus ride north, board a ferry for a scenic trip across the Bay of Kotor. Finally, get dropped off back at Dubrovnik's Gruz port or at your hotel in Dubrovnik.
June 2016
A great day with well-timed stops to break up the long journey. The major stop is Kotar which is gorgeous but very small and very crowded. Budva was a nice place to have lunch and if Leo is your guide take his recommendation. Well organized tour and worth taking to know something of this area. Very scenic.

June 2016
Fab tour and worth the money we paid! Getting through border took a while but that wasn't anything our guide could have done anything about.
Loved all places we visited, especially Kotor and had plenty of free time to potter and have lunch etc. The ferry back was fun too. Would definitely recommend this trip.
June 2016
Transportation: big bus with air conditioning going to Montenegro. We were among the first ones to be collected from the hotel at 7:10, the last people were collected at 8:30. Unfortunately this couldn't be avoided and guaranteed in advance, so not the guides fault. The driver amazed everybody with his skills. Very safe, comfortable and convenient. Both border crossings were very quick at most 15 minutes each. The guide was excellent, was giving a lot of historical information. Unfortunately the road to Negushi village was closed and we discovered it only on our way to Montenegro. For those who came to the trip especially to visit this village it could be a major disappointment, that this was not communicated at the time of the booking. There were 2 bus stops. One directly after border crossing on the way to Montenegro at the gas station for coffee/toilet. Another one on the way from Kotor to Budva. In fact promotion of the ham sandwich with ham, which is not obligatory was getting annoying, but the views an photos taken, compensated for unnecessary advertisement. So the trip consisted of visiting Perast, free time in Kotor, free time / or walk with a guide to old town in Budva. The tempo of the trip was quite high, however the guide was going out of her way to make it comfortable for everybody and was giving quite a lot of interesting information. The guidance was in English and French, as I speak both, can confirm that the content was exactly the same. On the way back we took the ferry for 7 minutes to short the distance for 40 km, which was a nice experience. All in all great trip and highly recommended, even though it was mega long day we were the last ones to be disposed from the bus at 7:15 pm .
June 2016
Our tour director was very knowledgeable and helpful! The history and scenery are amazing!
June 2016
Its simply awsome. My trip to Croatia would have been incomplete without visiting the nearby country Montenegro. Its superb with its coastline and huge mountains.
June 2016
excellent tour, would recommend to anyone. scenery beautiful, a lot like lake garda in Italy and that was my best holiday, this comes a very close second. weather fantastic apart from the thunder storm which is all part and parcel of the holiday. Elite tour guide was very informative and very helpful. would love to have seen more but was very wet.
June 2016
i expected a lot out of this tour as i really wanted to see Montenegro. i liked the stop and walk through Perast. the scenery was great and the woman selling strawberries had seriously tasty fruit for sale. don't miss it!
our guide wasn't able to take us into Kotor which was good news if you wanted to climb up to the fortress. my mom and i grabbed a quick lunch and off i went. the views were incredible but i didn't have nearly enough time to appreciate them because of time constraints. that was a bit of a bummer but i understand the need for a schedule.
be mindful of your footwear if you are going up to the fortress. it's really slippery so you need shoes with good tread. and you will want lots of water even though there are locals selling it along the pathway if you are short.
can't say i was overwhelmed with the ice cream in Kotor. for the 1 euro price, i expected more so save yourself for Dubrovnik where 10 kuna will get you a huge scoop.
we did have some free time in Budva and i really enjoyed time at the beach there. my mom and i got fries and just relaxed with a great view. highly recommend this time out from the high pace of the rest of the trip and your vacation. plus, the people watching is fantastic and we weren't even there in high season!
it was a bit long getting through Customs but i can't fault anyone for that and am thankful for it in many ways. i think that's why they say the trip will go until 730pm but we got back to our dropoff point at 630pm.
i would definitely recommend this trip. had a great day!
June 2016

May 2016
Het was een zeer leuke trip. Goede bus en goede begeleiding. De reis duurt een hele dag maar de dag is zo om. Er is vanuit de bus ook genoeg te zien van het landschap. Er zijn voldoende stops onderweg en ook genoeg vrije tijd tijdens de stops en in Kotor. Het enige minpunt is dat er vaak wegwerkzaamheden waren waardoor je soms lang moet wachten om verder te kunnen.
May 2016
excellent trip, plenty to see and do......would reccomend to friends
Advertisement
Advertisement