Go way off the beaten path by leaving Dubrovnik for the day and indulging in a white-water rafting extravaganza in rugged and beautiful Montenegro. On the drive south to Montenegro learn about what the day has in store as well as some of the fascinating history of the area. Once at the UNESCO-listed Tara River Gorge, get outfitted and learn about some safety techniques before battling the Class III and Class IV-level rapids. Enjoy the stunning scenery from the raft. And indulge in breakfast and lunch (included) to stay energized.
Highlights
Full-day rafting trip to the Tara River in Montenegro from Dubrovnik
Experience the Tara River Gorge, a UNESCO World Heritage Site and the largest canyon in Europe
Navigate through rushing river rapids with your expert guide
Take in the magnificent waterfalls and the stunning scenery of Durmitor Mountain
Breakfast and lunch of local food are included

Recent Photos of This Tour
What You Can Expect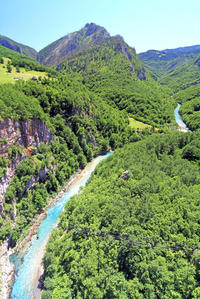 Get picked up at your hotel in Dubrovnik and hop in the air-conditioned minivan for the southward drive to Montenegro. And don't forget your passport! This white-water rafting excursion is an excellent way to see an off-the-radar destination and to experience this diminutive Balkan's countries excellent rugged nature.
After arriving at the Tara River camp, indulge in a hearty energy-giving breakfast of local delights. Listen to the guide explain proper rafting techniques and safety procedures. After breakfast, get outfitted for the day on the Tara River and then hop aboard your raft and begin paddling into the Tara River Gorge. Pass waterfalls and natural springs, tall cliffs, ancient monasteries, old water mills and shepherds tending to their flock of lambs. Go by charming villages as you cruise through Durmitor National Park.
As the raft snakes down the river, learn from your guide some facts about the area -- that the Tara River Gorge is the longest canyon in Europe and the second longest in the world after the Grand Canyon.
About 15 miles (25 kilometers) later, reach the central rafting stop and sit down at a local restaurant for a hearty lunch of local dishes. Take some free time after lunch to do some exploring and then, in the late afternoon, head back to Dubrovnik.

November 2015
What an awesome trip. The LOOONG ride is worth the view and experience. The rafting was mild, but we had the chance to jump from some big rocks.
Totally recommended.
September 2015
We truly loved this excursion. The van picked us up on time in the morning, we had a very friendly driver who was giving us briefings and explanations of the surroundings all the way, photo stops and on top of it all, a great rafting experience. The rapids are not difficult at all, yet so much fun!
July 2015
I know what you're thinking... Waking up at 5:30 AM to get ready for this early-morning tour isn't probably what you want to do in Dubrovnik. Let me tell you something. It is totally worth it!!! And, you can bring your kids with you. I was in the same boat with a 7-year-old and a 9-year-old. They were just fantastic and enjoyed every single second of it with us. Here is the routine:
1. Hotel pick-up Everyone in the van was super quiet because it was so early.
2. 3 - 4 hour drive through Bosnia and Herzegovina to Montenegro multiple exit and entry border checks through three different countries Croatia, B and H and Montenegro can be time-consuming and frustrating. The scenery on the way is amazing!
3. Breakfast in the base camp Bring euros if you want to buy coffee.
4. A short ride to the beginning point the ride is on an unpaved road, so brace yourself
5. The ride 2-3 hours begins and there are about three breaks on the way. There are bars on the way. So, if you want a drink, bring euros again
6. Lunch in the base camp this lunch was amazing!!!
7. Head back home and enjoy the beautiful scenery during the return trip.
June 2015
This was a really great tour. It was a bit of a long drive, but our guide Ivan made several stops to allow us to take photos at scenic areas. While these prolonged the trip by a little bit, it was worth it as the scenery along the way was fantastic. The river was pretty tame with a few fun rapids kids could do it. Its a tad cold, but you are given a wet suit. On the river, too, the scenery is fantastic. We had one stop during the rafting at a river-side bar and waterfall that happened to be on the route don't need to bring money for the bar, you can pay when you get back to the end. Bring a waterproof camera if you have one, sunblock, sunglasses, towel. And whatever you do, don't forget your passport. The water is clean enough to drink, which we all did when we got thirsty.
May 2015
Great rafting trip. Driver / Guide was excellent and knowledgable of the area and history. The river guides were excellent and professional. The breakfast and lunch of local products and cuisine was very good. Be prepared for a long day and bring euros as well as Kunas. We highly recommend this trip.
May 2015
This trip was fantastic, even if it was a very long day approx. 12hrs from pick up to drop off. The driver Robert was very informative through out the drive you pass through Bosnia on the way to Montenegro and was happy to stop whenever the passengers wanted to. We stopped for coffee in a small town before we arrived at the rafting where we were provided with a buffet breakfast. We were then given our equipment, including a wetsuit not mentioned when booking and driven to the starting point. Unfortunately, due to conditions on the river we were unable to do the full 17km for H and S reasons melting snow so the course was reduced to 9km only however this did not spoil the day at all. once on the river, we stopped at several places to take pictures and climb the waterfalls. we even had the opportunity to swim in some of the pools on one particular waterfall. Once we returned to the base, we enjoyed a delicious Lamb lunch before starting the drive back. One of the most amazing things was to see the difference in landscape in three different countries in one day. It may be an expensive trip but believe me, it is worth every penny.
December 2014
I will be back! This trip is just terrific! We were picked up by Robert, our guide, and drove from Dubrovnik to Montenegro. Robert bought us coffee and hot chocolate drink during the stop over at Bosnia because we did not have the local currency. It was 3 hours' drive one way and the commute was not boring at all. We had nice chat. Arrived at the water rafting site we had breakfast and then lunch afterward (ask for fish not meat-the fish is delicious), we had a wonderful experience in the river, just the right amount of exercise. We are so grateful that we have chosen to join this trip.
Peter and Isaac Tam (Hong Kong)
August 2014
Absolutely amazing trip. Our tour guide was amazing and very knowledgable. The rafting was actually quite calm and at no point did I feel out of my depth, there were even small children in some of the rafts. I highly recommend this trip and you get to travel through Bosnia and Montenegro too which are very beautiful countries.
December 2013
Getting up for a 6am pickup isn't normally what I go for on a holiday, but it was well worth it. Stunning scenery both on the drive and down the river. Quite relaxed, although informed the rapids are deeper earlier on in the season
August 2015
I highly recommend this tour. The canyon is beautiful, the water is crystal clear and refreshing, and it was just a lot of fun. I knocked off one star only because it was class one or two rapids not the advertisement of class three and four. The driver was also excellent and great conversation to pass time during the drive.
Advertisement
Advertisement