Visit two historic spots in Bosnia and Herzegovina in the same day. This guided tour is a great day trip from Dubrovnik, visiting two often-talked-about sites that make for an unforgettable day trip. Travel in a comfortable minivan while learning about the history of the places from your expert local guide. Stroll around Počitelj's UNESCO-listed town center, stop for some reflection in Medjurgorje and gawk at the incredible one-of-a-kind bridge in Mostar, and then stop to see old Turkish-style architecture in Tekija on this private day trip from Dubrovnik.
Highlights
Full-day private tour to Medjugorje and Mostar from Dubrovnik
Enjoy picturesque scenery while traveling by minivan through Bosnia and Herzegovina
Stroll through Počitelj's UNESCO World Heritage-listed town center on a walking tour
Visit Medjugorje, the most important Christian pilgrimage site in the Balkans
Wander around Mostar with your private guide, and see the Old Bridge
Hotel pickup and drop-off from your centrally located Dubrovnik hotel
Recent Photos of This Tour
What You Can Expect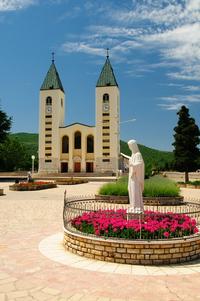 Get picked up from your hotel in Dubrovnik and then settle in for the cozy ride in the minivan. Take in the jaw-dropping views of the Adriatic and the seaside villages as the van goes north of the city. After crossing the border into Bosnia and Herzegovina, stop in Neum, the only coastal town in Bosnia, to stretch your legs and to have a look inside the shops.
As the journey continues along the attractive Neretva River, stop for a short while in the village of Počitelj for a walking tour of the UNESCO World Heritage-listed historical center. Halt in front of the Haji-Ali Mosque and take in its beauty. And don't pass up Sahat-kula, a clock tower and fort towering above the town.
Back in the van, relax and take in the views of rural Bosnia. The next stop: Medjurgorje. Ever since six children claimed they saw a vision of the Virgin Mary in 1981, the town has been an important pilgrimage site for Catholics around the world. Walk around the town with your private guide who will regale you with intriguing historical anecdotes about the town and its connection to spirituality. Take some free time to explore the town on your own and even attend a mass.
Meet up with your private guide again and ride to Mostar, a town dominated by its 16th-century bridge. Mostar is actually a manipulation of 'Stari Most,' which means 'Old Bridge.' Walk the streets of the city, which is separated on one side of the bridge by Bosnian Muslims and the other side by Catholic Croatians. And don't forget to watch the divers jump from the high bridge, which was destroyed in the wars of the 1990s and rebuilt in 2004, a symbol of the unity between the Muslims and Catholics.
Stroll freely in the town on your own, checking out the mosques and churches and even sit down to eat a hearty lunch (at your own expense).
The last stop on the exciting day trip is Tekija to take in the Turkish-style architecture and the natural springs of the Buna River. After that, sit back and enjoy the ride back to Dubrovnik.
May 2016
The guide was amazing and most accommodating!
Extremely patient and very nice!
Worth every cent!
June 2015
Had a great private tour! Ivan was a super tour guide and driver! Would highly recommend taking a private tour. We were able to adjust the itinerary to our needs.
December 2014
Absolutelu great day. We were able to accomplish far more than we could have in a bus tour. Our guide Dan showed us Mostar and Maedjugorje, as well as other towns and spectacular waterfalls. I would highly recommend this trip.
June 2014
What a wonderful experience. Our Guide Vlado was tremendous. He went out of his way to share info and give us more than we expected. It was a highlight of our trip. Thanks very much for a fabulous day!
December 2013
This tour was amazing! Viator uses local company Super Tours, and our tour guide Olga and our driver were both wonderful. Olga spoke fluent english, and was outgoing and informative. She knew a ton about the history of the region, and gave us a detailed explanation of the region and both the ancient and recent history. We skipped Medjugorge for more time in Pocitelj and Mostar and were glad we did. Pocitelj was very quaint and interesting. Mostar itself was stunningly beautiful. The bridge is amazing, and the old town market was colorful and fun. Lots of fun (and cheap, but well made) trinkets and souvenirs to buy. The borders between Bosnia and Croatia were no problem at all. We got traditional Turkish teas at lunch at a restaurant Labirint. We went for the traditional Bosnian grill and the local wine and it was absolutely delicious. With great views of the bridge and the mosque. I would highly recommend this tour (or any tour with this company) to anyone.

October 2013
We had a great Spanish speaking guide Olga and a driver that I dont remember his name, but both very professionals in their work, it was a private tour for the four of us and since our main interest was going to Medugorje and had visited Mostar earlier she took us to other interesting places.
October 2013
My wife and I had a greaet day trip to Mostar with our guide, Phillip. He was a Croatian native (Zagreb), engaging, and willing to share stories and insight into the many things to see and do in the area. The tour itself was fantastic. Pickup was right on time and we made a couple of interesting stops on the way to Mostar, including a quick stop after crossing into Bosnia the first time (Neum), and a stop in Počitelj (had about an hour to check it out). We were also provided with a different guide in Mostar who gave us about an hour long walking tour - his family is from Mostar and he grew up in the area. We enjoyed hearing his perspective on Mostar and Bosnia and would not hesitate to do the tour again. All in all, we had a great time and will book with Viator again in a heartbeat when the time comes.
Allan Thomas Trinidad and Tobago
July 2013
Excellent Tour , Dont leave at the suggested time early in the morning . Delay by an hour and a half or so . We had less traffic and by the time we got to Medjugorje all the tour busses had left so there were only about 2 doz people there . So we totally avoided the crowds . Fantastic Tour Guide Great tour
Eric USA
June 2013
Pick up on the morning of the tour was prompt and hassle free. Great communication with tour company and excellent guide (Phillip). We did not want to tour Medjugorje and tour guide was flexible enough to take us to another destination (Pocitelj) instead. Guide provided a quick tour of Mostar before leaving us to have some personal time for a few hours. Great tour overall.
Advertisement
Advertisement